Click here to get this post in PDF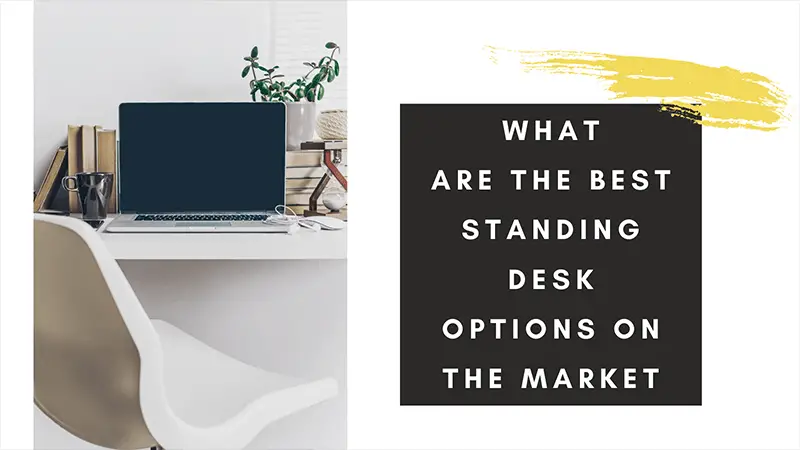 If you have decided to get a standing desk, you would for sure want an item that will be highly beneficial for your health and will boost your efficiency. Of course, you understand that this purchase will relate to some investment. Thus, let us check what types of standing desks are available, as well as their benefits and drawbacks.
Height-Adjustable Desks
Height-adjustable desks are probably the most convenient option if you spend a lot of time working or studying. You can also add different accessories to enhance the functionality of your desk.
Thus, with a height-adjustable desk, you get the following benefits that cannot be ignored:
It prevents your back and neck from aching. If you have a chance to stand without interrupting your activities, your back and neck can rest in a natural position. You can also exercise to stretch the muscles and joints.
When you are changing from a standing into a sitting position and vice versa, the blood circulation improves. It means that a height-adjustable desk helps you to prevent serious medical conditions such as a heart attack, migraines, varicose, etc.
Just standing alone burns more calories than sitting. While it might not help a lot to lower your weight, but it will slow down the weight gain significantly.
If you feel fine and do not get tired too fast, your productivity will increase. Thus, you will get much more time for your favourite activities or friends and family.
For now, we can say that this is one of the most convenient options if you want to take care of your health without sacrificing your working time. You can equip your desk with all the needed accessories to provide the top functionality and productivity. For example, a nice drawer can be fitted. If you buy one from a manufacturer of standing desks, you can count on a drawer that can be perfectly combined in its design and functionality with your height-adjustable desk.
A DIY Standing Desk with a Standing Desk Converter
If you already use a desk and you like it, but you notice that your health condition requires some improvement, you can remake your normal desk into a height-adjustable one. You buy a standing desk converter, install it instead of your desk legs, and that is it: a height-adjustable desk is made.
This is a perfect way to get a new piece of furniture and to save good money. Also, you will keep the desk that you already like.
Before ordering a desk converter, ensure that it matches the environment. Usually, you can choose from several models and colours.
Also, check whether it can support the weight of your desk and all the equipment that you usually keep on it. Add some to ensure top safety.
With this option, you keep a piece of furniture that you like and have an advancement that will keep you healthy and efficient.
Manual Height-Adjustable Desk
A manual desk needs manual adjustment. This is the cheapest option from the suggested. However, it has some drawbacks in the comparison with the above mentioned two variants.
Usually, the height to adjust is very limited in such desks. Just before buying it, make sure you can lift the top to the level you need. Otherwise, there might be not so much sense in such a purchase.
The weight capacity is below the normally expected. For example, if you use two monitors, a manually adjusted desk weight capacity might be not sufficient. Also, additional elements will be difficult to install.
The size range is also limited. Thus, it might be too small for the things you need. Also, you might not be able to install the accessories such as a document organizer, a drawer, etc.
They are more difficult to use. Some people find it inefficient and not comfortable at all.
Though if your budget is very limited and you still need it, you can opt for this option, too. However, we would recommend saving a little bit and buy a cheaper option but an automatic height-adjustable desk.
Final Thoughts
A properly selected and installed height-adjustable desk can be extremely beneficial. If you work from home, this is a lifetime investment. It will improve your health condition significantly and will boost your productivity. As a result, you will be able to work less but do much more within the usual working time.
While there are options to choose from, not all of them might be suitable. Check all the benefits and drawbacks of every single option, consider what you might need (tools, knowledge, skills, materials), and make the decision that is more convenient to you. And do not forget that an investment in a height-adjustable desk is basically an investment in your health and your income in the long run.
You may also like: Manual Standing Desks: The Answer to Better Health?
About the Author
Hayley Mann is a technology enthusiast specializing in automation methods of ergonomics devices. Her engineering background helps her to create interesting articles on technical topics, making them understandable for all readers.