Click here to get this post in PDF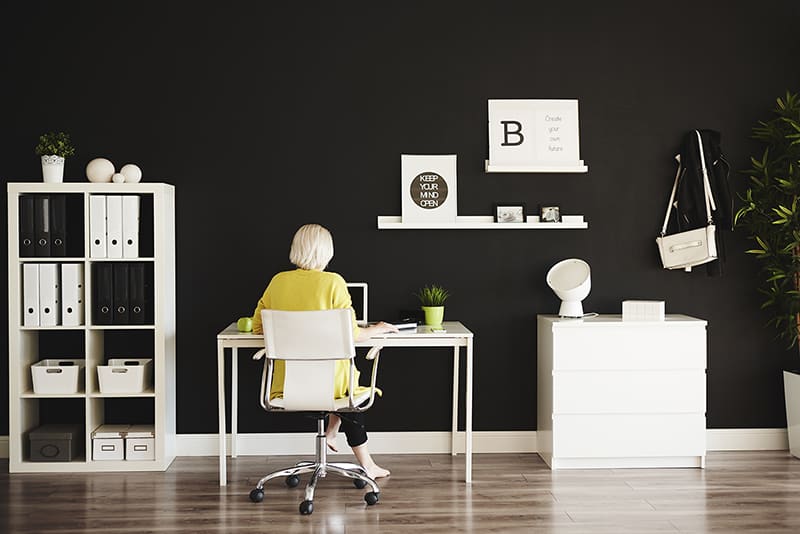 Running a small business brings plenty of challenges without the added stress of mess. Often something as apparently insignificant as streamlining your workspace can make an immeasurable difference to productivity and seriously reduce your anxiety levels when deadlines loom. Here are some straightforward ways to declutter your home office and make business a breeze.
Reboot from zero
If the piles of paper and barely-worth-opening drawers make time at the home office more exasperating than efficient, sometimes it can help to start again from scratch. Invest in a desk you love and treat it with the respect it deserves, only placing items on it that you truly need day to day. After a couple of weeks, the items you haven't prioritised and haven't missed can't possibly be useful, so recycle, reuse or dispose of them responsibly.
Escape cable chaos
One fine day, everything will be wireless, but in the meantime, there are some excellent hacks around to help you deal with the tangle of cables and wires laying at your feet. If you're a DIY addict or working on a shoestring, the world has come up with all kinds of clever ways to keep wires neat, such as hidden hooks and plastic tubing. Of course, if time is of the essence, head to a DIY store for one someone made earlier. Using tech essentials such as multiport adapters is also a smart way to keep your cables organized.
Use your desk to its full potential
Drawer dividers are essential. They don't need to be costly; sturdy cardboard boxes do the job nicely. A drawer hierarchy can also help: What do you use every day? Place it in the top drawer for maximum grab-ability. Things you use weekly? Drawer number two. Monthly? Number three. And so on..
Keep surfaces spotless
As the minimalist motto goes: everything has its place. Pens in the pot, printouts filed. The true brilliance of assigning everything a home is that you'll never tidy again. Just use an item and return it to its designated spot. The aim of this is to keep surfaces clear. A tidy space equals a tidy mind, free to focus on your goals.
Work the walls
Your new desk is giving you all it's got, but you don't want to overwhelm the space since simplicity is key. The reality for many small businesses is that a single desk doesn't really suffice when it comes to storing all of your files, stationery and electronics. That's where your walls come in. With some carefully chosen shelves, you can spread out a little and keep mess off the desk and off the floor.
Schedule a weekly tidy-up
Even in these digitals times, the document mountain is unavoidable, with unopened envelopes, photocopies and printouts building up surprisingly fast. It may sound ambitious, but by upgrading from deep clean to maid service Manhattan for a Friday sort-out, you'll keep on top of mess and avoid an intimidating task further down the line. Slot a quick trip to the recycling bin into your weekly routine, and you'll see a remarkable difference (and much more of your desk surface/carpet too).
You may also like: 10 Factors Leading to Poor Workplace Productivity