Click here to get this post in PDF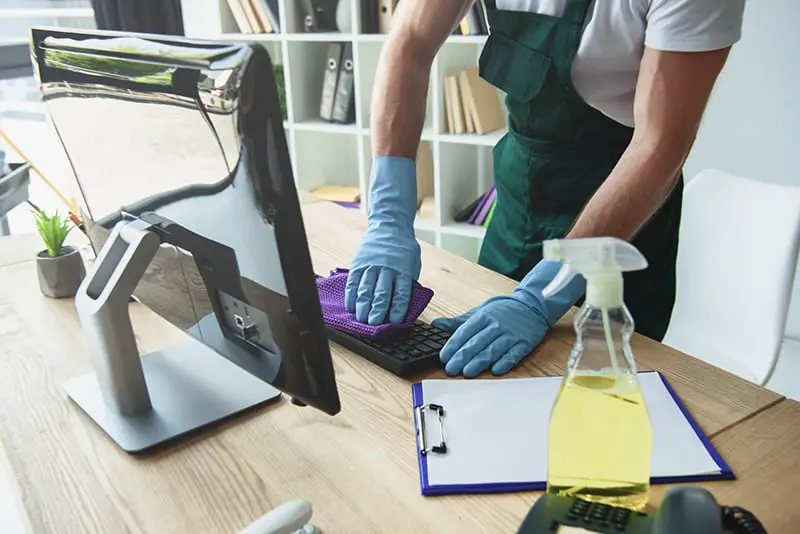 A recent study found that a virus can spread to 50 percent of surfaces within just four hours from one sick employee.  This is why if someone within your workforce is always unwell, your office's quality of work and productivity may be compromised. Of course, no one wants germs lurking around their office. So, it's vital to know how you should properly sanitize all areas of your office.
Cleaning office buildings is different from cleaning your home. For one, local regulations in certain places may require cleaning standards to ensure business establishments aren't a health hazard to the public. If you're required to follow sanitation protocols, you may need to hire professional cleaners like the Peachie Clean Cleaning Company to keep your office spotless. Additionally, you can also integrate hygiene practices into your business operations to keep it free from germs and viruses.
Wondering the best way to get your office nice clean? Keep reading for the best ways to clean your commercial property and office.
Clean the Breakroom
One of the dirtiest places in an office building is the faucet in the breakroom. This is because it is shared among all employees, and food is stored and prepared there. If it's not cleaned and maintained well, pests may start to thrive in your office and cause more serious problems.
To avoid this, make sure you disinfect the countertops, sinks, faucets, tables, chairs, and shelves with a disinfectant spray to kill any germs. Keep the refrigerator organized and clean and remove all old food.
The inside of the microwave also needs to be sprayed daily with a disinfectant rag. Be sure hand towels and dish towels are washed and changed daily, and replace dish sponges as needed. You can kill germs on these sponges by sticking them in the microwave once a day for two minutes.
Dust and Vacuum
Work from top to bottom as you vacuum. Alternate between carpet attachments, upholstery brush, and narrow attachments. Make sure you get all the surfaces and corners. 
When you dust, look for areas that you couldn't reach with your vacuum. Use a damp microfiber cloth to wipe down the surfaces in the office. Remove all items off the desk and wipe down thoroughly. 
Don't forget forgotten areas like fan blades, tops of picture frames, window sills, the top of computer monitors, and the power strips behind desks. Use a duster on the tight spots like vents, keyboard keys, and fans. When dusting a room, make sure to start with items placed in higher areas and work your way downwards. This way, you won't miss any residual dust that may fall on your things.
Tackle Loose Papers and Trash
Paperwork lying around the office can be messy, so it's best to tackle it each day. This makes it less time-consuming to organize. 
Immediate reference documents can go in file folders and stored in trays or mounted hangers. You can also scan documents to save space and shred the old hard copies if you do not need them. 
Use your filing system and put papers away each night. Be sure all the files are labeled so you can easily find what you need. It'll also be easier for all your employees to access any file they need if you designate a cabinet or room for all your paperwork. If you have free space in your office, you can convert it into your file room and use it to store documents.
Be sure to empty your trash every night as well. Don't forget the conference rooms, office spaces, restrooms, each desk, and all public areas. You don't want any food to stay in these cans to attract pests.
Looking for help removing trash and rubbish? Click to visit this site.
Sanitize Bathrooms
You can't have a clean office without sanitizing your bathrooms. Restrooms are a high traffic area that should be cleaned daily. Consider replacing your toilet stall partitions if they are due for an upgrade.
Scrub toilets with disinfectant and brush
Wipe toilet seat, lids, and the base of the toilet
Disinfect counters, sinks, mirrors, and faucets
Refill soap dispensers, toilet paper, and paper towels
Sweep and mop floors 
Don't forget to sanitize and wipe down all door handles with a disinfectant. These are high touch areas.
Clean Desks
When you clean off the desks, use a cleaner to sanitize. Don't forget areas like the mouse, keyboard, and phone. If you use a headset, don't forget to disinfect that as well. 
Germs can spread around on a desk all day, so cleaning offices at night can give you a fresh start in the morning.
Cleaning Office Buildings Keeps Employees Healthy
It's essential to keep up with cleaning office buildings to keep everyone healthy and safe. Plus, it gives an excellent first impression for customers, employees, and future employees. Now, you know the basics of office building cleaning.
Keep checking out our site for more advice on investing, property, and more to keep your business running smoothly.
You may also like: Decluttering Ideas for Your Home Office
Image source: stock.adobe.com