Click here to get this post in PDF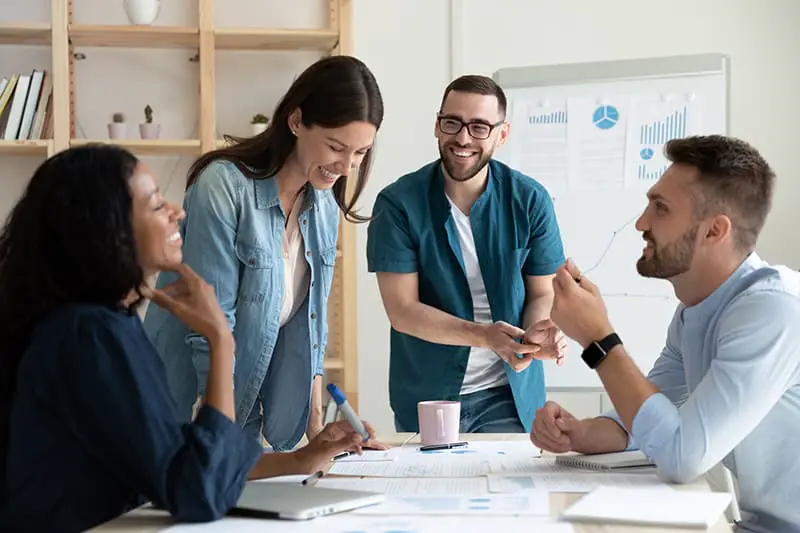 Goals are something that pretty much everyone makes for themselves, but, for many different reasons, they are also things we often forget to work towards when life's daily tribulations weigh on us in a given week. Goals are things that, generally, take a little extra work to achieve, and with so many stressors in the U.S., both COVID-related and economic related (and often related to both), wanting to do anything other than de-stress when all of the needed work is done can be quite the challenge. 
One thing that tends to make goals a little more achievable is when they are created by a team, rather than an individual. It's human nature to not want to let other people down, so making goals with a group of people, or more specifically for this article, a group of coworkers, can help make each person in the group hold the others accountable, ultimately pushing each other forward towards whatever goals were created. 
One corporate aspect that is being discussed a lot in the given U.S. climate is improving diversity in the workplace. Not only is it a morally sound goal, but statistics have proven that a diverse workplace is also a workplace that functions smoothly and retains its employees quite well, compared to others. Inclusion and diversity initiatives are great ways to get your employees to grow as individuals, and your company to grow as a whole, and creating measurable goals for what the initiatives aim to achieve is a great way for making sure the team is pushing each other to grow. 
SMARTIEs
Thought the candy is delicious, when seen in acronym form, SMARTIE is an effective goal-setting process. It builds on the old SMART goals, which is an acronym for Specific, Measurable, Achievable, Realistic, and Time-Guided (or something very similar, depending on who you ask). SMARTIE adds the I and E, which stand for inspirational and emotional. 
With those last two in mind, SMARTIE goal-making is great for a team looking to cultivate a more positive workplace culture via inclusion and diversity trainings and activities. 
Specific
Making your goals very specific also makes the other letters of the acronym easier to define. In relation to workplace growth, knowing an ultimate goal can help you make specifications on the short-term goals that lead to it.
Measurable 
Making your goals measurable is important, though sometimes difficult, as it allows you to track your progress and determine if you are succeeding or not. Some goals are hard to measure between "not done" and "done," but normally, at least your emotions can give you a good indication if you are succeeding. 
Achievable
One of the main reasons people give up on their goals is because they have made those goals too difficult. Dreaming big is important, but ensuring that the near-term goals can be accomplished relatively easily is important, as well. 
Relevant
Especially in a team atmosphere, ensuring goals are relevant to the overall mission of a company is very important, or people will not buy in. As it relates to workplace inclusion, relevance can be the deciding factor for many as to whether or not they take a given event or training seriously. 
Time-guided
Goals should also have a "when" as far as a deadline for that goal to be completed, or else all of the other parts start to get cloudy. (e.g., How is this relevant if we don't need to have it done by any given day?)
Inspirational 
Team goals need to make all members of the team feel like they did something worthwhile. Luckily, for inclusion and diversity initiatives, knowing that you're actively helping your coworkers feel more comfortable at work, and, in turn, creating a work atmosphere that is more likely to withstand the test of time, is pretty easy to use for inspiration. 
Emotional
Creating goals that you know will make your team truly feel accomplished and emotionally proud also makes them more achievable simply due to human nature that makes us work harder for things we care about. 
Some goals can be achieved and then never thought about again, but when it comes to inclusion and diversity, the practices that you use to achieve the goals you lay out must be continued so a given workplace continues to be accepting, positive, and culturally aware, making it great to work for, and a business that people will want to work with. 
You may also like: How to Create a Winning Workplace Culture
Image Source: Shutterstock.com