Click here to get this post in PDF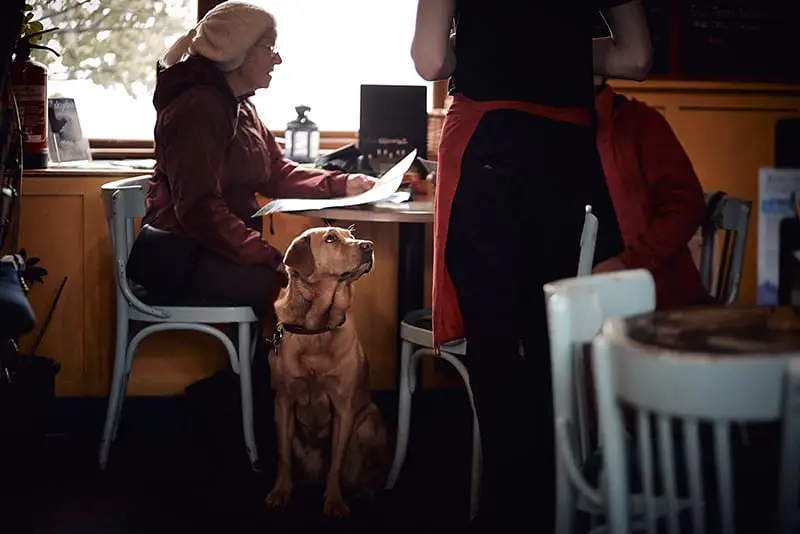 The presence of dogs in bars, cafes and restaurants across the UK has increased tenfold in recent times, so much so that establishments have begun to introduce dog birthday parties in their bars. There are also now cafes solely dedicated to cats and dogs, despite the onlooking, raised eyebrows of the stubborn traditionalists.
Here, we take a look at how the UK's hospitality sector has been affected by the inclusion of our canine friends.
A few years ago, you may have been abroad to mainly European countries such as France or Spain and realised that the inclusion of dogs in cafés and bars is somewhat common, whereas back home in the UK, adamant local business owners kept a stern foot on the ground when it came to allowing our furry friends through their doors.
It's more of a culture, rather than a legal issue. There is no law that states dogs can't enter premises, as long as they don't enter places where food is being prepared and cooked. It is more a business/franchise policy that has been enforced. As of 2017/18, 26% of the UK's population has a dog in their household, which is approximately 8.2m, followed by cats at 18%, so just over one in four families own a dog which is a massive chunk of money to gain from a business perspective.
According to a recent survey of the UK hospitality industry, conducted by The Kennel Club, 97% of all dog-friendly businesses stated that our canine companions have added value to their business, directly or indirectly.
A promotional tool
As far as passers-by go, dogs can be a sign of openness and friendliness. Marketing can go a long way in attracting potential customers to walk through the front door. Placing quirky, dog-friendly signs outside could also be a useful technique for attracting a family that would've otherwise carried on walking.
As touched upon earlier, Brewdog, the appropriately named brewing company from Scotland, has taken the combination of dogs and marketing to a whole new level. Not only are all 36 of their bars in this country and internationally dog-friendly, last year they launched a 'bespoke party service for our four-legged friends', even launching a beer made for dogs, by boiling down carrots and bananas into a brew fresh on site. And more hospitality businesses are cottoning on to the power dogs have to drive custom, The Seaton Lane Inn, a dog-friendly hotel in Seaham lets you get a bite to eat and stay the night with your furry friends.
The science beyond dogs
The benefits go beyond financial for businesses, dogs are also known to improve the atmosphere of a place as well as reduced stress levels of workers. Dogs also act as a lighthearted conversation starter between workers and customers which creates a community atmosphere especially in places that require face-to-face customer service, and this is essential in a pub atmosphere as a meeting place for social interactions, so the inclusion of a dog is bound to go hand in hand.
Stroking a dog is proven to elevate the production and release of serotonin, dopamine, also known as happy hormones, which as a result, lowers the blood pressure allowing a more calming output.
Things to consider
Of course, allowing dogs into your respected businesses do come with some obvious considerations that you should consider for your customers, as not everyone loves and appreciates dogs as much as others!
If you're not an independent business and part of a franchise or chain of businesses, it would be wise to double-check your insurance policy, as having dogs present could invalidate your insurance policy. Cliverton offers a range of different insurance for dogs and other animals.
It's also common to consider having ground rules on where dogs can wander, for example, having a dedicated eating area solely for restaurant purposes where dogs aren't allowed in, keeping hygiene as clean as possible.
Naturally, a small portion of customers may have allergies to domestic animals such as dogs due to their oily skin. Providing plenty of signs are situated within the premises that warn customers, businesses can't be liable for any reactions and you should be fully equipped for animals and customers to integrate as they please!
You may also like: How Do You Stay Relevant as a Business in 2019?
Sources
https://www.statista.com/statistics/308218/leading-ten-pets-ranked-by-household-ownership-in-the-united-kingdom-uk/
https://www.telegraph.co.uk/news/health/pets-health/9583690/Pet-subjects-What-is-the-law-on-allowing-dogs-in-bars-restaurants-and-shops.html
https://thedrinksbusiness.com/2017/07/dogs-boost-business-at-pubs/
https://www.simplybusiness.co.uk/knowledge/articles/2018/08/dogs-in-the-workplace/
https://www.thekennelclub.org.uk/press-releases/2016/september/kennel-club-survey-finds-businesses-benefit-from-being-dog-friendly/