Click here to get this post in PDF
Starting an e-commerce business doesn't have to be rocket science.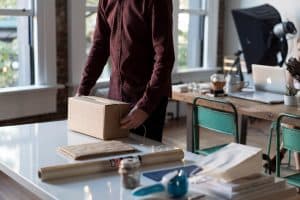 With retail e-commerce sales worldwide amounting to over 2.3 trillion US dollars globally in 2017 alone, if you're thinking about venturing out on your own, cementing your business in the world of e-commerce can see you reaping the big bucks.
There is no denying the massive change e-commerce platforms have had on the retail industry. From fast-fashion to fidget spinners, it's now easier than ever to become your own boss and turn your interest into a worthwhile income. But that doesn't mean it's easy to succeed.
Starting an e-commerce business is hard work, but SEO Yorkshire, one of the UK's leading SEO and e-commerce website design agencies, is here to help. We asked them to give us their top tips on how to build, launch and grow a profitable e-commerce business.  So, let's get started.
It's all about the product
1.      Identify a lucrative product
When it comes to launching your own online business, the biggest challenge comes in the form of deciding what it is you want to sell. With so many huge online retailers largely dominating the market, such as Amazon and eBay, choosing the right product, and price is key. There are several questions you should be asking yourself before you make any big decisions:
What problem do I want to solve?
What products have a large global demand?
How much will it cost to purchase stock?
How much can I sell my products for?
We all know that business is all about making a profit, and so figuring out whether your product will actually make you money is crucial. Before you begin, why not consider selling samples of your products or conducting surveys to find out if it will sell, or not.
Similarly, pick a product you are actually interested in. After all, you're going to be the one investing your time, energy and money into it, and so the more enthusiastic and passionate you are, the easier, and better it will be.
2.      Find a manufacturer
The biggest challenge in e-commerce? Finding a reliable supplier. No matter how great your product is, if you can't source a manufacturer, then you don't have a business – simple but true!
There are a few options depending on how you want to run your business and your shipping options:
A manufacturer who will produce your product for you alone
A supplier, wholesaler or distributor who will purchase existing brands and products
A drop-shipper who will supply products and fulfil orders
Business owners will need to decide whether they want to work with an overseas manufacturer or a more local supplier who they can visit frequently. There's no wrong choice when it comes to choosing a supplier, it totally depends on budget and personal preference.
Bigfoot Digital suggest contacting a number of manufacturers and asking them your most important questions. Consider communication, how they will deal with demand and their processes when the stock runs out. Don't simply choose a manufacturer based on cost alone – no matter how great your idea is, if your manufacturer creates a poor quality product, or you constantly can't get hold of them, it won't end well for your business.
To succeed, you need to stand out
1.      Research your competitors
Once you've established your product and have found a manufacturer you can trust, the next step is to shop around. Take a look at what your competitors are doing:
How much are they selling products for?
Do they have any deals or USP's?
How much is their shipping?
Can you find out where they get their product from?
Keeping an eye on your competitors can help you to make crucial business decisions, and helps you to spot successful tactics and ideas, along with identifying price points and their strengths and weaknesses. Essentially, competitor shopping helps you to decide how to market your business and product to ensure that your ideal customer purchases from you, rather than elsewhere.
2.      Branding is everything
To put it simply – branding is everything. A recognisable loved and respected brand is a hugely valuable asset to any business. You'll need to create a name, a logo and a tagline, along with a set of brand guidelines that details your values and will ensure consistency for the future.
So, what do I need to consider:
Your target audience – who are you aiming to sell to?
Your products – what unique benefits do you offer?
Your logo – a strong brand will include the right colours, imagery and typography to entice your ideal customer
Your customers aren't looking for a brand they've seen a hundred times before. Instead, they want to purchase from someone who offers something different, and who can offer an experience that is directly tailored to their needs.
Establish your brand so that it stands out – your unique selling points are what bring in customers, so shout about them!
Note: Not only does your brand name need to be memorable, it also helps if your name is available as a domain name and as a social media handle, but more on that later.
"A goal without a plan is just a wish"
Create a solid business plan in order to succeed
No matter your product, your new e-commerce business needs to have a strong business plan in order to succeed. Not only will it help you to stay on track, it will also help to define your objectives and the strategies you should use to achieve them, while clearly helping you to measure your progress:
Define who you are and what you do

What problems do your customer have and how can you solve it?

Explain your market and competitors and how you have an advantage
How will you make money?
What is your management strategy?
Detail your financial summary

How will you find your e-commerce business?
How much will it cost to purchase stock?
How much profit are you aiming to make?

Outline your marketing How will you market your business?
Going live
1.      Secure your online presence
Your customers will expect you to have an online presence where they can easily find information and purchase your products. Before you can build your e-commerce website, you'll need to register for a domain name. But, what happens if it's already been taken?
With so many websites popping up each and every day, chances are, your ideal domain name won't be available. But you do have options:
You could try an abbreviated version or a keyword, inserting words before your brand name or using a different domain extension – for example .co.uk or .net instead of .com. As long as your domain name is relevant to your brand, and can be recognised by your customers, it shouldn't matter if it's not your exact business name.
2.      Develop a winning website
Once you've established a clear brand and have purchased a domain name that fits your needs, the next step is to create a website that fits your every need. When it comes to e-commerce businesses, it isn't quite as simple as it may seem, but don't panic! Hiring an expert website design company, like Bigfoot Digital, can go a long way towards making you're your site ticks all the boxes. So, what do you need:
A responsive design: with more traffic coming from mobiles than any other device, it's now more important than ever to ensure your site offers the same excellent user experience, no matter where your customers are browsing from.
Security: if your site if not safe, your customers won't trust your business, and won't purchase your products.
A simple checkout and payment system: having a simple, and secure, checkout system will protect the information of both your customers and your business and helps to cement your business as trustworthy.
Speefy loading times: it's simple, if your pages load slowly, your customers will get bored and shop elsewhere. A good website design agency will be able to optimise your images, and control site content, to make sure your site loads efficiently and quickly, always.
Customer reviews: customer reviews help to reinforce the idea that your products are great and will encourage customers to purchase from you.
Search and filter feature: giving customers the option to search for exactly what they're looking for helps to improve user experience.
Visible contact information: having easy to find contact information not only helps with customer satisfaction, but also cements your brand as a credible one, and shows that you have a human presence behind the screen.
Return or exchange information: like to know that, if they're unhappy with their purchased products, they can get their money back, or at least exchange it for something else. Again, this shows that, as a brand, you care about customer satisfaction and will go a long way towards earning your audience's trust.
Okay, so how can I grow my e-commerce business once it's gone live?
After your business has been officially launched, and you've got some orders under your belt, it's time to properly market your brand and product. Essentially, marketing is all about making your business visible online. While not every e-commerce business owner is expected to know everything ab0out promotion, and generating sales, learning how to market your brand is crucial if you want to grow and thrive.
Blogs provide businesses big and small with a great opportunity to connect with their target market and helps to boost leads. When it comes to blogs, it's all about offering your customers valuable information. Try and write about relevant industry news as well as promotional pieces about your product.
Invest in Search Engine Optimisation
Every good business owner knows that the ultimate goal is to appear on the first page of Google for a number of relevant keywords and searches.
Create a social media campaign
Social media marketing, when done right, can make a huge difference to a new business. The perfect way to generate a buzz around your brand, social media offers businesses another platform through which they can sell their products. IF you have some budget to spare, set up some paid advertising to get your brand name out there. Alternatively, simply running active social accounts, sharing and creating interesting content and engaging with your audience will help to boost brand loyalty and customer satisfaction.
Just remember, first, to make sure your social profiles are properly filled in and optimised with your business logo, information and contact details.
You may also like: Emerging Mobile Technology That Will Boost Your Business