Click here to get this post in PDF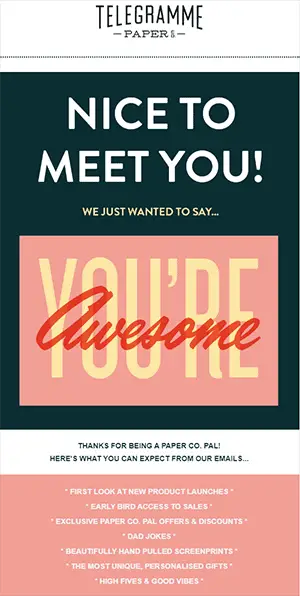 Did you know that welcome emails generate 5x more clicks than regular email marketing campaigns? Yes, that's exactly how important greeting your new subscribers is.
A well crafted welcome email is a great opportunity to make a strong first impression and for thousands of companies, it holds the key to crazy lead generation.
Just try using an exit-intent popup at your website to attract valuable leads and send them a welcome email right after that.
You'll be amazed by the results.
Hooked?
Working in the email marketing industry myself I've learned a couple of things on what customers want and expect when it comes to creating a relationship and keeping the fire burning.
And I'd love to share them with you.
So let's see why a welcome email is one of your strongest cards for nurturing leads.
1. The beginning of something beautiful
Who doesn't like to be greeted when they walk into a store? As online shopping slowly takes the place of brick and mortar stores you should adapt to the new era by welcoming your customers the way they deserve. 
Think of your welcome email as a strong handshake with your new subscriber. It creates a warm atmosphere, tells receivers you are polite and thoughtful, and reveals your business's high quality.
Plus, it helps people know what to expect from signing up for your newsletter, just like the guys from Telegramme Paper Co. do, completely in line with the brand's tone. 
2. People expect them
I know it might not sound enough for you, but trust me, it's the number 1 reason you should create one for your business.
According to recent research, 74.4% of people said that they expected a welcome email when they signed up for a newsletter. Will you let them down?
If you don't welcome your new subscribers if you're lucky enough they might not notice. Chances are though that they will, and that they will be disheartened by the lack of communication.
And you know how important first impressions are!
3. A great chance
If someone subscribes to your newsletter, it's probably because they are interested in your brand. Aka there's a chance they will become your customers.
By greeting them when they subscribe to your newsletter you take advantage of this huge opportunity and lay the groundwork for a beautiful, and profitable relationship.
A welcome email is a clever way to take your visitors by the hand, show them around, and ultimately persuade them to buy your product or service. It increases interactions and encourages action, so strike while the iron is hot!
4. Introduce them to your social media
Social media are one of the most effective marketing channels, especially for Gen Z and Millenials. So, first of all, I hope you're making the most of them.
Secondly, you need to lead your audience to them. How?
You got it!
With a welcome email!
Whether you want people to visit your Facebook shop, grow your Instagram followers, or spread the word about your brand through Snapchat, welcome emails are the perfect place to start.
The Body Shop is a great example of how to promote your social media while also greeting your new fans. And while you can also go for something a little more discreet at the bottom of your email, you should always include your social media in your welcome email. It leads to to…leads!
5. They set expectations
While not a practice you see in all welcome emails, explaining to your new subscribers what's in for them once they've subscribed helps build excitement and trust between the two of you thanks to the transparency you offer.
I highly recommend telling your new members how often they can expect emails from you and what they usually include if you want to establish a positive relationship and get them to open your next newsletter as well.
Also, another great idea is to include an easy option so the subscriber can customize the frequency and type of emails they receive. This way you lead the way to a smooth customer journey and your next email marketing campaigns are 100% effective!
---
The Importance of Proper Marketing Campaigns
---
6. They breed trust
With emails flooding your subscribers' inbox daily, people today can be very cautious and picky when it comes to choosing what they will read.
A well-crafted welcome email is your best chance to build trust and establish the way your relationship with your audience will play out.
Higher engagement needs constant work from your side and laying the ground for receptive subscribers is one when to effortlessly achieve it.