Click here to get this post in PDF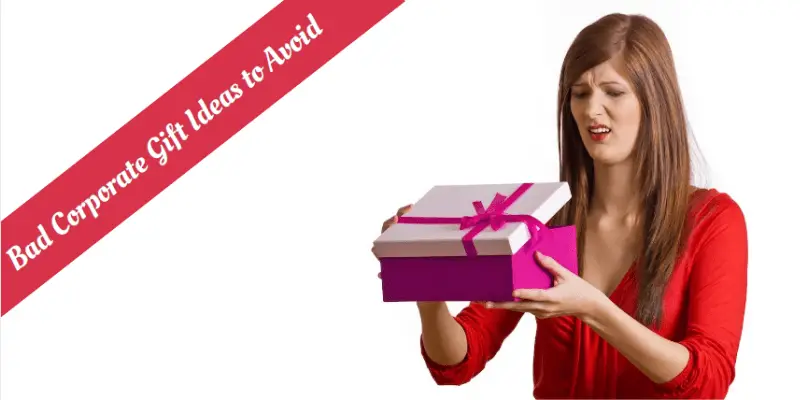 Since the holidays are coming, you might want to present some gifts to your business clients. In order to do that, you might be looking for some corporate gift ideas. Or maybe you already have found an idea. Then what is this post about?
In this post, I am simply going to give you some of the bad corporate gift ideas which you need to avoid at any cost.
Gifts for Clients You Should Avoid
Cheap Gifts
If you're trying to impress your clients then you must avoid these cheap tricks. If that corporate gift looks inexpensive, it will betray its sole purpose of buying it in the first place. All your loyal clients or your ever hard-working employees need a thank you, and you can show your gratitude through your corporate gift giving. Don't make it a lost opportunity of trust and respect.
Absurdly Expensive Gifts
The cost of the gift is crucial when it comes to building rapport with your clients. Giving too expensive gift can also have the same adverse effect but in different ways. So, play it safe with a realistic budget. Avoid spending too little or too much money on the corporate gifts.
Too Personal Gifts
Want to see the heights of trying too hard. While giving corporate gifts, never cross your boundaries and stick to the professional boundaries of yours. If you try to guess what your recipient wants, then things might go awfully wrong and you might also regret it. So, do not guess their choices, if you know that, all is well and good if you don't then stick to the code and professionalism.
Ignoring their Interest
Many people in business offer general corporate gifts. What's even worse is offering gifts that don't match with the receiver's interests at all. It might be a good idea to know more about your clients' hobbies before giving them anything. Maybe they have a favorite beverage or sport; contact an associate or an assistant to know more about this sort of things. It might help you understand them better as human beings. For example, if your client is a 30-year old woman chance are she won't appreciate Colombian cigars; she might, however, be fonder of a gift card to a spa.
Promotional Gifts
Business gift giving with a promotional message behind it is never a good way of creating strong relationships. Adding a logo to your gift is more than acceptable, but creating a marketing tactic to increase profit gain or an upsell on a contract isn't a wise choice. A corporate gift should show your gratitude and appreciation, or reward hard work – if the recipient thinks you're only sending it for promotional gain, the purpose of your corporate gift giving will become pointless.
Not listening to people's religious beliefs
Don't assume that all your clients celebrate Christmas or another Christian holiday. Some of them may have a different religion and you should know that. Offering gifts to people who can't accept them because of their beliefs could create a lot of tension. If you want to avoid situations like this you should just get informed before offering the gift. Be sensitive to each client's beliefs or religion; if they don't celebrate Christmas or they wouldn't accept a gift it's your duty to find another way to show your appreciation.
Winding It Up
So, these are some common mistakes that you need to avoid when giving your clients gifts that have corporate value.
I hope this will help you to choose your corporate gifts well. If you want to share some ideas of your own feel free to contact me via comments. Till then, have a good one.
Also read: Best Corporate Gift Ideas that will Leave a Lasting Impression
About the Author
Jane Douglas is a professional Content Writer from last 5 years. She writes for an array of website and her major contribution is to Aquaholic Gifts Pte. Ltd that offers Corporate Gifts. In her free time she likes to research about fashion, latest technology, and trending lifestyles.