Click here to get this post in PDF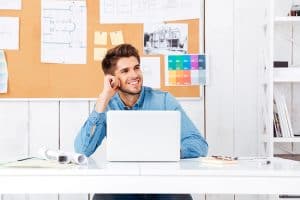 In today's digital era, starting an online business is an opportunity for great success. It's a very profitable concept, as staff requirements aren't high, and the same goes for overheads. However, the truth about many start-up businesses is that they fail. What you need to do is make a difference in order to succeed. Starting an online business is somewhat similar to starting a traditional business – you make a plan, get the necessary funding, have a product or service to offer, and get it done. However, there are also some steps that are unique to it.
This article contains affiliate links. For more info, see disclosure.
Define what you want to sell
There are two sides to an online business – a great number of customers and a large competition. Whatever it is that you decide you are going to sell, you are most likely not the only person with the same idea. You need to find yourself a particular niche and come up with a way to create something that makes a difference. Make sure that you add something unique to your product, or provide expertise in the field as your selling point. Check out what your competitors are doing, and what they aren't, and fill that empty space with your own product or service.
Get a business name and a domain
Once you have defined your product, you need to come up with a name for your business. However, before you set your name up and let everyone now, you need to see whether the domain for it is available. You'll have to look for an alternative solution if you can't find one. Still, with domain extensions, it is no longer as hard to get the domain you want. So if the particular domain for your business name is taken, you can pick one of the many top-level domains to add to it, such as .business, .expert, etc.
Put yourself out there
One of the most important outlets today for marketing your product or service and building a fan base is social media websites. So make the most out of your social media page. Post previews of your product, valuable videos on what's going on with your business, and of course, follow people. It is also very important that you make yourself available and reply to comments as much as you can, so people see that you care about what they have to say. This is a great way to generate interest.
Create a great website
Having a website is a must today, and it should reflect your business and product. It should be stylish, but it is more important that it looks professional. According to the advice from small business website design experts, you need to make it so that customers engage with it and easily get to where they want to be. The path to making a purchase needs to be intuitive. It is a good idea to have an online portfolio, where prospects can see what you have done in the past, and decide whether what you have to offer suits them. Brand your every page with your logo.
Locate influencers in your field
It is essential, especially for a start-up business, to have the support of an influencer in the field. An influencer is someone who has a large fan base, and if they recommend you, you are bound to drive more traffic and generate more sales. In order to get them on your side, it might be necessary for you to invest some money, or offer a lot of freebies, but it is truly worth it in the long run. Once you get their attention, all you need to do is to ask them to share your content as much as possible.
Analyze your progress and make use of that info
You should analyze your progress and find out what product is being sold the most, which content is drawing the most attention, and which social network is driving the most traffic. Then, once you have determined these things, you can come up with ideas on how to improve on them. It is essential that you always test your efforts, and never stop improving. The hard work never stops.
In Summation
Starting a successful online business isn't necessarily easy, but it is bound to bring you profits if you do it right. Follow these 6 essential steps to get it done, and put all your effort into creating the best experience for your customers, as well as improving what you have to offer.
You may also like: 5 Things Your e-Commerce Startup Business Needs To Succeed
About the Author
Steven Clarke is a digital marketing specialist/business consultant. In his spare time, he likes to write about his ideas and share them with the world. Steven is a regular contributor to several websites.
This article contains affiliate links. For more info, see disclosure.