Click here to get this post in PDF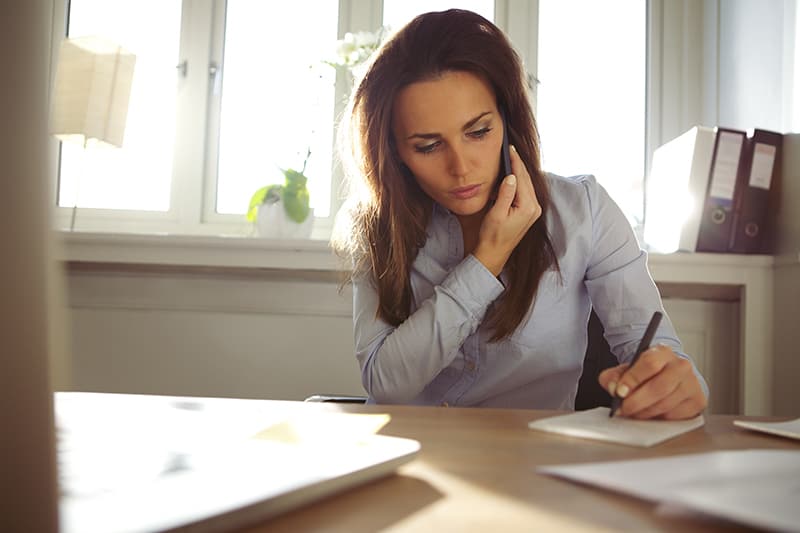 "If only I had more time," you may say to yourself every day. You might feel like you are just a little bit behind on tasks at work. You have a full schedule that demands you to be on point throughout the day, multi-tasking and keeping ahead of your workload. Using these 5 smart ways to get work done every day will help remove the pressure of your workload.
The silver lining here is that you're in good company. Business owners, executives, and managers overwhelmingly share in the desire for more time. The truth of the matter is that lack of time sometimes results from lack of quality time management.
You might think that you're doing all the right things to manage your time, but the truth is that everyone needs to constantly add to their repertoire of time management tools. This is because of the double-edged sword of today's ever-changing technologies. Technology has become more interruptive than ever. Emails and cell phones constantly alert you to impending tasks. On the other hand, there are more technologies than ever before to help you, in the form of handy apps and time management tools.
Cut the Spam
Spam emails are a common complaint of almost all companies. Managers and employees alike are bombarded with unwanted emails and waste valuable company time making heads or tails of which emails are actually important.
In fact, I bet your email box is stuffed with shopping advertising and unwanted newsletters on a daily basis. In fact, you might wonder how you are receiving so many daily emails. The fact is that you may be unknowingly added to email lists. Unscrupulous marketers find email addresses of executives on their own websites and add names without permission. While this is reprehensible, it happens. Cut the spam using a couple of techniques.
First, opt-out of those spammy emails. Yes, this takes time. Break it down by opting out of five or six unwanted mailing lists daily. It will take you less than 5 minutes but cut down on time wasted on sorting your emails in the future.
Second, remove every reference to your email address from your website. Replace your email address with a contact form that will mask your email address but alert you when legit customers are trying to reach you. This will reduce future unwanted emails from arriving in your inbox and save you from wasting more time on spam.
Set a Timer
The chances are that you use a calendar, but you can't figure out why you still deviate from your schedule throughout the day. The simple fact is that you may not have clearly established time limits. Here's an example. You plan a 30-minute conference call, but it takes 45 minutes. This pushes your next appointment or task back by 15 minutes. Throughout the day, you get further behind until it's impossible to get back on track.
Solution? Set a timer. Use a timer app on your phone or even an old-fashioned egg timer. It will send you an audible signal to interrupt that call (or any other task for that matter) so you can bring it to a timely close.
It's human nature to respond to an audible cue to "shift gears." As an added benefit, you will start to send the message to your employees that you are embracing a more productive culture in your workplace.
Turn Off the Cell Phone for One Hour
This sounds shocking…but give yourself permission to be cell phone-free for one hour every day. That's right, for one hour you will be free of distractions like phone calls, calendar alerts, text messages, and social media messages.
Cell phones cause constant interruptions. In addition, when your phone is on you are always multi-tasking because it demands your attention. When multitasking, you are more likely to get distracted from the main task or make mistakes. Worse yet, you're less likely to completely finish the main task!
Think of the things that you can accomplish in 60 minutes of uninterrupted time. You can return text messages, phone calls, and look at your social media stats at the end of that time period.
Delegate
Do you shoulder the load alone? Do you think that the only way a task will be completed on time…and correctly…is if you do it yourself? Look to your employees and start to delegate tasks to them. Remember that you hired them because you need help, and trust that they have your back.
If the thought of delegating makes you nervous, here are some tips. Identify which employee is the most capable of handling the task at hand. Charge that employee with the responsibility and set clear expectations. Mentor that employee and give feedback on improvement when appropriate.
You may be surprised to see that your employees will flourish under your guidance and to whom you can delegate even more responsibility to in the future.
Set Achievable Goals for Yourself
Here's food for thought. Are you trying to accomplish more in one day than feasible? Perhaps you're getting bogged down by work because you're placing too large of a workload on yourself.
This can lead to feelings that you haven't accomplished anything, when in fact you accomplish more than you realize!
Take inventory of your own expectations. Set daily workload goals that are achievable. If you can take on more at the end of the day, you can. But if you feel mired down day after day, it will eventually lead to more stress than you need.
Summary
"Lost time is never found again," Benjamin Franklin famously once said. This is sadly true. If you wish each day that you had just a few more minutes to complete tasks, look to these 5 smart ways to get more work done every day.
If you make these a habit, you will begin to accomplish more each day, feel back in control of your time, and alleviate the stress of not having enough hours in your day.
About the Author
Deborah Tayloe is a freelance web content writer. She's a consulting writer with EmailMeForm and loves learning about technology. She's a native of Erie, Pennsylvania and now lives in Bertie County, NC with her husband and an energetic toy fox terrier.
You may also like: Here Are Six Ways You Can Prevent Yourself from Burning Out