Click here to get this post in PDF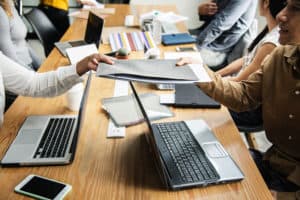 Starting out as an entrepreneur of a small business can be a frightening ride of emotions.  The typical concerns of finding new customers and being able to make a steady income will frequently enter an owners mind.
Many small business owners have given up a consistent income to become self-employed and have to adjust to incomes changing week to week.  This can become very stressful when the entrepreneur has provided services or products on credit but the customer has not paid on time.
Most businesses fail due to cash flow issues, either not enough money coming in or too much going out.  If customers are slow paying or not paying at all, using a small business collection agency could help alleviate money problems and help save a business from disaster.
Let's look closer at the top reasons a business should be using a collection agency to help improve the overall health of a company.
Cash Flow– As we previously touched on, cash flow is the lifeblood of any company.  If a company has issues with customers paying on time, it can lead to the inability to meet payroll or pay suppliers.  Collection agencies can help recover payments from even the toughest past due clients and keep account receivables to a minimum.
Customer Retention– Clients go through hard times just like anyone else.  A few bad breaks and they behind on bills.  Remember, they will pay the house and car first; everything else comes after so sometimes you have to get in line.  This does not mean the customers are bad people but allowing a collection agency to handle the payment can avoid any emotion being involved.  Debt collectors negotiate payments with customers every day and can handle the task professionally and hopefully leave the customer feeling good about the process.  The goal is to get paid and retaining the customer relationship for the future is a bonus!
Increase Productivity– Employees were hired for a task that probably did not include collecting from past due customers.  If employees are forced into collecting on past due accounts out of necessity, it can take away time and energy from the task they were hired to help grow a business. 
Employment Satisfaction– The average employee does not have debt collection experience and does not feel comfortable calling on past due customers asking for payments.  Calling the debtors can be confrontational, stressful, and draining.  Employees can become dissatisfied with the job and start underperforming due to the added burden of collecting from debtors.  Outsourcing to a collection agency can take this added stress off the employee's plate and allow them to enjoy doing the job they were hired for.
Litigation– The debt collection process is highly regulated.  The FDCPA has many strict guidelines to follow while collecting a debt and someone who isn't well versed in what is legal and illegal when collecting on a debt can put a small business in hot water fast.  The easiest solution is to allow a collection agency who is familiar with FDCPA. The agency will be familiar with the ever-changing laws surrounding debt collection to avoid any potential legal issues while attempting to collect a debt.
No business sets out to have customers constantly fall past due but it does happen so knowing the benefits of using one of the top collection agencies can help a business be prepared for when it does happen.
Hopefully, your business will never need one but now you know the benefits of using a debt collection agency.
You may also like: 5 Bookkeeping Tips For Small Businesses
About the Author
Luke McCann is the owner of CollectionAgencyMatch.com, an online service that helps connect small businesses with collection agencies instantly.