Click here to get this post in PDF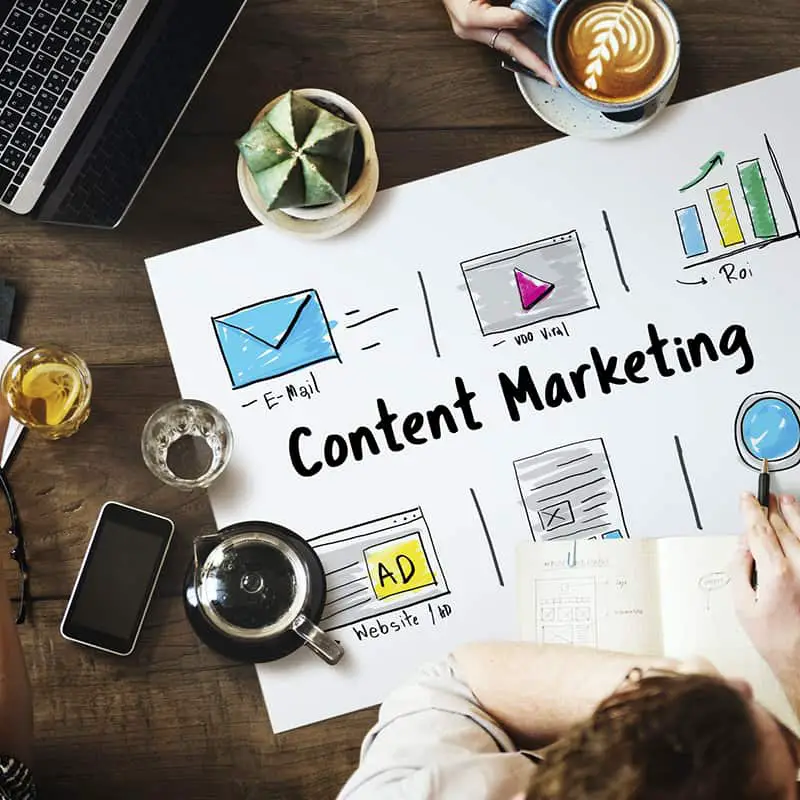 This article contains affiliate links. For more info, see disclosure.
If you're thinking about upping the business game, you can't by-pass content marketing. It is the proven method of not only reaching your (potential) audience, but also building trust, creating and nourishing relationship with them, and converting them into customers.
Content Marketing in Just 6 Words
Here is a 6-word definition of what content marketing is, and what it needs to flourish.
1.    Efficient
2.    Inexpensive
3.    Relatable
4.    Strategic
5.    Relevant
6.    Consistent
It's the point of connection with your potential customers.
We'll show you how.
Paying for large billboards is all but inexpensive- Moreover, your target audience may never see it. But showing what you do while targeting them online is.
You need:
case studies,
free material/email marketing,
live videos, how-to's and
testimonials
Blog
Writing relevant blog posts is an amazing way to show how you solve a customer's problem, all the while giving them valuable information in an appealing manner.
Nowadays, you can write blogs on various platforms for sharing content, such as LinkedIn or Medium, but you cannot leave it there. There are many blog writing services available these days that you can choose to write your blogs.
You must have a website: you can control content yourself, plus you can do various business activities on it. Always ask the professionals: TuiSpace, the digital agency Houston's seasoned experts will build the best possible website for YOUR specific business because one-design-fits-all simply isn't the answer to all business models.
Case Study
Case studies serve to help your audience see what you actually do, especially if you're a service provider.
For example, if you are an interior decorator, you can explain the whole procedure of coming up with the final solution for the client's apartment. This is how your potential customer sees how you think and how you can help them, as well.
This also serves as a trust-builder and social proof. You are slowly building your authority within your niche, which all boils down to the same: people trust you- you are capable of solving their issue (you have the right skills, and are reliable to finish things), so, they'll call you.
Email Marketing: Everyone Loves Free Stuff- Or Do We?
Nothing is free. You give people a free consultation, an ebook, or 5 chapters of your new exciting book, but they give you something truly valuable as well- it's their email address that you can use in various campaigns.
This is where the possible future relationship lies. This is where your business growth is. There's just one condition- you need to be relevant, consistently relevant so that when they happen to have the problem you have the solution for, your name will pop in their minds first. It's a sort of psychological conditioning.
So, if you promise to give people something in exchange for their email, make sure you don't spam their mailbox with selling things only, or with irrelevant, outdated material.
Videos /IGTV, YouTube…/ and How to Excel
You don't need professional equipment to do high-quality Instagram/ Facebook/ YouTube videos. We're not referring to visual quality. It is a plus, yet, we are talking about the content quality.
Here's a fact: making informative, attention-grabbing videos is a skill no-one has ever taught us. Come to think, it's a very important skill in all areas of life: if you want to make a point in any discussion, public or private, or to explain to a customer what you do in a form of an elevator pitch, you need to learn that skill.
Basically, it's the skill of selling.
Follow these steps and you'll be successful:
-Don't make long introductions: "Hi, we're Soul People, founded in…"- we know who you are since we're watching you. Even if we don't, if the video title is explanatory and the topic is of interest, we'll Google you. Instead, say something like: "Hi everyone, I'm going to talk about marketing for small businesses today".
-Then have a "second" introduction, to narrow down to your niche: "I'm going to talk about how to grow your following on Instagram in a month".
-The body follows, told in a visual way, not just factual because people will lose you. Make them create a mental picture of what you're telling them. Use the numbered list for highlighting. Because when you talk about point number one, I know number two follows, so even if you lost me, I'll get back quickly.
-Don't leave without a conclusion, people are unhappy without the proper ending.
How To's
Perfect for user manuals. If you're selling essential oils, you can show how to use them. Or you can show several different ways to wear a garment you've designed. People are visual beings. It hits home. With how to's you're cutting the time they need to go through the printed manual, especially if it's the complex issue.
Testimonials
Always find a way to show them. They're gold. It's what the first-timers at your website will read the second they think of becoming your customer. That's the seal of trust, skill, knowledge, and great effort. Don't waste it.
Conclusion
The aim of any business is to grow and become sustainable.
Even though in these precarious times it's rough, with the online possibilities and a sustained and targeted effort, you can achieve your business goals.
The method is to use your assets, i.e. your website for selling, but also for building and expanding the relationship with your customers, and your social network in general.
The number of buyers is directly connected to the relationships you've nourished: the more people talk about your business, the more people will buy from you.
Use our suggestions as guidelines to help you build and maintain these relationships. It's good for your business in the long run.
You may also like: Digital Marketing for Your SME: Why Content is King
About the Author
Liam Collins is a tech pundit and Web enthusiast working at TuiSpace.com. He spends most of his time reading and writing about the current affairs in the world of information technology. When he isn't working, he likes going for long bike rides and walks in nature.
Image source: Rawpixel.com