Click here to get this post in PDF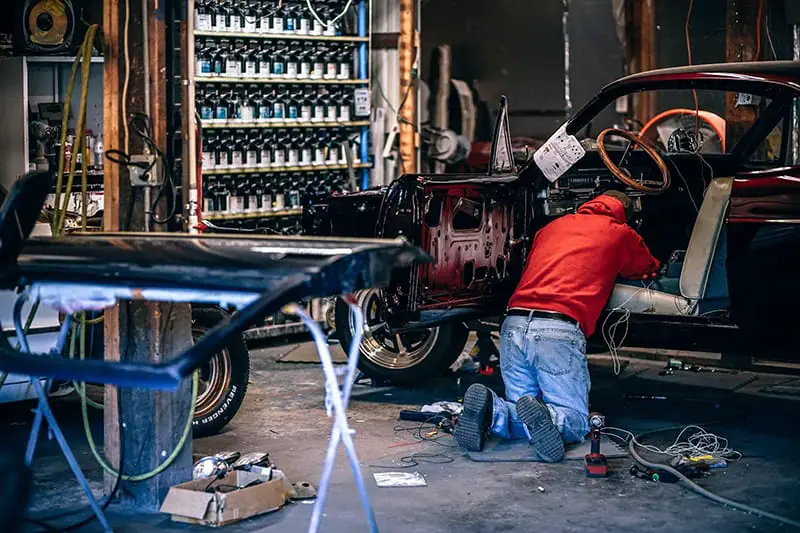 Whether you're a petrol head looking to foray into the world of auto repairs or an industry expert, you'll face many challenges when setting up a repair shop. From the beginning, you'll need to find a suitable garage with ample parking arrangements that's in close proximity to potential customers. Yet that's not all you have to worry about. Your biggest challenge will be to set up a viable business.
Many have started auto repair businesses only to fall into the same traps as their predecessors and close down. Conducting auto repairs comes with a lot of expenses, so you need to have a tight grip on your expenditure if you're to have any long-term success. You'll need to cover rent, utility bills and dispose any waste material you've acquired. Below we look at 5 mistakes to avoid when starting a successful auto repair business.
Your Goals Aren't Clear Enough
Many auto repair businesses are started by hobbyists who often have the required technical knowledge, but fail to set clear business goals. Without specific goals for staff and the shop, the business has no direction. Breaking down the calendar and providing daily, weekly and monthly goals can help to bridge the gap between where your business is and where you want it to be.
By setting some goals and letting your employees know what needs to be done, you put yourself in the position to be much more productive than a business run on autopilot. Simply setting efficiency goals such as turnaround times for your technicians can pay dividends over the long term.
Looming Over Employees
Whilst most auto repair owners are experts on technical problems, so are their engineers. It's not uncommon for shop owners to interfere with the work of their employees. Even though this is with the intention of helping, this often undermines long-term productivity. As a business owner you need to keep an eye on the bigger picture, rather than getting bogged down by everyday technical concerns.
Becoming too involved in your employees work means that you're not concentrating on your own workload. Creating a workplace dynamic where employees confront and solve problems on their own can be much more conducive to productivity. Your staff can handle improvising without you, and you'll be able to concentrate on running your business.
You Don't Support Your Employees
 At the same time, many repair shop owners fail to support their employees. When starting a new business there's a lot of pressure, so it's easy to fall into the trap of being overly critical and nitpicking over technical mistakes. However, this comes at the cost of the morale of your team. Commenting on small flaws in their work can be incredibly frustrating and lead to under motivation.
Instead, consider commenting on the things your employees are doing right. Simply recognising a job done well can do wonders to motivate and inspire your team. It costs nothing to thank your staff for working hard and you'll be paid back in terms of a more positive working environment. Having happy staff is the key ingredient of a productive business. Don't forget about training your team and keeping it up-to-date with the newest car innovations or design trends. You can also check interesting free car diagnostic tips here.
 Lack a Financial Plan
Whilst goals and customer service are extremely important, a solid financial plan is the backbone of your business. Budgeting and saving is the difference between repair shops that run like a finely oiled machine or fold within the first 12 months. Doing your research and meticulously tracking your ingoings and outgoings can help to ensure all your basic costs are covered. It's a good idea to invest in an accountant to make sure that you're set up adequately.
Failing to Market Yourself 
Many auto repair startups make the mistake of thinking that they don't need to market their brands. Unfortunately they couldn't be more wrong. Whilst the value of your repair service may seem self-evident there are many other competitors out there all vying for the same business. Potential customers can find it very difficult to differentiate in such an environment.
Creating a solid brand and keeping up with the newest trends in offline and online marketing is a great way to stand out from the competition and situate yourself as an industry leader. You should always allocate some of your budget to your marketing strategy. Don't make the mistake of thinking that you can pay for marketing your business down the line, as without marketing you're going to limit your potential growth.
Turning a Passion into a Business
Running a successful auto repair shop can be incredibly challenging as your trying to change a passion into a business. It can be difficult to remove yourself from your day-to-day enjoyment of repairs to actually owning a business. There's little glamour to be had in managing the accounts but it must be done in order to ensure your business runs smoothly. Exercising self-discipline will ensure that your business not only survives that crucial first year, but thrives.
You may also like: Top 5 Profitable Automobile Business Idea for 2020
About the Author
Giles Kirkland is a car tyre expert at Oponeo, dedicated automotive writer, and a newly an entrepreneur running his own car repair business. He enjoys attending motor shows, car-races (only as an audience member!) as well as reading and writing on everything motorization-related. He is especially interested in luxurious and classy cars.