Click here to get this post in PDF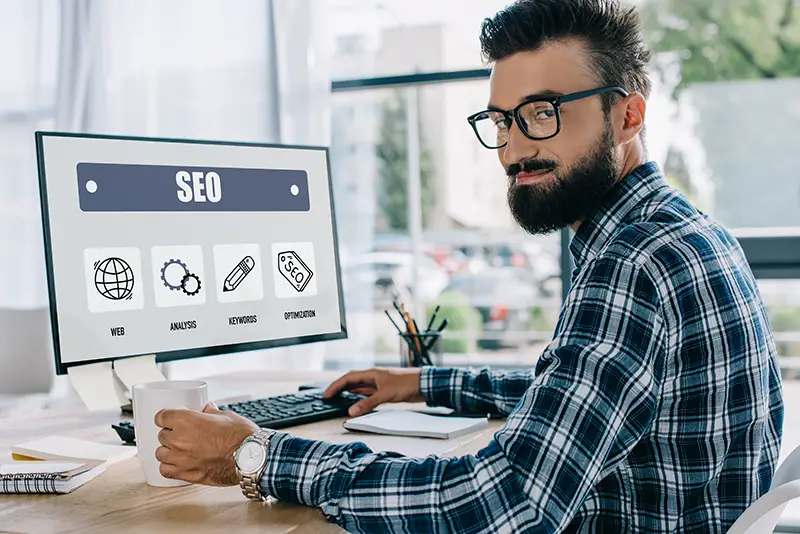 Search Engine Optimization is the key to getting your products or services found by a large number of people online. As a small business owner, you must know how important it can be to get more customers and sales for your company. 
Clients today want to socialize with brands on their terms and are searching for unique and efficient online experiences to do it. This is where search engine optimization comes in handy as an online marketing tool that allows your product or service to stand out from the crowd. 
It's not just about getting found, but also making sure your website converts visitors into paying customers. If you have a new product or service, then certain things need to be done right away so your site will rank high on Google searches and convert those first few clicks into sales. 
Here's how search engine optimization can help your small business reach new heights of success:
1. Helps Build Online Credibility 
As long as someone is looking at your website, they may be thinking about buying something from you. The internet has become such a big part of our lives that most people expect websites to deliver results immediately when searched for. 
If your brand doesn't appear on page one of Google, then potential customers won't even bother looking at your site. There are many reasons why this could happen including poor design, outdated content, slow loading times, etc. To avoid these problems, you should use SEO techniques to improve your ranking on major search engines like Google, Bing, Yahoo, etc. 
2. Improves Your Website Conversions 
The internet is full of companies selling similar products or services. Most consumers now shop online because they prefer convenience over shopping at brick-and-mortar stores. 
To make sure your website converts visitors into customers, you need to optimize it for search engines so they can find your product or service easily. Once they click through your site, you want them to buy something from you instead of going somewhere else. 
SEO helps you increase your conversions by improving your rankings on Google and other search engines. With a higher ranking, your products or services will show up closer to the top of the search results pages. This means your audience can easily find what they're looking for without having to scroll down too far. 
3. Boosts Traffic & Sales 
Traffic is the lifeblood of any online business. Without traffic, no one would ever visit your site. A whopping 90% of all internet users start their searches on Google. 
SEO is the perfect way to attract new customers who are actively searching for your product or service. By using SEO, you can build a following of loyal customers who trust you enough to purchase from you again. 
This is especially helpful if you have a seasonal product or service that sells well during certain seasons. For example, if you sell outdoor gear, then your website needs to rank highly on Google so people can find your products when they need them. Click here, if you want to learn more!
4. Gives You More Visibility 
Another reason why SEO is essential for your small business is that it gives you more visibility on the internet. Social media platforms like Facebook and Twitter are great tools for building connections with your audience, but they only reach a limited number of people. 
On the other hand, Google is the world's largest search engine. According to comScore, Google gets two billion searches per day which translates into approximately 80 million visits every single month. That's almost one visit every second! 
In addition to driving traffic to your site, SEO also helps you get found on the internet. When someone types a word or phrase related to your product or service into Google, your website appears near the top of the search results page. 
5. Boosts Your Brand Recognition 
Search engine optimization is a powerful tool for growing your brand recognition. Every time someone sees your company name or logo, they think of your products or services. 
You can see this in action with your favourite sports team. No matter how much money you spend on advertising, you'll never be able to reach everyone who watches your games. But if you invest in search engine optimization, then your brand name will appear higher on Google search results pages and people will be more likely to click through your site. 
6. Helps Grow Your Business 
When your website ranks high on Google, it makes it easier for people to find you. And once they find you, they're more likely to purchase from you. As a result, you grow your customer base and your bottom line. Local internet marketing can lead to your business attracting your target audience, which in turn increases your ROI.  
7. Helps You Stand Out from Competitors 
Most businesses compete for attention on the internet, but not all of them are doing it effectively. It takes a lot of work to stand out on the internet. One way to do this is by investing in SEO. 
By optimizing your website for search engines, you can position yourself above the competition and make sure people notice you. If you want to attract customers, then you need to put in the effort to make your brand stand out. 
8. Keeps Your Site Up-to-Date 
One of the biggest challenges for small business owners is staying on top of technology trends. If you don't stay up-to-date with web design, social media, blogging, etc., then you may end up losing your competitive edge. 
But there's another reason why keeping your website updated is important: it improves your SEO rankings. A website that looks outdated or isn't optimized for search engines will give off an unprofessional image. 
9. Improves Customer Service 
Finally, search engine optimization is a great way to provide better customer service. When your customers have questions or concerns about your products or services, they can easily find answers on Google. 
For example, let's say you sell a new product and someone has trouble installing it correctly. Instead of sending them an email, you can help them fix the problem right away by answering their question on Google. 
Your customers will appreciate it and your business will thrive as a result. 
10. Gives You Peace of Mind 
Last but not least, investing in SEO can help you sleep soundly at night. Imagine a future where your competitors are spending millions of dollars on paid ads. Now imagine you've spent a fraction of that amount on SEO instead. 
The results speak for themselves. You can grow your business while saving thousands of dollars. 
Final Words
It doesn't matter if you own a small business or you're running a large corporation, SEO is essential for growth. You need to invest in search engine optimization if you want to achieve success online. 
So, what are you waiting for? 
Get started today.
You may also like: 6 Highly Effective SEO Trends for Your Small Business
Image source: Shutterstock.com