Click here to get this post in PDF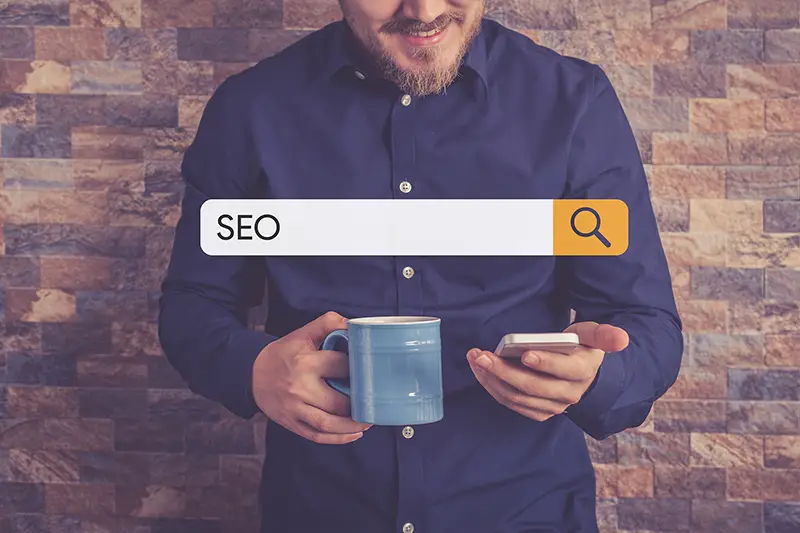 Why Is SEO Important in 2021?
SEO continues to remain among the most valuable ways for bringing potential customers and leads to your site – even in 2021. That's right! But, here's the twist – this year, you need to do it right! That means, making some great changes in your strategy. 
Every day an estimated 3.5 billion searches happen on Google. But, only 0.78% of those searches come from the 2nd page. The best results in Google's organic search results carry a CTR of 31.7%.
What do these statistics tell?
It tells us that in order to generate organic search traffic, it's important to secure rankings on the first page of SERPs. However, the face of SEO has changed A LOT in 2021. That's what we're going to cover in this post.
Is SEO Still Relevant?
The amount of organic search results has steadily increased in numbers over the years. And, the search trends are not showing any signs of decline in that trend or its likelihood to slow down any soon.
What has indeed changed over the last decade is the way marketers need to approach their optimization game. Today SEO is no longer just about keyword research and writing blogs around those keywords. This approach and SEO guide for lawyers will only get you so far.
If there was ever a good time to up your SEO game, it's NOW!
Take a look at the best B2B SEO strategies that are going to help you in 2021 and even in years to come.
SEO Trends in 2021
AI to Show Greater Impact
Although the technology behind BERT has been active for several years now, we're only now seeing how much this technology can transform the future and the potency it holds. 
Short for Bidirectional Encoder Representation Transformers, BERT is a natural language processing technology that helps Google understand the context of search queries better.
What's more, an increasing number of organizations and businesses are using this technology already. The AI industry is projected to become worth $118 billion by 2025. With such promise, it's clear that AI is here to change SEO in a big way. 
With powerful AI technologies, companies such as Anthonys Agency can now augment better keyword research and create more powerful content for your business. It is also likely to help maximize link-building opportunities.
Tools like Twin Word and Keyword Tool use AI technology which can help you with keyword research. You can also use WordAI, Articoolo, and Wordsmith which are some of the best tools for content creation; built on the power of AI.
Build and Improve on UX
How well your website is easy to use and move across pages is a huge determining factor in how much time users feel like spending on your site. In fact, almost 70% of businesses fail because their site offers a bad user experience. 
Because of this, UX testing holds tremendous importance. It helps website owners make sure that the UI (user interface) is efficient, smooth, intuitive, and attractive. 
Here are some ways in which you can ensure the best possible user experience:
Fast loading pages (ideally, less than 3 seconds)
An interface that encourages exploration
Easy navigation
Liberal use of high-quality images, fonts, and white space
Visual aid such as videos to guide the users for an effortless experience
Easy to read URLs and user-friendly sitemap
Streamlined web design that makes it easy to find different functions
Video Marketing Strategy
With increasing internet speeds and 5G around the corner, video is the future of the content. It's clear by the fact that YouTube has over 1 billion active user base. If you haven't given video content any thought, 2021 is the year to think about it.
To make sure your videos are well-optimized, you must give them relevant titles and descriptions. Optimize it for all the relevant keywords and give your channel a user-friendly overview.
One good idea to pick all the right keywords is to utilize the auto-complete feature of the YouTube search. Just type in a keyword and see which suggestions pop-up in the auto-suggestions list.
Play With Long-tail Keywords
Long-tail keywords tend to make your optimization efforts narrow and more specific. This strategy is more important for new startups and local businesses. The competition for general keywords can be cut-throat and they might not get you anywhere. 
Voice Search Will Impact Search Queries
Voice search is the future. It's clear from the advancement of voice search technologies such as Apple's Siri, Amazon's Alexa, and Google Assistant. Almost everyone is buying a household speaker. It's also estimated that almost 55% of households are likely to own a smart speaker by the end of 2022. 
To make sure your SEO efforts are well-optimized for voice search, you need to look at your keyword selection carefully. Make sure to include longer phrases that seem conversational and flow naturally. 
People tend to use natural-sounding language when using the voice search option. People also abbreviate some searches. For example, instead of saying 'what's the new fashion trend in 2021', they're likely to say 'new fashion trends 2021'.
Predictive Search Is Set to Improve
Google Discover first came out in 2017. It uses Artificial Intelligence to recognize and understand user search patterns and behaviors. Based on that understanding, it accordingly offers the kind of content recommendations that would most likely interest users. 
To appear for Google Discover searches, all you have to do is make sure your web pages are indexed. Google Discover ranks the content based on algorithms that inspect user interest and content quality. 
Bottom Line
2021 is going to be a big year in terms of revolutionizing the SEO landscape. Make sure that you are also reviewing and adjusting your optimization strategy with changing trends.
You may also like: Eight Advanced SEO Techniques That Can Double Your Search Traffic
Image source: Shutterstock.com