Click here to get this post in PDF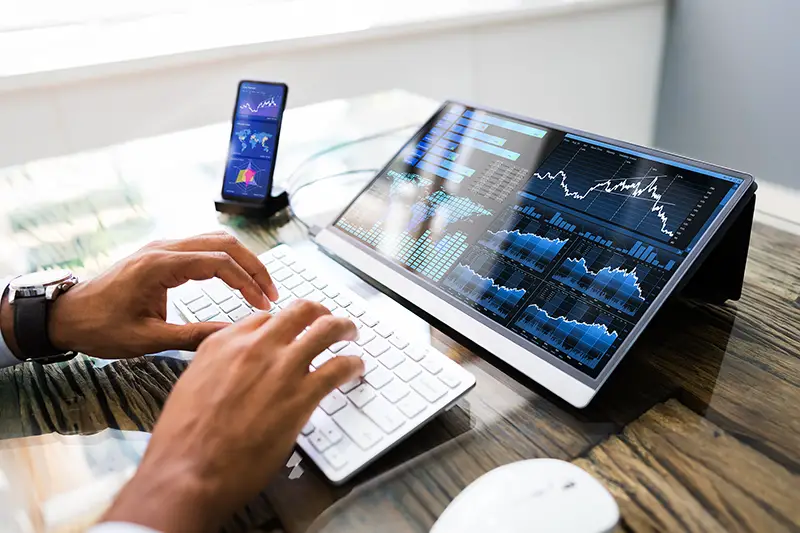 Artificial intelligence (AI) is more than a buzzword today. The tools offered by this technology successfully reduce human efforts on various tiers. AI overtakes human productivity and intelligence to optimize and enhance business operations. 
Artificial intelligence has its effect on every industry. Similarly, it offers plenty of opportunities to the stock markets. Who would have heard about the concept of AI trading systems in the times of buying and selling The stock market system is submerged in numbers. Mathematical calculations, pattern analysis, statistics, and forecasts are the backbone of the industry.via phone calls?
 A financial niche studded with the science of logic and arithmetic embraces the power of AI. 
Today, FinTech is one of the most thriving concepts globally. These platforms permit a competitive advantage to human intellect. AI opens a door for ideas like the aforementioned AI trading systems – systems that influence the technical arm of the stock market. 
Yet, it's one of the drops in an ocean of functions these intelligent systems perform.
Let us walk through the idea of artificial intelligence. Its influence on empowering stock market investors.
Impact on Technical Analysis
Technical analysis includes inspection of statistics. It was different back then. But, it is now taken over by AI trading systems. Decoding daily trades takes consistent human attention. Studying charts and candles is an inseparable part of the process. AI modules inherit the coded intelligence to overcome human saturation. 
Stated facts reveal that bots have been engaged in the market for a long time. They consistently evaluate price trends and market movements. A study conducted by JP Morgan displayed facts relating to the same. It said 60% of trades occurred using algorithms in 2020. These AI trading systems generated approximately 10 million dollars. 
The same algorithm-based market is anticipated to grow by 4 billion dollars by 2024. It will bring a volume trade of approximately 19 billion dollars.
Facilitates Risk Management
The stock market is prevalent for its risk factor. The winners here are usually the ones who know how to manage their risks. Otherwise, you're wiped out of the game. AI as a technology can help mitigate risk. 
Traditional methods of analysis cannot handle the overwhelming chunk of big data. The players achieving a slice using some of these methods believe in its implementation. However, these profits are a lucky bull's eye. Investment firms deploy highly automated data trackers for similar reasons. 
AI trading systems put together structured forms of data. Through successful portfolios, it monitors and inspires to foresee uncertain events and quality opportunities. The risk and reward ratio is tapped excellently by the AI system, such as the AI trading system from Trade Ideas. It can understand the market trends better. 
It inspects currency, commodities, and other instruments in real-time before displaying functional results.
Calculates Charges and Fees
Trading and investing in stock markets include various charges and fees. Delivery charges, brokerage, interest etc., are a few of these charges. These calculations differ on every particular transaction. 
Being subjective in nature, every lot has a unique fee. Trading stipulates concentrated attention in each second of price change. It is practically impossible to sit and calculate these costs after each transaction. 
In such instances, AI trading systems come into play. Right when a transaction occurs, these algorithms calculate the fees. Today, the brokerage platforms send on-spot invoices. The money is deducted from your broker's application. 
Email communication is generated. This entire process prevails on the back end with the help of these AI structures. 
Such technology allows a trader to focus on the market. One of the most significant advantages of AI here is the time and manual effort it saves. 
Aids Proactive Portfolio Management
Investors need a consistent eye on all trades to build a profitable portfolio. AI trading systems enable constant tracking of macro and microeconomics. It is impossible for a human brain to work 24*7 on spreadsheets and broking applications. 
On the other hand, an AI algorithm measures all market factors around the investments. It eventually pinpoints the best trades. Such technology eliminates manual human effort. It weighs all the possible factors to facilitate a proactive market watch. 
These analyses include economic indicators, market trends, legal facts, and so on. Engaging in customized protocols is one way to go. It helps to articulate a specific market segment. 
AI leverages traditional methods with its consistent research. Such high technology enables investors to manage investments while being busy elsewhere.
Offers Voice Activated Research and Investing
Wouldn't it be fascinating to ask your AI to purchase a stock? It turns out that enhancing AI technology makes it possible. AI has already become an assistant to daily chores. Taking a step further, it has also become an invaluable asset for trading. 
Voice assistants allow you to instruct the buy and sell of investment tools. It also aids research. 
AI can induce predictions and news updates on a single voice command. These advancements in AI trading systems encourage investments like never before.
Protects Against Emotion Driven Decisions
One of the greatest blunders made by investors is emotional decision-making. Many factors come into play in such cases. Anticipation of profits or overwhelming losses leads to emotion-driven trades. Another factor to consider is the fear of missing out. 
Risky trades are often opted for witnessing revenues in peer investing models. These are a few examples of emotional decisions in the stock market. AI trading systems eliminate such threats with practical and logical insights. No emotional factor comes into play in computerized analysis. AI can consequently prevent catastrophic trades.
Parting Thoughts
The stock market is a powerful investment vehicle. If driven ideally, it can lead to wonders. AI trading systems are of noteworthy significance in the capital industry. The advent of this technology is robust, encouraging, and profitable. 
Many investors are resistant to engaging in the stock market. It results from many misconceptions and cynicism spread around.
Hopefully, futuristic tech can possibly make it simpler. If you are new to this world of investments, you must adopt these AI trading systems. They enhance your efforts with automation and generate exceptional results.
You may also like: Stock Market Investing Tips & Guide for Beginners
Image source: Shutterstock.com