Click here to get this post in PDF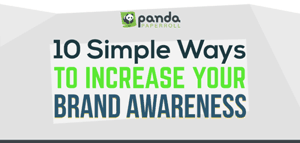 One of the most defining characteristics of a successful business owner is the ability to comprehend the ways as to how a brand can gain widespread attention. Most of the biggest names in the mainstream business industry tend to possess exceptional brand awareness. This statement alone further enforces the idea that a brand's current popularity is based on the business' experience, credibility, and quality.
However, recent advancements in the technology today made the competition more of a leveled playing field. By applying certain ways of increasing brand awareness, even the smallest and newest brand can grow to become of the future dark horses of it's chosen form of industry.
Here are ten simple ways to increase your brand awareness.
Make your story known
Send useful tips
Use infographics
Be a guest blogger
Experiment with pull marketing
Biddable Campaigns
Author a book
Host your own radio channel
Wear your logo on your sleeve
Host an event
To know more about these tips, head over to the infographic below brought to you by Panda Paper Roll:

You may also like: How To Reach Your Full Event Marketing Potential: Custom Printing And More…
Infographic by Panda Paper Roll