Click here to get this post in PDF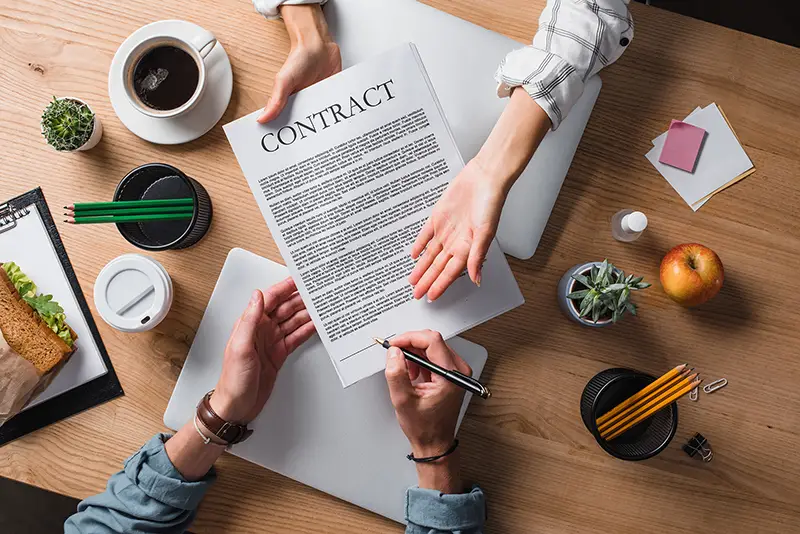 When you find your dream job, the first thing you should do is to check the work contract your future employer is offering you. It might not sound as fun as celebrating a new job with your family and friends. However, it might save you from making a huge mistake. 
The HR manager might offer you numerous benefits during the initial interview. If they are not listed in your contract, it means these are just empty promises. Your employer is obligated to give you a clear, written statement before you join the company. 
Here is what you need to know about your new work contract:
What is a Work Contract?
A work contract is an agreement between the employer and employee that highlights employment terms and conditions. 
This document is essential for both employee and employer as it bonds both parties in terms of responsibilities and duties. It also creates a strong basis for protecting the interest of both parties. Moreover, it covers the employee's job security and protects the employer from being responsible for specific risks such as the release of confidential employer information after the contract ends.
Work contract contains information such as the employee's roles and responsibilities, compensation and benefits, employee's health insurance policy, confidentiality agreement, sick days, annual leave days, termination terms and conditions, employee classification (contract jobs or full time), etc. 
What Should I Look for in a Work Contract?
When signing the contract, you should read it from cover to cover. That's the only way to make sure there are no surprises down the road. 
Salary 
First and foremost, check your salary and benefits. Obviously, it should not be lower than it says in your offer letter.
In case your employer offers performance-based bonuses, ask them to provide you with the list of requirements and information on who's in charge of deciding whether you get the bonus.
Hours of Work 
Other than that, check the hours of work and holidays. You should not do overtime if there are standard working hours. If you don't mind staying longer from time to time and your employer is eager to pay for it, it should also be described in your contract. 
Holidays
Some companies don't allow employees to take holidays at certain times due to the nature of the industry. For instance, some companies are open even during Christmas break. If you don't want any unpleasant surprises, it's better to make it clear in the very beginning. 
You need to double-check this information in your contract and learn whether you are entitled to take unused personal days into the following year. 
Sick leave 
It's your right to take sick leave any time you need it. However, in some companies, you will have to provide a medical certificate.
Sick leave is considered a contingent benefit. Read about it carefully to make sure you know what to do if you cannot perform your duties due to your health condition. It's also important to check whether you can still get paid while you are on sick leave.
Understand Employee Roles and Duties
One of the fundamental things in a fair work contract is a clear list of the company's responsibilities. It helps the employee to understand standards, duties, and professional goals. 
Knowing your responsibilities also allows your manager to measure your performance and reward you accordingly. 
This also works in favor of employers. Having a contract that defines clear expectations is a great way to get the best out of each team member. With both parties aware of what is expected in terms of employee performance, there is no room for misunderstanding and disappointment.
Notice
Most companies require their employees to give three months notice. In some cases, you need to negotiate your notice period as it might be too long or too short. Of course, a notice period is not something a person thinks of when starting a new job.
 However, you should always have a plan B in case things will go wrong. Know your rights and remember that you can always find another job.
Conclusion
Work contracts are entirely essential in an organization or a business enterprise, protecting both employer and employee. 
Before you sign the work contract for your new job, take your time to read every page of the agreement. It's essential to check your net salary, holidays, notice period. Also, try to find out if you qualify for benefits and paid sick leave.  
You may also like: Things You Need to Know About Expunged Records Before Recruiting An Employee
Image Source: Shutterstock.com