Click here to get this post in PDF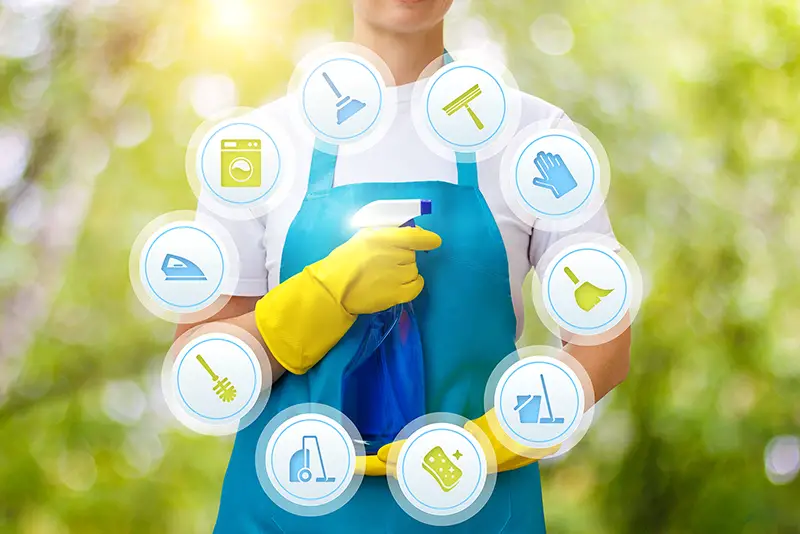 After the pandemic, a sudden wave of home-based businesses was observed. People were stuck in their homes, and soon they got bored of it. Results? They started doing different things to stay entertained; some people discovered a talent they never knew existed. Some people found their own qualities. 
While many people were just doing things so that they don't get bored, some people decided to turn their hobbies into a profession to earn money. And that's how the number of home-based businesses started to grow. In fact, as per the small business administration, there are 15 million home-based firms which are more than 50% of the U.S. businesses. 
Shocking facts, right? 
Considering the same today, we'll discuss one of such home-based businesses, i.e., cleaning and maid service. Did you know that the market size of the cleaning industry is expected to be approximately 74,000 million dollars by the year 2022? Moreover, the current CAGR rate is 6.2%. 
In addition to this, due to Covid-19, people have become more conscious about cleaning and hygiene. Therefore the demand for cleaning services is also increasing, be it the commercial sector or residential sector. So, if you want to start a home-based business, this service is an excellent option for you. 
As a matter of fact, we have several other points that can prove our point. To learn what those are, please scroll down! 
Reasons to consider this idea: 
Believe it or not, this business is a great option if you are looking for a flexible, lucrative, and risk-free startup. Nonetheless, we are sure that the reasons written below can convince you. So keep on reading! 
Better market conditions
Generally, every industry gets affected by the prevailing market conditions. Some market conditions help the business to grow, while others affect them. However, that's not the case with cleaning and maid services. Whether the conditions are good or bad, nobody likes to live in dirt. A hygienic and germ-free environment is essential for the betterment of health and mind. Therefore, the market conditions for this industry are always favorable and provide constant demand. 
Less cost of investment 
When someone decides to start a company, they need a lot of financial support. The investment cost is usually very high at the beginning of startup, while the revenue is not as high. Moreover, there are several operating expenses that the company has to bear. Perhaps that's why many companies face the issue of cash crunch in its beginning years. 
But, in this industry, to start your company, the only expense that you have to bear is purchasing cleaning supplies and equipment in the beginning. There is rarely any other overhead that the company has to pay for. 
Easy to hire people 
Finding a qualified employee to work in a company is a challenging task. The recruitment process is very long, and there are several types of tests that a person has to give. However, what about the people who are not qualified? The harsh reality of life is that some people have to leave their education in between because of personal reasons. But for their survival, they need to work. 
With this business, you can give such people a chance to live a better life. That's not all! Some students also look for part-time jobs to become independent, so you can also hire them. 
It's an ongoing service.
As long as people are using buildings, be it commercial or residential, they need to clean them. And even if some stop residing in a place, they'll find another place to live in. Hence, there is no chance that the demand for this service will ever drop. In simple words, it's a stable and consistent business. 
Easy management 
How many times have you heard people say, "It's hard to manage a company; not every person can do it." It is a truth. Managing a company is not easy. It requires a lot of skills, mainly if it includes working with lots of people. But this industry has an advantage over it as well. You can simply use "maid service software" and schedule everything to manage your company well. It'll help reduce your hours of work and assist in the development of the company. 
Yes! You can achieve all these benefits by starting a home-based cleaning company. Impressive, isn't it? So, if you have made a mind to give this business idea a try, we'll tell you how you can get started. 
How to start:
Decide the name and register your company
Your startup task includes deciding a unique and impressive name for the company, type (sole proprietor, partnership, or LLC), and registering it with the state. If you plan to hire employees then learn about the law involving employers and employees. Moreover, you also have to get an EIN (employee identification number). 
Don't forget about getting insurance to safeguard yourself. 
Decide Target market 
The next thing you need to do is decide the market you want to work in, i.e., commercial or residential. Or it can be a specific industry of the commercial sector as well, for example, you can select working with schools, real estate companies or factories. It is up to you whom you want to work with. So decide wisely!
Purchase necessary types of equipment
After finalizing the target market, you need to purchase all the necessary cleaning supplies. Maybe you also have to invest in a vehicle to move from one place to another. But you can do it in later stages when your company starts to grow. 
Create a network 
Lastly, it would be best if you created your network. You need to impress your clients with quality service so that they recommend you to their friends. Slowly and steadily, it'll help you create a customer base and help your company grow. 
To sum it all up!
Living in a clean and hygienic environment is necessary, and with this business, you can take advantage of this necessity. It'll give you money and your clients a healthy environment to live in. So, it's a win-win for both! 
You may also like: How to Start Your Own Window-Cleaning Business in 4 Easy Steps
Image source: Shutterstock.com