Click here to get this post in PDF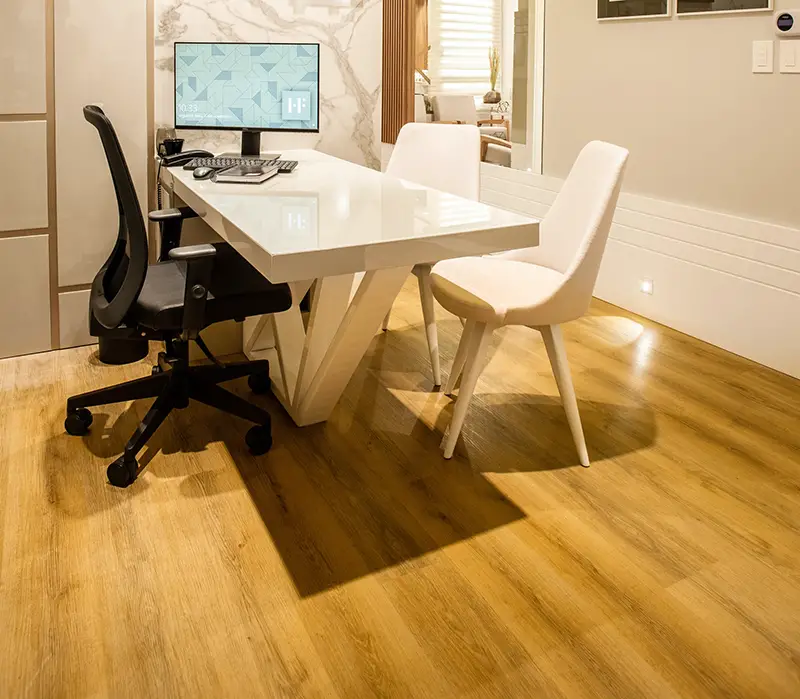 If you're choosing an office or thinking about renovating your office, flooring could be an important factor to consider. Different flooring materials can have pros and cons. It's important to think about what is best for your business. Below are 5 flooring options compared.
Carpet
Carpet tends to be the most popular option. A carpet can provide an office with a cosy feel – they're great at insulating heat and sound. Carpets are also available in various colours and designs.
The biggest drawback of carpets is that they're harder to maintain. They'll need regular cleaning, which could include using a carpet cleaning machine every so often to remove stains. Carpet tiles are sometimes a popular option – if a single tile gets stained or damaged, it can be replaced cheaply rather than having to replace the entire carpet.
Laminate
Laminate flooring is also quite popular. It's very easy to clean and tends to be very durable, making it ideal for high-traffic areas. It also has a reflective quality that can help to brighten up a room. 
Compared to carpet, laminate flooring can be quite noisy. It can also get quite slippery when wet – which some companies may see as a hazard. Placing rugs in high-traffic walkways could be a way to get around this.
Hardwood
Hardwood looks great in older buildings and can provide a naturally rustic feel to an office. It can provide a level of heat and sound insulation (although not to the same extent as carpet). You can also get away with scratches and chips in older hardwood flooring – they can be easily sanded away or you can leave them there to provide character. 
Hardwood does require care when cleaning – you cannot leave hardwood floors wet for long periods as it can damage the wood. You also have to be careful of damage from pests and spillages. Sealing and regularly resealing a wooden floor can help to protect it from damage.
Rubber
Rubber floor is popular in gyms and factories for their non-slip qualities. Many offices have started to embrace it too – not only is it non-slip, but it's also easy to clean, durable, heat-insulating and sound insulating.
Rubber isn't as attractive as other flooring solutions and can give off a distinct rubbery odour. Synthetic rubber can also be quite flammable (natural rubber is fairly resistant to fire, so maybe a safer option). Its other major drawback is its high cost.
Tiles
Tiles can give an office a sophisticated feel. They're very easy to clean and fairly easy to maintain – you can replace a single tile if it gets damaged. Tiles are also known for their ability to stay cool, which makes them preferable in warmer climates.
You may want to avoid tiles in cooler climates, as they will likely make the room colder. They can also be very noisy and slippery (not to mention hard if you fall on them). Placing rugs on a tiled floor can help to reduce noise and make them less slippery. 
You may also like: 3 Secrets to Choosing the Right Rug for Your Office or Business Space
Image source: Pexels.com