Click here to get this post in PDF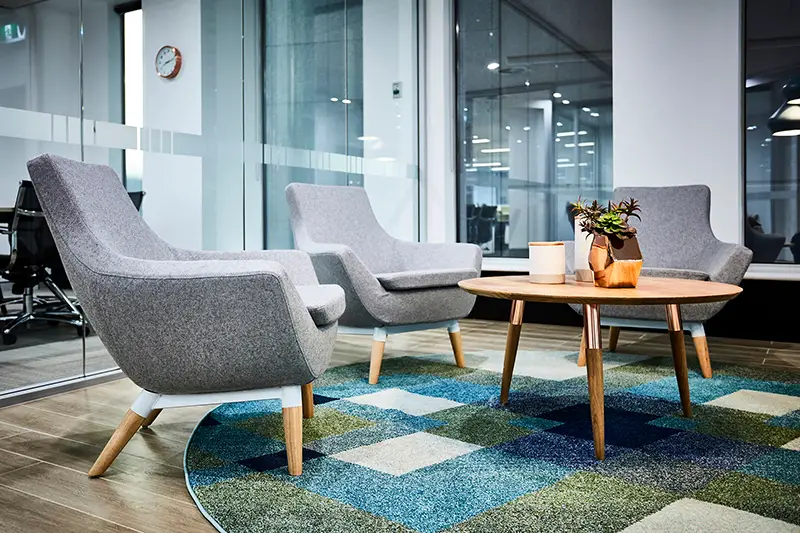 Interior design affects the mood and overall attitude of the people inside an office. From the furniture layout to the color of the walls, all these details can make or break your employees' morale and productivity, no matter how small an element they may seem.
Even the small details like the rugs you choose could very well be causing your business to dwindle and customers to stop coming.
Remember: By using subtle elements in the background, staff can be inspired to do their best, and customers can be motivated to buy products.
Whether you're designing your office at home or one located in a full-fledged commercial space, you need to make sure you choose the right rug for your work environment. Below are three interior design secrets that can help you make that happen.
1. Match the rug to the floor.
Since the primary purpose of rugs is to enhance the floor, it only makes sense that you consider this part of the house or office when choosing an area rug. And one of the most significant factors you should consider is the floor material.
Different floors work best with specific rug styles. Below are some of the most common examples found in home offices and commercial spaces:
Stone and concrete
Because of their cold and hard surface, stone and polished concrete floors absolutely need the plush comfort and warmth an area rug can offer.
If you have a classic floor design, you should consider matching it with a classic-looking rug.
Woven wool rugs leave that antique-like aesthetic after being washed, like what you'd see in medieval castles. Their elegant design also makes classic wool rugs a great match for traditional-style fixtures and furnishings.
Hardwood
Whether you're going for a contemporary or rustic but elegant style in your lobby or office common area, rugs can help you achieve that on hardwood flooring.
Though hardwood insulates heat quite well, your office can still get quite cold when the AC is on full blast. Because of this, commercial fabric experts recommend sheepskin rugs to help warm the room. Sheepskin is particularly attractive when used with wood flooring, invoking the warming and atmospheric vibes you'll find in log cabins.
3. Learn all about rug size and shape.
Rugs come in various colors, patterns, and materials. However, many decorators argue that the two most important factors are its size and shape.
Experts recommend treating home offices like small dining areas where the tables and chairs stand fully inside the rug. As much as possible, the rug should be extended out in all directions.
This will help create a warm, cohesive workspace. It also prevents the chairs' feet from dragging over the rug's edges, which may cause it to unravel or show signs of wear prematurely.
Most offices and commercial spaces are square or rectangular, which means you should consider rugs following the same shape to achieve a more proportionate look. Here are some of the standard rug shapes and sizes you can choose from:
Rectangle
Deemed the most common rug shape, rectangle rugs work in almost any setting. They also come in the widest size range, some of which are listed below:
2 by 3 feet
4 by 6 feet
5 by 8 feet
6 by 9 feet
8 by 10 feet
9 by 12 feet
12 by 14 feet
Square
Though less common than their rectangular counterparts, square rugs are as effective in accentuating tables and pieces of furniture, especially those placed at the end of a room.
They usually come in the following sizes:
4 by 4 feet
6 by 6 feet
8 by 8 feet
Round
Round or elliptical rugs are usually placed on the doors and entryways. However, they can also be an excellent choice for other areas that require grouping pieces of furniture together.
For this shape of rugs, you can choose from the sizes below:
4 feet diameter
6 feet diameter
8 feet diameter
Runners
As the name suggests, runner rugs run the length of entryways and hallways. They are commonly used in commercial space wayfinding to help customers and other visitors find their way around the building.
Sizes of this type of rug vary greatly as these can also be custom-made for the part of the space they will be placed in.
3. Determine which area the rug will be used for.
Rugs come in various materials, shapes, sizes, and styles to match the area where they will be placed. That said, you need to know where in the office you plan to position the rug to make sure you get the right one.
Below are some tips for choosing rugs depending on where they will be used:
Entryway
Since they are the first rugs visitors see, entryway rugs and mats need to be stylish and functional at the same time, as they show guests the way to different parts of the space.
If you have a small entryway, a round or square rug placed in the middle of the walk-in area should do the trick. If the entryway is quite long, a runner in the center of the space is your best bet.
Either way, rugs need to fill up most of the area, but not all of it. That means there should be equal bare space on each side of the rug.
Waiting Room
Waiting rooms are like the living room of a commercial establishment. Since this will be the main seating area for guests, you should be aware of the size of the coffee table and other furniture inside it before you choose your rug.
The key is to get an area rug that is big enough to extend beyond the furniture's legs. If that's not possible, all seats and tables should at least have the first set of their legs inside the rug.
You need to follow the Goldilocks principle of being "just right" here: The rug should not be too big nor too small. If not, the rug will look disproportionate to the room. A good rule of thumb is to leave between five and 20 inches of bare floor between the rug and the wall.
Office
Whether it's a private office or a corporate office, you need to select a rug that is one to two feet shorter than the room's shortest wall to make sure it's proportionate.
Again, keep all the seats and tables inside the rug to give the workspace a unified look and to prevent the rug from unraveling.
Choosing the Perfect Workplace Rugs
Area rugs inside a commercial establishment have virtually the same purpose as that of rugs in houses and apartments: to make the space more inviting. Take into account the floor material, size, shape, and room when choosing the perfect rugs to use for your business or office areas.
You may also like: Office Design Trends That Suit the Millennial Lifestyle
Image source: Shutterstock.com