Click here to get this post in PDF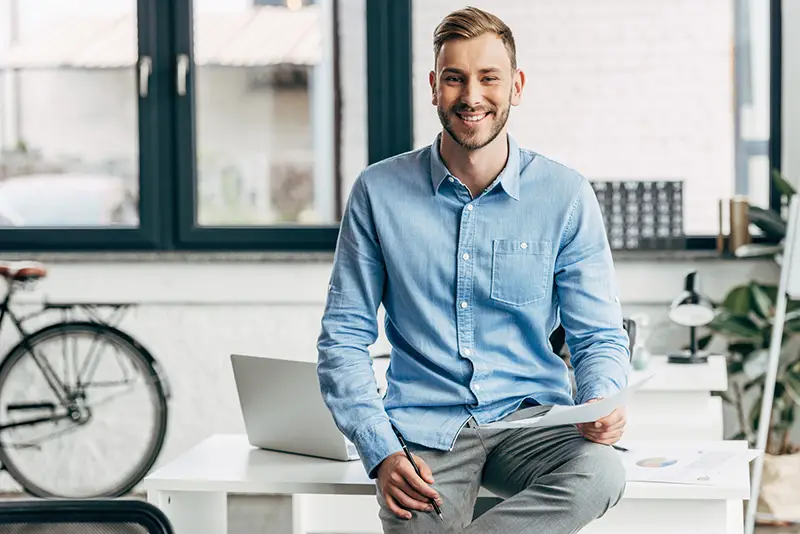 Setting up your own company requires a substantial leap of faith. It takes a lot of skill, perseverance, expertise, and patience (as well as a little luck) to become a successful entrepreneur, but the potential rewards of success can make it a risk worth taking. If you are considering starting your own business, there are many things to consider and steps to take to set yourself up for success. This article will explore what you need to know about starting a business and provide some valuable insights to help you navigate the entrepreneurial journey. The infographic will delve deeper.
Identify your passion and purpose:
Before diving into the world of entrepreneurship, it is important to identify your passion and purpose. What motivates you? What problem do you want to solve? Starting a business requires a significant amount of time and effort, so choosing a venture that aligns with your interests and values is essential. If you are passionate about your work, overcoming challenges and staying motivated during tough times becomes easier.
Conduct thorough market research:
Market research is a crucial step in starting any business. It will help you understand your target audience, identify potential competitors, and assess the demand for your product or service. When you conduct thorough market research, you can gain valuable insights that will inform your business strategy and help you make informed decisions.
Develop a comprehensive business plan:
A well-crafted business plan is a roadmap for your entrepreneurial journey. It outlines your goals, target market, marketing and sales strategies, financial projections, and more. Your business plan helps you stay focused and is a valuable tool instrumental in helping you to get funding from investors or financial institutions.
Secure adequate funding:
Starting a business requires some level of financial investment. Depending on the nature and scale of your venture, you may need to secure funding to cover initial expenses such as equipment, inventory, marketing, and operational costs. Take your time exploring the various funding options such as personal savings, loans, grants, or seeking investors. A solid financial plan is crucial to sustain your business until it becomes profitable.
Build a strong support network:
Entrepreneurship can be challenging, and having a solid support network can make a significant difference. Surround yourself with mentors, fellow entrepreneurs, and industry experts who can provide guidance and support while providing valuable insights. Additionally, consider joining networking groups or attending industry events to expand your professional connections and learn from others' experiences.
Embrace continuous learning:
The business landscape is constantly evolving, and staying updated with industry trends, technologies, and best practices is essential. Pay attention to your professional development, attend workshops, conferences, and webinars, and leverage online resources to enhance your knowledge and skills. As an entrepreneur, you must be adaptable and open to learning new things to stay ahead of the competition.
Build a strong team:
Businesses cannot succeed without a strong team. Therefore, it is essential to have a talented team of individuals who share your vision and complement your skills. Hire passionate employees who are interested in your business and willing to work hard to help you achieve your goals. Building a strong team not only brings diverse perspectives but also allows you to delegate tasks and focus on strategic aspects of your business.
Embrace innovation and adaptability:
The business landscape is highly dynamic, and successful entrepreneurs can adapt to change and embrace innovation. Be open to new ideas, explore emerging technologies, and constantly look for ways to improve your product or service. Stay connected with your customer's needs and adapt your business strategies accordingly.
Stay focused and persistent:
Starting a business is not a journey without obstacles. It requires perseverance and a resilient mindset. There will be many setbacks and challenges, but staying focused on your goals and persistently working towards them is crucial. Learn from failures, adjust your strategies, and keep moving forward with determination.
Take care of yourself:
While it is vital to dedicate time and effort to your business, it is equally important to take care of yourself. Entrepreneurship can be demanding, both physically and mentally. Therefore, maintain a healthy work-life balance, practice self-care, and seek support when needed. Remember, a healthy and well-balanced entrepreneur is better equipped to lead and grow a successful business.
Starting a business requires careful planning, dedication, and most importantly, a willingness to take calculated risks. You can increase your chances of entrepreneurial success by identifying your passion, conducting thorough research, building a strong support network, and staying adaptable. Remember, every successful entrepreneur starts somewhere, so take the leap of faith, pursue your dreams, and work hard to turn your vision into reality.
The infographic below discusses what you need to know about starting a business – read on to learn more.