Click here to get this post in PDF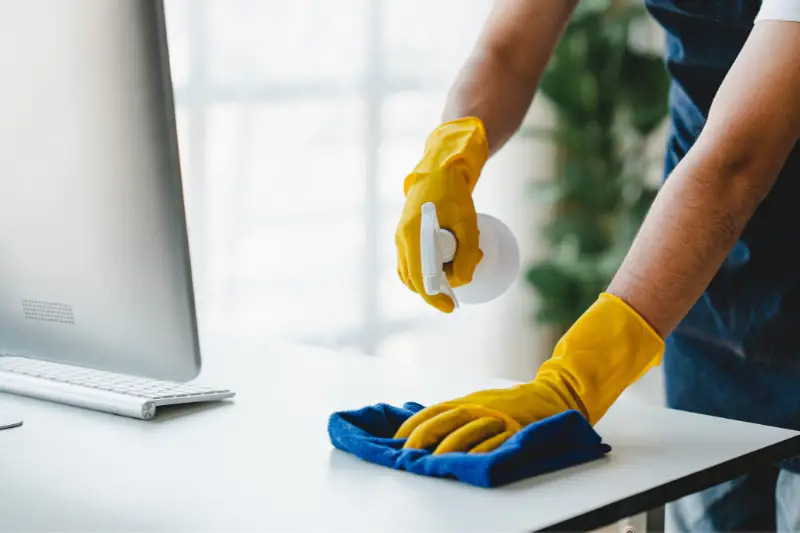 Everyone's heard the words cleaning, sanitizing and disinfecting before. But many people tend to use them interchangeably when really each means something different. So what are these washing techniques, and how do you tell them apart?
1. Janitorial Services Provide All Three
Janitorial services perform professional everyday maintenance and care for various facilities. While in-house employees are usually expected to keep their personal areas and effects tidy and organized, professional janitors are typically responsible for cleaning everywhere else inside a building. Things like stairwell cleaning, vacuuming, and waste removal are all in the janitors' jurisdiction, and those are just things people think of as general cleaning. Janitors also help disinfect and sanitize public areas of a building, especially during colds and flu season. They're also careful to use safe cleaning products.
2. It's a Spectrum
Cleaning is pretty easy to recognize. It's basically getting rid of dirt, dust and other substances at the surface level. Usually, this involves soap, water and a lot of scrubbing. In addition, vacuuming, dusting and cleaning windows also count. Cleaning makes everything look tidy, but it isn't necessarily the best process for getting rid of germs.
Sanitizing and disinfecting are very similar. Both go deeper than a surface clean, but while sanitizing means removing germs so you can use something safely, disinfecting specifically means killing viruses and bacteria. It's the difference between hand sanitizer and disinfecting wipes. You use the wipes when you want to kill all the germs on the handle of a shopping cart. You use the hand sanitizer to get rid of harmful microbes on your hands and hopefully leave the good bacteria on your skin alone.
3. They're More Powerful Together
A combination of these three washing techniques is the best way to make any populated space into a safe and healthy environment. No one wants to live, learn or work in a dirty building, so we make sure to mop up spills, wash the dishes and dust. Focus on sanitizing and disinfecting in places that see more contamination, such as the kitchen and the bathroom. You should also be using all three techniques on things you might not think of right away. Your phone can pick up a lot of contaminants from your hands and transfer them to your face. It is the same with doorknobs and light switches, so it's important to not only disinfect these surfaces regularly but also to sanitize your hands when necessary.
4. Know When To Use Them Separately
For all that cleaning, sanitizing and disinfecting are more powerful together, there are times to keep them separate too. If you want to make sure your groceries are safe to handle, you can just use basic soap and water. Stick to stronger disinfectants where you won't risk contaminating things you'll put in your mouth, such as food or your toothbrush. Use a less powerful sanitizer for those places instead.
Keeping homes, schools and workplaces clean and safe is an important aspect of health and safety, a commercial cleaning company can often be a good idea, keeping your premises COVID safe. Knowing when and how to use different products and techniques helps keep places cleaner and healthier.
You may also like: Benefits Of Outsourcing Janitorial Services For Your Business
Image source: stock.adobe.com