Click here to get this post in PDF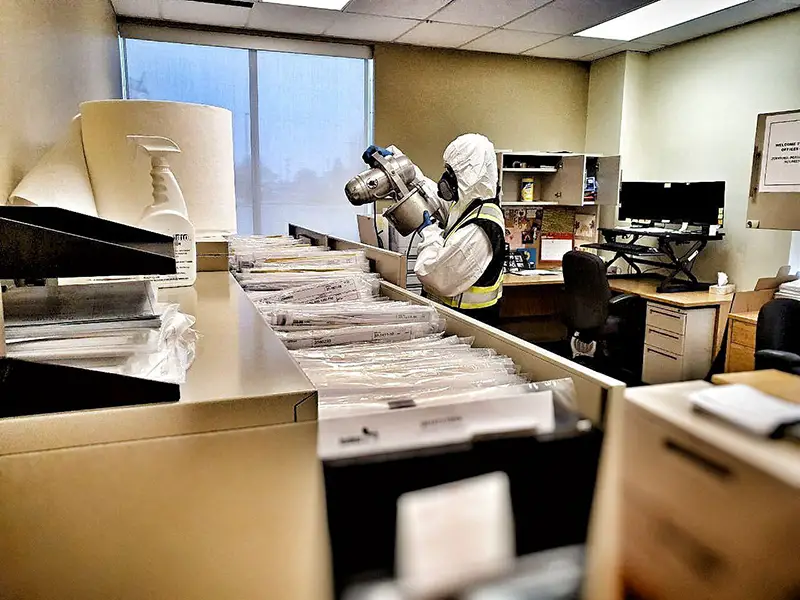 COVID-19 has unquestionably taken a substantial toll on businesses. If your company has endured these monumental, harrowing times, you are undoubtedly looking ahead to relatively better days. That means you're looking ahead to what you should do to get ready for Canada's Coronavirus lockdown exits.
While we don't want to add to the burden of reopening in what undoubtedly feels like an entirely new world, it is vital to start making plans. This includes whether or not you should have your business disinfected thoroughgoingly by professionals.
Disinfecting your business property is something that should be considered under the very best of circumstances. As we face a world where COVID-19 is still to be taken seriously, services such as anti-viral/bacterial/fungal treatments and industrial-grade disinfection work are essential. 
How Does Disinfection Help Businesses?
Simply put, disinfection services benefit not only those who patronize your business but also yourself, your employees, delivery people, and anyone else who might walk through your doors.
Professional cleaning isn't just a matter of scrubbing down a few surfaces. This is work that cleans, sanitizes, and disinfects absolutely everything on your business property. Unique, green-friendly equipment and materials are utilized to ensure that bacteria and viruses are destroyed on an absolute level. Using HEPA filtration to remove and eradicate viruses, molds, bacteria comprehensively, and any other pollutant/contaminant imaginable.
Remember: Not only do IICRC/RBQ-certified services destroy even the potential for COVID-19 in your space, but treatments and long-term coatings to fight microbial will also eliminate other elements that can harm your workers, your customers, and yourself.
Importance Of Creating Disinfection Protocols Inside The Company
The principles of infection control cleaning is another element to this matter that must be kept in mind.
Given the tenacity of COVID-19, as we understand it, professional cleaning and disinfection services must aspire to do more than remove undesirable presences from your business. Strategies to deal with the virus on an ongoing basis must be established, understood, and executed. This is a challenge facing not only professional disinfection companies but also the businesses they serve.
Ultimately, such protocols within your company should be defined by two essential contributions. Yes, everyone should wash their hands, clean items and surfaces, wear masks and gloves, and practice social distancing as much as possible. However, while crucial, these measures are not the only aspects of managing your business during the COVID-19 Lockdown exit. Professional disinfection on an ongoing basis must also be part of any protocols you create. Disinfection professionals can help you to put together strategies that make sense for your company in the larger world.
One thing is for sure: For the foreseeable future, health experts strongly suggest regular disinfection. Whether you handle these needs on your own or by working with professionals is entirely up to you. However, for various reasons, it is considered a better idea to let professionals handle this work.
Should I Hire A Licensed/Certified Expert For Disinfection?
In a nutshell, yes. Hiring professionals may involve spending a little money. In fact, given the current circumstances, it will include spending more than you would under normal circumstances. 
Thankfully, the long-term benefits dramatically outweigh the ongoing costs. This is further emphasized by the fact that professional services tend to be more affordable than many businesses realize. 
Professionals are more willing than ever to work with companies just like yours to ensure everyone can go about their lives as safely as humanly possible.
Furthermore, with professional disinfection services, you're getting expert results. This includes the use of industry-grade equipment, adherence to all safety and environmental measures, and a level of efficiency which ensures the work is completed in the most straightforward fashion possible. While there are considerations you will still need to keep in mind on your own, such as wearing masks and using hand sanitizer, professional disinfection services can also give you the ability to focus on more important matters related to your business.
With COVID-19 going on and everything else, professional disinfection can give you a degree of focus you might not be able to find otherwise.
How Often Should I Disinfect My Business During COVID-19 Lockdown Exit?
With a clearer understanding of the benefits of disinfection services during the COVID-19 lockdown exit, your next question is probably one of frequency. After all, with profit margins likely running thin right now, you can't afford to spend more for anything than is necessary.
Because of the high rate of risk of transmission of COVID-19, an increase in disinfection work is considered the best course of action.
The number of specific times in a given month depends on your business's foot traffic and other components. Your best bet for a clear answer is to call a professional COVID-19 disinfection company to set up an appointment.
You may also like: Preparing business and establishments after lockdown. Disinfecting workplaces to be COVID 19 -ready.