Click here to get this post in PDF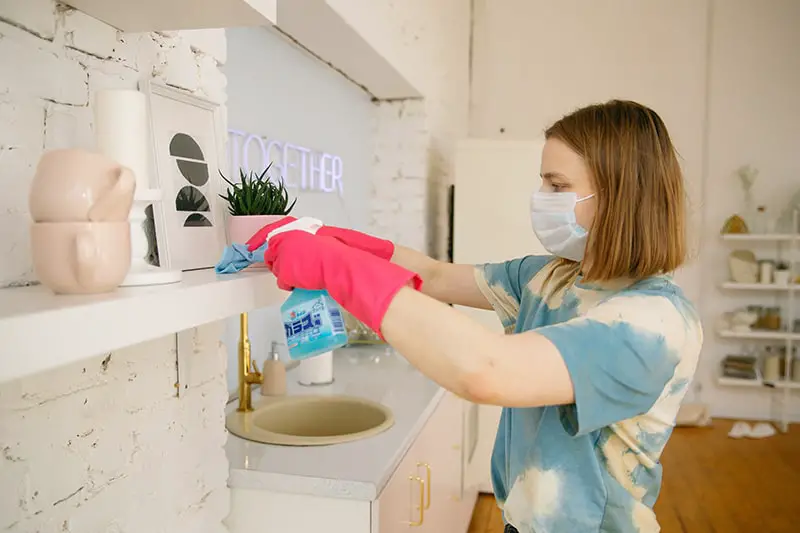 If we start by asking a really candid question – "how long has it been since you cleaned your office space?" – and we mean really cleaned it? Disinfecting computer screens, keyboards, telephone receivers, headsets, etc. – really getting into the nitty-gritty of where germs live, what would your answer be?
This question isn't designed to catch anyone out, but in light of the recent Pandemic, offices and establishments need to be asking this question a lot more, especially as we now see the easing of lockdown and businesses beginning to reopen their doors.
Coronavirus has hit everyone worldwide. A deadly virus that is thought to spread by respiratory droplets from a person's cough or sneeze.
Unfortunately, bacteria from these droplets stay on surfaces for several hours, with someone still able to pick up the virus by touching the infected surface 2 to 8 hours after the droplets first landed!
When people then touch their faces, i.e., mouth, nose, eyes, and then other surfaces – the infection goes on to spread, and the rate of transmission increases.
Hence why the question "how clean is your office" has now become much more common.
After several weeks and months in lockdown, the nation is starting to reopen its doors, and in an attempt to reduce and limit the spread of the virus, the Government has prescribed various guidance to workplaces on the best course of action to help keep people safe.
The primary function: to clean and disinfect our workplaces like never before.
Protecting your business after lockdown is vital and can only be done by putting stringent cleaning regimes in place that help reduce the risk of the virus spreading.
Under current guidance, it is an employer's responsibility to ensure the health and safety of their employees at all times, and currently, to now put measures in place to provide protection against Coronavirus.
This may mean increasing cleaning procedures and processes and, indeed, looking at covering more areas in a lot more depth with deep cleans now regularly scheduled.
However, these are measures everyone is willing to put in place.
Disinfecting workplaces to be COVID 19 ready
Before you get started, and you begin to think about reopening your business, all businesses must carry out a COVID risk assessment. This is to help you determine and then manage the risk. From here, you will be able to clearly identify the necessary precautions you need to put in place to reduce this risk from occurring.
For example, you now need to consider all of those high touch point areas within your business, including:
Desks
Door handles
Staircase handrails
Windows
Water coolers
Toilets
Lifts
Control panels on machinery
Light switches
Keyboards
Printers
Phones
Monitors
Taps
Kettles
Fridges
Microwaves
Cupboards
Tools
Delivery boxes
Post
And so much more – trust us, the list could be endless!
Once these areas have been identified, frequent cleaning can then be assigned. Ideally, this should be done after every use; however, in reality, this isn't always possible, so businesses must ensure cleaning takes place at regular intervals throughout the day.
Businesses will also need to consider the requirement for a deep clean (a thorough clean of all frequently touched surfaces, currently carried out at least once per day), and periodic cleaning (cleaning that takes place at different intervals throughout the day, and can include cleaning immediately after use).
Helping to make your workplace COVID secure – Top Tips
Hand washing is essential and should be carried out before any cleaning occurs, using hand sanitizer if soap and water are unavailable.
If we break it down and look at some of the main pieces of office equipment that will require cleaning, it can help you formulate a plan of action much easier.
For example, when tackling cleaning computer equipment like laptops and keyboards, etc., it's important not to use harsh cleaning or chemical agents and avoid spraying disinfectants directly onto these items.
All equipment should also be powered off and ideally unplugged.
To start, tip your keyboard upside down and give it a little shake. Removing all crumbs and bits of debris that can build up over time.
Compressed air is great for cleaning keyboards and helping to dislodge any tricky bits of debris that have become caught under keys.
Using a disinfectant wipe, you can then wipe over the keys on the keyboard, the mouse, and your phone (ideally using separate disinfectant wipes for each). These wipes should be made available to all employees to carry out their own cleaning at the end of each workday.
Computer screens should be cleaned using a microfiber cloth and a suitable screen-cleaning solution (water and white vinegar in equal parts can also work just as well).
Do not spray the solution directly onto the screen but rather spray onto the cloth and wipe in one direction, never round in circles or a swooping action side to side.
When it comes to desk and surface/cupboard cleaning, remove all clutter, and tidy away all papers and unnecessary objects (if you don't already have a clear desk policy, maybe now is the perfect time to introduce one?).
To clean your desk, you can opt for disinfectant wipes or alcohol cleaners – it is whichever you feel is best and works for you – both solutions are incredibly effective at killing germs and viruses.
Clean cloths and ideally, different cloths must be used for different areas of the business; again, this is to prevent spreading the virus from one place to another on a cleaning cloth.
All chemicals and cleaning products that you use must be stored away safely and securely and out of harm's way at all times.
Changing the way we work
By restricting and limiting people's movement, we can reduce the volume and number of surfaces that people encounter, hence focusing fully on those critical high usage areas.
It is also recommended that businesses limit people to specific workstations, closing off areas that are no longer required.
Doors should be propped open to avoid door handles being touched, and equipment should be reduced to bare necessities.
This is not about making people's work lives harder (for all it may feel this way), it's about keeping everyone safe and being the most efficient business, you can be during this time.
Making use of full-time, professional cleaning teams has, of course, grown in popularity, and you will need to determine and discuss the best solution for your business and your employees.
PPE should be provided where required; however, additional PPE to protect against COVID 19 is not required. (Ideally, cleaning operatives should come equipped with disposable gloves, gowns, and a mask, which can be immediately removed and disposed of after cleaning.)
Hand sanitizers should be provided ideally to all employees and their workstations and throughout the business in dedicated stations.
Social distancing in all capacities should be maintained at all times, especially if you have external cleaning teams entering your workplace.
To go on to support social distancing, employees must avoid sharing workstations or refrain from hot-desking, and one-way systems must be put in place around the workplace.
Screens or partitions should be used between desks, and it is recommended that those in offices and call centers, etc. adhere to back to back or side to side working wherever possible.
Large meetings should be avoided, and ideally, virtual meetings should still form part of the norm.
Start, finish, and break times should also be staggered to avoid people clustering together at entrance and exit ways and in communal areas for breaks.
Businesses must conduct air quality assessments and adapt these as appropriate. Monitoring good air quality and ventilation systems and including these as part of your cleaning procedures too!
For full guidance details, you must refer to the HSE website and gov.uk.
Preparing your business after lockdown
COVID 19 has had a profound impact on business. For all these guidelines bring with them new challenges and levels of disruption, we all need to adjust and reassess working practices and operations in order to recover and make up for the lost time.
If you're concerned about workplace safety and want to ensure your workplace is as clean and ready as possible, hiring a professional commercial cleaning company can help, and most certainly put your mind at ease.
---
Where to Find Superb Office Cleaning Companies
---
Professional cleaning operatives know their job inside and out, and they also know how to carry out an outstanding cleaning job and to a high standard. Always make sure to check out reviews and ask for references and ensure everyone is clear on the cleaning tasks that are to be carried out before work gets underway.
Now is the time to make sure your establishment is as clean as it can possibly be. This post was brought to you by Clear Choice, Commercial Cleaning Company based in Leeds
Image Source: Pexels.com