Click here to get this post in PDF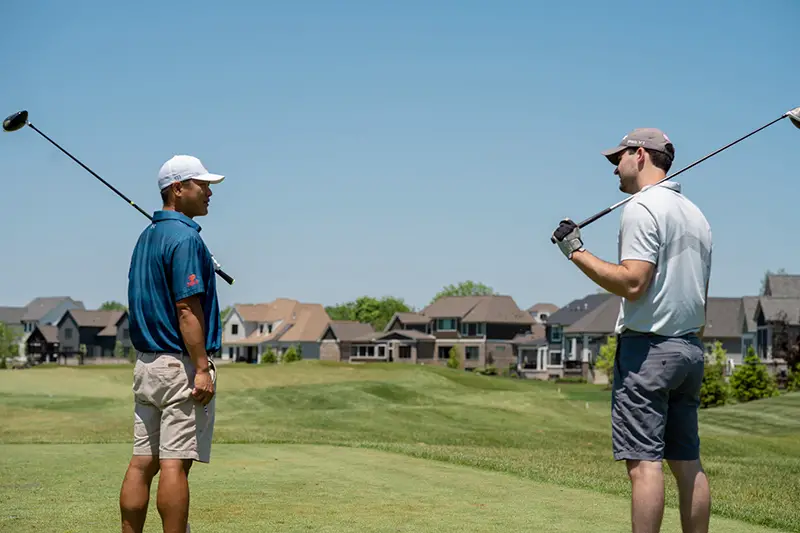 Photo by Courtney Cook on Unsplash
Golf and business go hand in hand. It's long known that many deals and relationships between clients and partners are made on the golf course.
Because of that, it's essential to know how to behave and follow golf etiquette. You'll make a good impression on your playing partner and set the scene for an enjoyable and productive round of golf!
Here is what you need to know when having a business meeting on the golf course. Keep reading.
Know When To Talk And When To Be Silent
Golf is a challenging game. And being distracted during your golf shot makes it even harder.
There is a reason why you see the staff at golf tournaments hold up signs that read quiet whenever a player is about to hit a shot.
It's good golf etiquette to make sure you are not distracting other players by talking or making other noises during their swing, most notably during their backswing.
Tiger Woods is an excellent example of how distracting talking during the backswing can be. As a professional, he knows when to stop his backswing and start over, but only a few players dare to do so.
Don't Skip The Line
This will depend on whom you're playing with. As a rule of thumb, the players furthest from the hole plays first. That is true on the fairway, but also on the green when putting.
When someone behind you is lining up for his/her shot, make sure that you stay out of the line of sight.
Having to think about not hitting you adds an additional distraction, and it's good golf etiquette to not stand in the line of sight of a player. This includes your golf cart or trolley.
On the tee box, the player who scored the lowest on the previous hole usually tees first. You call that honors.
If you both made the same score, the player who won the previous hole starts off, etc.
Many golf courses have adapted something called ready golf to speed up play. All that means is that whoever is first prepared to take a shot should play it. Please make sure to clarify whether or not you play by the rules of ready play before your round.
Some people take offense when you're skipping the line, and that's the last thing we want during a business meeting on the golf course.
No Slow Play
You might have seen pros arguing with their caddy about the barometric pressure, wind, and club selection with their caddies.
They play for millions of dollars, so it makes sense to take your time and plan your shot in length.
Unfortunately, many amateurs adopt this pre-shot routine, resulting in other players having to wait for them extensively. Groups are getting stuck on the golf course for longer than needed.
In reality, such a pre-shot routine is not really necessary for recreational golfers and won't make a big difference.
Especially when you're on a business meeting on the golf course, maximize the time you can spend with your meeting partner, talking about things that matter to both of you.
An excellent pre-shot routine is still essential — Use your rangefinder to choose where you want to hit the ball. Pick a club. Take 1-2 practice swings and stand over the ball.
More important than what you do during your pre-shot routine is that you actually have a pre-shot routine. It doesn't need to be extensive but effective.
Take Care of The Golf Course
Showing that you take care of the golf course by repairing your divots and pitch mark sends an excellent signal to whomever you're playing with.
By taking care of the golf course, you make it more enjoyable to play for the next person and assure that the course stays in mint condition.
Here a good process you can keep in mind:
When you hit the green with your approach shot, look for a pitch mark and fix it. If you can't find your pitch mark, look for one from another player and fix that one instead.
Especially if you're invited to play at a private club, fixing divots and pitch marks is essential to leave a good impression.
Dress For The Occasion
Most golf clubs already require you to follow a specific dress code to be allowed on the course. We recommend dressing like the pros you see on TV; Hat, Collared shirt, long pants, shirt tucked in & golf shoes.
You want to keep the colors conservative. Exceptions might apply if you're playing in scorching weather or if there is a best practice on the course you're playing.
Like on business meetings outside the course, first impressions matter, and dressing properly makes a good impression with your playing partner. As a tip, bring a tower to clear you from sweat on hot days!
Keep Your Temper
Golf is an emotional game; we get it. But please keep the goal in mind; During a business meeting on the golf course, you're building relationships and talk shop – not win a golf tournament.
Getting overly frustrated and throwing your clubs into the lake after a lousy shot just makes a wrong impression. How do you expect such a person to behave during business?
On a technical note, you can choose the most straightforward shot to execute at any time on the course and leave you with low-stress golf shots.
You'd be surprised how straightforward the game becomes, and it might also affect your scores to be lower! Try it out.
What to do next
Business meetings on golf courses are a great way to get to know your playing partner and spend quality time discussing business. Knowing the etiquette keeps you out of trouble and makes sure you leave a good impression with your playing partner.
Impressing your playing partner with a good game of golf is a great way to strike up a conversation. Make sure to hit the driving range a couple of times to polish your game and have fun on the course!
You may also like: Is Golfing Helpful for your Career?
About the Author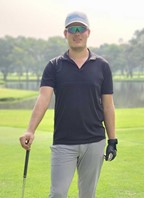 Francesco is the owner of mygolfheaven.com and enjoys helping golfers to get better at the game. His site focuses on providing tips & guides, and equipment reviews that help golfers score lower!
He currently plays off a 4 handicap, and his favorite club in the bag is his 8-Iron.