Click here to get this post in PDF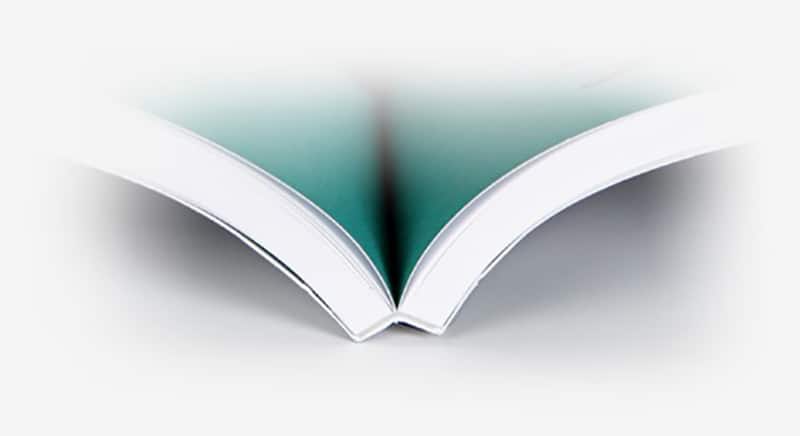 When looking for the perfect binding option for your printing materials, two of those options will probably stand out as the most popular ones. That's when your choice will get narrowed down to either saddle stitch or perfect binding and you'll have to do some more detailed research about both in order to check how they differ and decide which option is better for you. These really are the two best options, but the truth is that not both of those will work for your particular project.
If you thought that the term "perfect binding" suggests that the work is actually perfect and better than some other types, then you were wrong. Nobody is denying the fact that this work can, in fact, be perfectly done, but the truth is that this option mustn't be better than the saddle stitch one. These two are just different and you'll need to learn about those differences if you want to understand things better. Let's take a look at each of these techniques respectively.
Perfect Binding
This is without a doubt the most common technique when soft cover books are in question. It is used for books, magazines, journals, as well as catalogues of various different sizes. In this method, the spine is actually a part of the front cover, meaning that the cover is actually bent to create the spine and then the pages are glued to that section. Read more about this method.
Given that glue is used in this case, the overall look of the printed material will be smooth and elegant. There are no seams between the spine and the front cover, so the front edge will definitely look rather aesthetically appealing. Don't make the mistake of thinking that materials printed this way won't be durable. The glue that is used actually allows for extreme durability, in addition to the fact that it provides for a pretty appealing look.
Keep in mind that the final page count needs to be a multiple of two if this method is to be used. In addition to that, it has to have at least 28 pages, because binding a smaller type of material this way just isn't possible. That's an important consideration to make when deciding on the right technique for your particular material.
Saddle Stitch
Unlike perfect binding, saddle stich binding can be used for materials with fewer pages. It is generally recommended for publications under 100 pages and total page count has to be in multiples of four in order for the binding to be done successfully. As you can see, there's your first important difference between these two techniques.
In this technique, multiple pages are stapled together in the center. The book is then folded in half along the line of the staple. Keep in mind that the front cover is also folded this way during the process. Of course, if that's what you want, you can definitely make it clear that you want a cover done separately, because that can certainly be done.
One of the things that speaks in advantage of, say, saddle stitch booklet printing or any other saddle stitch printing is the fact that it is eco-friendly. People who are concerned about the environment will always choose this option over the first one. Oh, and, it is also rather cost effective, which is another plus for this method.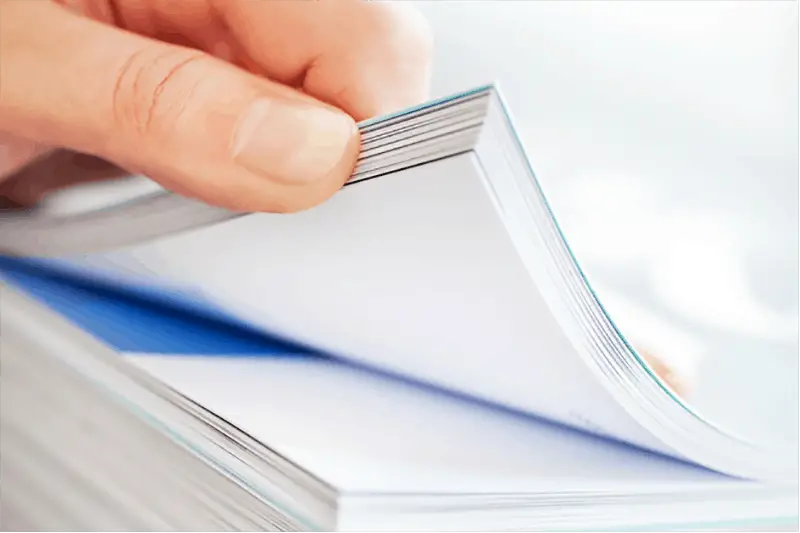 Main Differences
I suppose you have by now figured out some of those differences all on your own, while reading the above explanations of both of these techniques separately. Yet, it might be helpful to have the main differences clearly set out, so that you don't get confused or forget a few things while making your decision. So, you will find the main differences explained below.
The Size
Of course, the size is the first difference that you will need to take into account when choosing the type of binding for your particular printing material. As it's probably already perfectly clear, perfect binding is a much better option for larger projects, i.e. those over 100 pages. On the other hand, saddle stitching is not only suitable, but also necessary for projects with less than 28 pages. As for anything in between, you can choose both of these options and your choice will depend on your personal preferences and perhaps on some of the other differences.
The Cost
The other difference that can influence your choice for those projects that are suitable for both of these binding methods is, unsurprisingly, the price. Saddle stitching is usually the less expensive and more cost-effective option. Our budgets always determine our choices, so it serves you well to know which one of these options will create a bigger dent in your budget and which will be much friendlier for your wallet.
Here's a small guide towards how saddle stitch binding is done: https://www.wikihow.com/Do-Saddle-Stitch-Bookbinding
The Look And The Feel
Both of these methods will leave you with different looking publications. In addition to that, those will also have a different feel to them. This is completely logical, since one of the techniques uses glue, while the other one is done with a small stapler specialized for punching wire through the actual paper. This means that your choice will depend on your actual preferences regarding the style and the design. When you take everything else into account, you should also consider the visual aspect and choose the method that you like more.
You may also like: Why You Should Hire a Professional Printing Company?