Click here to get this post in PDF
Running a business is hard enough without worrying about the logistics of getting your product from point A to point B. This is where freight forwarding comes in. Freight forwarding service helps businesses coordinate and ship their products. If you're wondering how freight forwarding can benefit your business, continue reading to learn seven ways it can help. 
1. Experienced Deliveries 
When looking for reshipping services, you want to partner with a company with plenty of experience. Freight forwarding is a complex process with several moving parts. An experienced freight forwarder will have the knowledge and expertise to navigate these complexities and get your goods where they need to go safely and on time. 
2. Opens Doors To The Global Market 
Businesses must move goods quickly and efficiently to maintain a competitive edge in the business climate today. This is where freight forwarding services can be invaluable.  
They are experts in managing the logistics of shipments, from sourcing transportation to dealing with customs regulations. As a result, they can help your business to reach new markets quickly and cost-effectively.  
In addition, freight forwarders can offer valuable insights into shipping trends and patterns, which can help you make more sober decisions about where to source goods and how to price your products. Ultimately, working with a freight forwarder can help your business to operate more efficiently and successfully in the global marketplace. 
3. Cuts On Cost 
When shipping goods, freight forwarding services can help lower business costs in several ways. First, they have access to a global network of carriers; thus, they know the most efficient and cost-effective route for your shipment. They also have the negotiating power to get better rates from carriers and often offer discounts for volume shipments.  
Moreover, freight forwarders can provide value-added services such as packaging and labelling, saving you time and money. 
4. Saves Time 
For businesses that rely on importing or exporting goods, freight forwarding services can be a time-saver. Working with a freight forwarder can help streamline the shipping process and minimize delays.  
A good freight forwarder will have established relationships with shippers and transport providers, making it easier to get goods moving quickly. They will also be familiar with the relevant customs regulations and paperwork requirements, ensuring everything is in order before the shipment leaves.  
Hence, businesses that use freight forwarding services can avoid many potential headaches when shipping goods internationally. 
5. Ensures Compliance With The Law 
Shipping of goods involves a lot of documentation and compliance with the law. If you're unfamiliar with the legalities, it is easy to make mistakes that could result in costly delays or even confiscation of your goods.  
When you use freight forwarding services, you can be confident that your shipments will comply with all relevant laws and regulations. Your freight forwarder will handle all the necessary paperwork and ensure everything is in order before your goods are shipped.  
Besides, they will keep track of any changes to the laws and regulations that might affect your shipments, so you can be sure that your goods will always arrive safely and on time. 
6. Completes The Door-To-Door Process 
Another benefit of freight forwarding services is that they provide a complete door-to-door service. This means you don't have to worry about arranging transport for your goods when they arrive at their destination.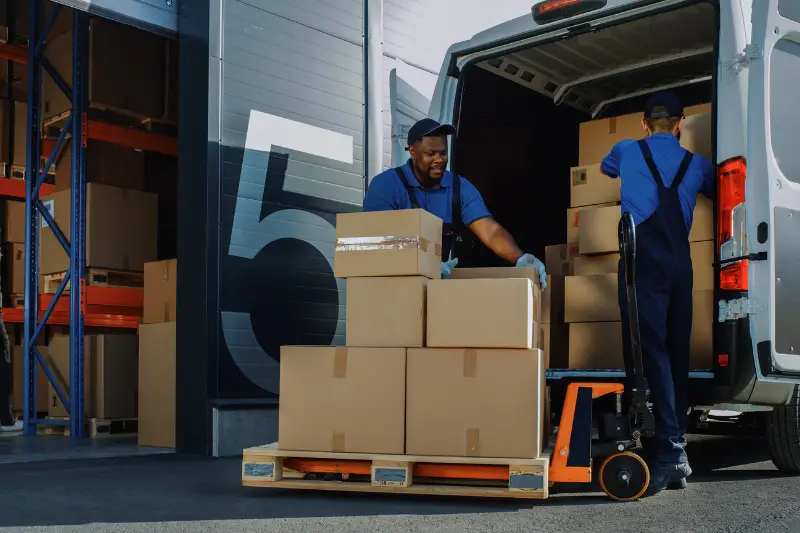 Your service provider will handle everything (from pick-up to delivery) to give you time to focus on other aspects of your business. This door-to-door service can save you a lot of time and hassle and guarantees that your items will be delivered correctly. 
7. Offers Flexibility And Scalability 
As your business grows, your shipping needs are likely to change. Perhaps you'll need to ship more frequently or to new destinations.  
Freight forwarding services offer businesses the flexibility and scalability to grow and adapt. They can help you to ship more goods more efficiently without incurring the extra costs associated with shipping large volumes of goods.  
Furthermore, they can advise you on the cheapest way to ship your goods, depending on your destination and the items. This means you can be confident that your shipments will arrive safely and on time, no matter the size.  
Parting Shot
Delivering your products can be a complex and time-consuming process, but it doesn't have to be. As explained, there are many benefits to using freight forwarding services, including peace of mind, compliance with the law, door-to-door service, and flexibility.  
If you want a hassle-free way to ship your goods, you should consider using a freight forwarder. They can save you time, money, and stress in the long run. 
You may also like: The Entrepreneur's Guide to Global Logistics
Image Source: AdobeStock