Click here to get this post in PDF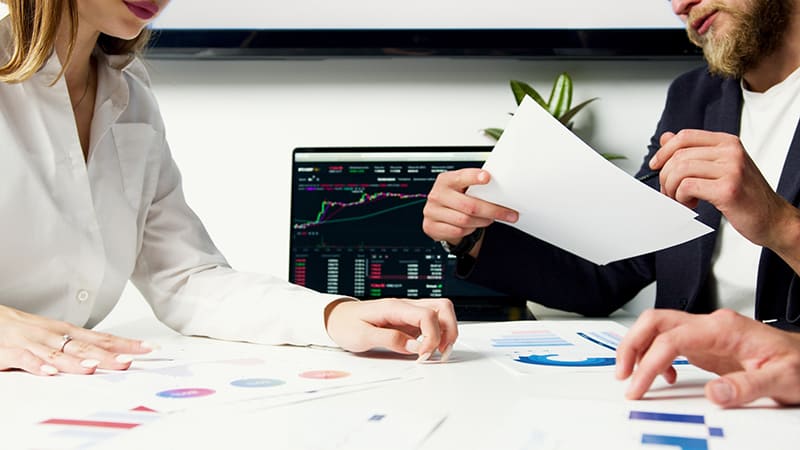 Nobody ever said being a small business owner was easy. You have orders to fill, employees to manage and customers to acquire. At the end of the day, marketing often falls by the wayside for owners who simply don't have time to deal with advertising or consumer engagement. Rest assured, if this sounds familiar, you're not alone. Marketing is a vital part of maintaining a successful business, but you don't need to feel overwhelmed when you tackle the task.
When it comes to marketing, offline and print methods seem old school while the future points to online marketing tactics. However, to have a successful marketing campaign, it can help to utilize both offline and online techniques. Let's dive into the details of traditional and digital marketing.
What's the Difference Between Online and Offline Marketing?
Online (or digital) marketing employs the Internet. It can come in the form of pay-per-click (PPC) advertisements or search engine optimization (SEO) that drives organic traffic, blogs, social media posts and other forms of virtual content. Many people think the Internet is where you have to go to find customers, and while it's true that many consumers are online, many are accessible offline, too.
Offline (or traditional) marketing utilizes non-digital forms of communication, such as brochures, billboards, outdoor signage (which can be digital), TV advertising and print mailers.
When used in conjunction, offline and online advertising can optimize brand awareness and bring customers to your door.
How Do You Combine Online and Offline Marketing Efforts?
It's easy to get stuck in a single way of doing things and never branch out, but smart business owners know they need to understand their customers and adapt to their audience. This means listening to customer pain points, hearing consumer feedback and creating content that addresses their needs and desires. This type of involvement can be done digitally and traditionally — and, ideally, should be done with both. Here are some ways you can integrate online and offline marketing efforts.
1. Utilize Calls-to-Action (CTAs) in Your Offline Promo Pieces
Print ads, printed collateral and outdoor signage should give your audience a reason to visit your website. Create a dedicated landing page for each campaign so people are directed to the exact information that interested them when they saw your ad.
2. Create Contests
Contests are a great way to generate buzz about your brand. You can gain email addresses and followers by posting contests on your digital signage or print mailers. Invite people to enter through social media to win the products and services you're promoting.
3. Begin a "…To Be Continued" Campaign
Start a story offline then continue it online. Create brochures or billboard stories that pique consumer interest. Then, send them to your social platforms or website where they can glean the rest of the story. This could be a great way to make use of a unique hashtag that gets people talking in uniform threads.
4. Use Online Engagement to Drive Offline Campaigns
Embrace the power of testimonials and quirky statements from customers to create your offline marketing promotions. This is called user-generated content and it can be incredibly successful, as people often trust others who endorse the brands they follow.
5. Let Your Loyal Followers Weigh In On Your Next Campaign
Which artwork should you choose? Where should you host your next event? Is there a contest that would resonate best with your audience? Ask your social followers for input and be sure to talk about this campaign on your outdoor signage so people know where to give their feedback when they're online.
Online and Offline: A Great Combination for a Successful Marketing Strategy
The great thing about marketing is that it's flexible. There are no hard-and-fast rules for creating campaigns that work; it's all about learning and understanding your audience, personalizing the messages and generating content that speaks to the people you want to attract. Combine online and offline marketing to enjoy the best of both worlds, offering existing customers the opportunity to learn more about your brand while bringing new eyes to your business.
About the Author 
Kacie Stoll is a project expeditor at Golden Rule Signs, an LED sign company. Her professional experiences range from marketing and public relations to sales and customer support. Stoll enjoys working with customers and vendors all over the country to execute with speed and accuracy.
You may also like: Branding a Small Business: 14 Online and Offline Strategies to Build Trust and Authority
Image Source: Pexels.com