Click here to get this post in PDF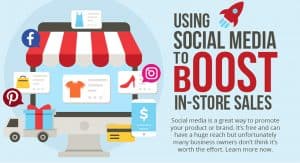 Did you know that 74% of people use social media to guide their purchasing decisions? Connecting online efforts to offline store visits is one of the biggest challenges of social media marketing but if you don't utilize these platforms, you're leaving money on the table.
Oftentimes, online and offline channels are seen as competing opposites rather than complementary parts of the same whole. More often than not, shoppers will read up on your brand on social media for reviews and recommendations before making an offline purchase. Social media can play a key part in winning or losing new customers.
By creating and sharing high-quality content you will motivate people to visit your store and do business with you. When social media is used effectively it gives retailers the power to build brand awareness, customer loyalty and, most significantly of all, trust with customers, and those can ultimately result in a boost in in-store sales.
If you own a brick-and-mortar business, it's crucial to stay on top of your social media marketing regardless of what you sell. This infographic from Colourfast looks at how to use social media to grow your brand and attract more customers to your store.
Read the infographic below to learn more.

You may also like: Business Cards: What You Need to Know (Infographic)
Infographic by Colourfast an international paper and plastic card printer based in Ontario, Canada