Click here to get this post in PDF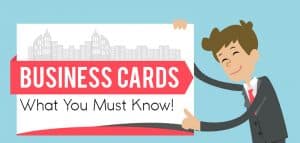 The world is changing and technology is playing an ever more important role in our lives and this is especially true in the business world. This infographic from Colourfast takes you through how the business card remains important and explains how to use it effectively. 72% of people judge a company or a person based on the quality of their business card so ensure you get one of sufficient quality. They aren't expensive anyway, so this definitely isn't an area where you should be trying to save money.
Think carefully about the information you want to put on your card and make sure it is typo-free before going to the print shop. One element of a business card that people can disagree on is if a photograph should be added to a business card. Some claim that it helps people to remember your face as if it's not there, your card can get lost in the sea of other business cards. Check out the infographic now for more information on all things business cards.

Infographic created by Colourfast, an international paper and plastic card printer based in Ontario, Canada