Click here to get this post in PDF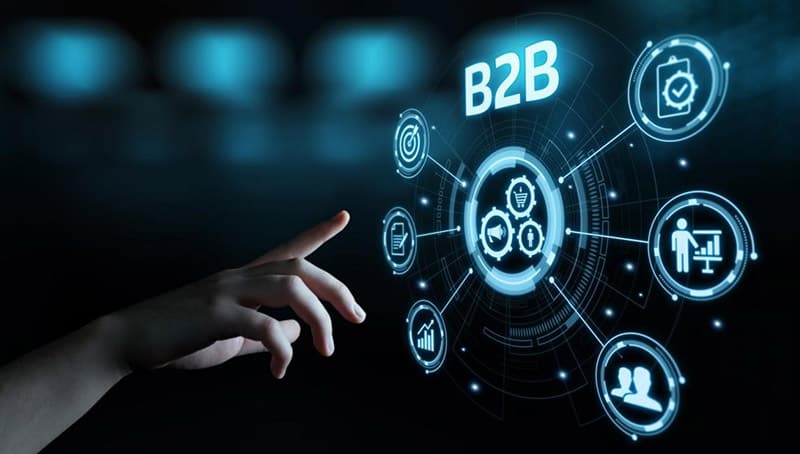 Finding B2B prospects has always been challenging, but it's becoming even more difficult. According to 40% of sellers, it's much harder to prospect now than a few years ago.
That makes it even more essential to understand the B2B buying process. What are people looking for? What kind of experience do they want?
This guide will give you the information you need to meet those expectations and turn your prospects into long-term customers.
1. Social Proof
B2B means business-to-business, and in the past, businesses selling to other businesses didn't have to worry as much about social proof. The social element was more important when selling directly to consumers.
Now that's starting to change.
As with consumer markets, a lot of B2B research is now done on social media platforms. B2B buyers want to know if a product or service has helped one of their peers. They also want to get a sense of how the company interacts with prospects online.
Unlike the business-to-consumer world, though, most people use LinkedIn for B2B interactions, rather than Facebook or Twitter. This is where buyers will learn more about your company and see how you communicate with others.
To take advantage of this, you should have a solid social media presence on LinkedIn. Make sure you're answering questions, watching conversations, and sharing ideas that will help your prospect.
Another useful approach is to get videos of customer testimonials that you can share online. This is a great way to provide social proof.
2. Valuable Content
Once prospects see enough on social media, the next step of the B2B buying journey is for them to visit your website and see what kinds of content you provide.
When a prospect goes to your website, they need to know immediately that it's relevant to them. They don't have time to look around at different pages to find out if they're in the right place.
In addition to a homepage that speaks to your prospects, you need to provide other valuable content. Prospects should be able to find details about your products or services, testimonials and case studies, data sheets, videos, and blogs with useful information.
You should also make sure your website is optimized for mobile devices. Like other consumers, B2B buyers use their smartphones to do research and get information. If your site doesn't give them a good experience from their mobile device, they're likely to move on.
3. Industry Knowledge
B2B prospects want to know that their vendors understand the industry, and not only at a surface level. Sales and marketing teams need to be up-to-date on the latest trends, and it's essential for them to understand the specific problems their prospects face.
This means spending time on in-depth research, on a regular basis. Anyone involved in sales needs to commit to on-going education about the industry.
Doing this might sound like a lot of work, but it pays off. It demonstrates to the prospects that you know their pain points, and how to solve them.
4. Longer Buying Cycle
One of the big differences between a consumer purchase and B2B purchase is the length of the buying cycle. This is longer for B2B, and the length of time is increasing now that prospects are spending more time on research.
This longer cycle is another reason to create valuable content, for people at all levels of the buying organization. If you can provide more information up-front, tailored to their concerns, you'll stand out from the competition.
The longer time also means you need to find ways of staying in touch with those prospects, since it could take months for them to decide. If you make a point of forming a personalized connection with them over the cycle, you'll have a better chance of staying in the running.
5. More People Involved in Decisions
Another reason B2B sales cycles take time is that B2B buying decisions are often made by up to six people.
This is because unlike many consumer products, B2B solutions can be very complex.
Deciding on a software solution, for example, has to involve multiple people. The CEO needs to know the software will provide a good return on investment, IT must understand how to integrate the software, and the end users need to be comfortable with the solution.
In order to make a sale, you'll need to address the concerns and interests of each person involved. They all need to be persuaded that your product or service meets their needs.
6. Easy Purchasing
Even though B2B solutions may be more complex, that buying process itself should be easy.
Part of this means providing everything prospects need so they can do one-stop shopping. In the B2B world, this means having comprehensive services that cover everything customers need to implement the solution.
You should also streamline the steps for the purchase itself. People are used to the Amazon experience, and eCommerce sites should follow their lead to make the process simple and straightforward.
If you don't, you could drive the prospect away. The last thing you want is for them to decide on a purchase, only to give up in frustration because the final steps are overly complicated.
7. Forming Long-Term Commitments
The final point to remember is that B2B buyers are looking for a long-term commitment.
Since making a B2B purchase takes a lot of time and effort, once a buyer has signed on with a vendor, they don't want to start all over again with someone else.
Even so, if a vendor stops providing value, customers will look elsewhere.
This means B2B companies need to give their customers support at every step of the way. Your goal should be to help them succeed now, and in years to come.
B2B Buying Process Continues to Evolve
The B2B buying process is constantly changing, but some things remain the same. If you focus on providing value, a good experience, and a solution that works, you'll be able to turn prospects into long-term customers.
Need more marketing advice? Visit our blog and look under the Marketing category.
You may also like: How Can B2B Funnels Turn The Tables For Quick Deals
Image source: stock.adobe.com