Click here to get this post in PDF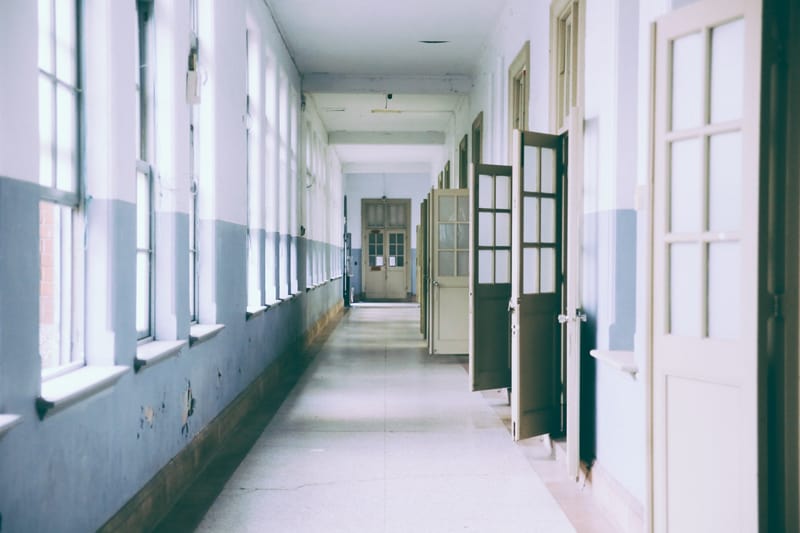 Almost every product and utility in the market has some domestic and some industrial use. The major differences in industrial and domestic products are mostly related to size and quantity. Due to some vast differences in usage and application, industrial-grade products are much different from domestic ones. Similarly, industrial doors have quite a few differences from the domestic doors which are not subjected to the same application as the industrial doors. There are many types of each of these two doors to satisfy the needs of different venues and activities. Let's have a look at each of these different industrial and domestic doors and briefly discuss the difference between them.
Industrial Doors
Sectional door
Sectional doors come apart and are designed to accommodate opening and closing easily. These types of doors are good for high traffic areas such as a delivery warehouse or garage bays. The good thing about this door is that if one section is damaged, you don't need to replace the entire door. If you have issues related to sectional doors then Industrial Door Company has the best sectional door installation & repair services in Sacramento.
Bottom Rolling
Heavy metallic doors in industrial setups usually require rollers at the bottom due to the extreme weight. Unlike domestic doors, these bottom rolling doors are made from durable metal for specific industrial purposes. The only way these can be opened and closed is by installing tires or rollers on the bottom. These doors come in many variations like bi-parting, floating groups, or individually operated leaves.
Tip-up
In an industrial setup, unlike the domestic setup, the utilization of space is primarily done on a practical basis. This usually leaves very little or no space for door pockets. This is because the builders and planners are aware of the concept of tip-up doors. Such types of doors are mostly used in plane hangars or for a more specific use such as an aircraft tail door. These doors are built to withstand strong winds and to quickly open and close. They are also weatherproof, i.e. they seal the hangar properly so that snow, rain, and dust cannot get inside.
Rolling Steel
Rolling steel doors are not focused on any form of aesthetics, as you would expect from a domestic door. These doors are fixed on an overhead area of the entrance and they roll up into a coil. Due to the flexibility required from the steel, the gate is not as strong as other industrial gates, but it is still much tougher than many domestic counterparts. The steel frame comes in varied thicknesses depending upon the required utility. Such doors are light, consume minimum space and are very practical. You can view more benefits of rolling steel doors by clicking on the given link.
Security Grills
Used extensively in retail commercial and industrial applications, security grills are much like rolling steel doors apart from the fact that the collapsible structure makes it see-through. These are usually made of galvanized steel, stainless steel, or aluminum. These security grills can be operated manually or can be fitted with a motor. One can select from various types of grills like side-folding full enclosure, open-air and upward coiling.
Fire Doors
Fire outbreaks are common during industrial processes. To tackle fire outbreaks the industries, have the option of installing fire doors. These are mostly like rolling steel doors except they are made specially to contain and be impervious to fire. Though the most distinguishing feature of fire doors is that they are equipped with a fuse to trigger the fire door shut in case of a fire. Michael Bowden from Applied Rite Doors and Docks (https://www.appliedrite.com/) says that a safe rolling fire door should close automatically in the case of an emergency. This is not a type of door that you would find in a household. Most industries that are prone to fires are supposed to get fire doors installed by law.
Vertical lift
Vertical lift doors are made especially for industrial buildings with large openings. These doors use a drive unit mostly with counterweights to lift the door right above the opening. The door is mostly stacked together when it is lifted so it does not require a lot of space when it is lifted. These are heavy-duty doors installed in places to withstand high-velocity winds and environmental hazards.
Domestic Doors
Wooden
The most common type of door found in any household is a wooden door. Though the trend has long shifted from wooden doors, most houses still have these doors from the past years. Wooden doors mostly came with subtle borders of wood and sometimes carving. They are not sturdy and strong like their industrial counterparts as more focus is laid on aesthetics rather than utility.
Metallic
Domestic doors made of metal are usually placed at entrances of important buildings to secure them from intruders. These doors are not the best-looking doors but they are placed there for a specific reason which is mostly to protect whatever is at the other side of the door. Domestic metal doors can be designed with welding patterns to beautify them.
Glass
Glass doors came into fashion after wooden doors along with other types of doors. Glass doors are not entirely made of glass but always have a framework or some sort of support of wood, metal or other such material. Glass doors are mostly featured in modern houses and they give a very spacious feel to the entrance and the room. Though they should be very fragile as compared to industrial doors, technology has helped with the invention of toughened glass which is almost as strong as any other wooden or metal door.
Aluminium
Aluminium doors are the choice of new construction companies and builders as they do not rust and do not get infected with termites. Combined with glass and other materials like PVC, aluminum doors can be sliding or rolling depending upon the requirements. An aluminum door is featherweight in front of an industrial door but can easily outlive industrial doors over the years.
Domestic doors have a completely different field of use when compared to industrial doors. From the above descriptions, one can easily make out that domestic doors are more focused on trends, fashion and aesthetics. Their purpose is mostly to provide segregation and to maintain privacy. On the other hand, industrial doors are simply made for specific purposes that usually require them to be tough and deviceful. Industrial grade doors have nothing to do with aesthetics, but one can always paint them and make them look nice using other such tricks. The only common thing between both is that both look to be long-lasting and are thus made with materials that can hold up their specific purpose for a long time.
You may also like: Why Commercial Gating is an Important Aspect of Protecting the Property
Image source: Pexels.com