Click here to get this post in PDF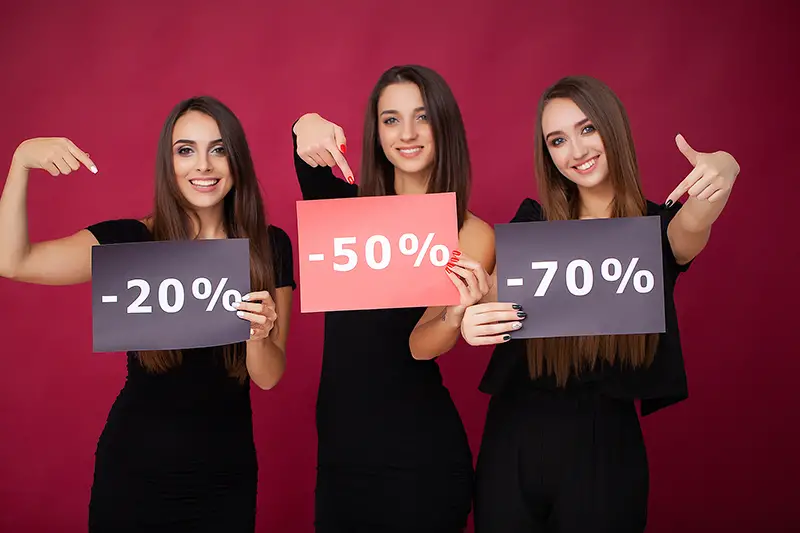 Black Friday, considered one of the most well-known and significant discounts sales occasions, is approaching, and customers worldwide have embraced it as the busiest shopping day. To stand out in a sea of advertising, it is therefore essential to create an effective Black Friday marketing strategy. But try not to get frustrated with this step. On a hectic sales day, it's simpler than you might imagine to stand out from the crowd.
What is Black Friday?
The day after the American Thanksgiving, the last Friday in November is known as "Black Friday."
It all began in Philadelphia, where the day after Thanksgiving traditionally saw a flurry of impulsive shoppers. Since then, both consumers and merchants have come together to celebrate this day as a shopping festival.
In addition, this is not simply the conclusion; it begins much earlier than Friday, i.e. at the beginning of Black Friday week, and lasts until the following day, formally known as "Cyber Monday." Retailers benefit the most from this five-day shopping carnival by getting rid of their enormous stocks. 
Which marketing strategy to choose?
If you run an online store, you probably know how important it is to get everything set up before Black Friday. For instance, by the conclusion of Cyber Monday in 2019, a record $9.4 billion had been spent online, up 19.7% from the previous year. In the United States, it was the greatest online shopping day ever, comfortably surpassing the $7.9 billion from the previous year. These statistics serve as but one illustration of how the Black Friday phenomenon has affected the online retail sector. You should employ a winning approach in light of all this to defeat your rivals during this intense time.
When it comes to Black Friday marketing tactics, there is no one size fits all solution. You are aware of what will appeal to your customers the most. However, there are a few tried-and-true tactics that can support your Black Friday marketing plan:
Sell directly on social media
Everyone will be looking for sales and discounts on Black Friday. You may directly reach your target market by selling your goods on social media networks like Instagram. For your customers to convert, selling your products straight through the app simplifies the process.
On social media, you can also access a worldwide audience. For instance, users of Instagram anticipate being advertised to. After all, 90% of consumers follow a brand. 
Use hashtags more often 
You can use Black Friday to connect with new social media users. Using hashtags, you may connect with customers looking for Black Friday offers and direct them to your products and services.
If you're a retailer, you can reach consumers looking for deals by using the hashtags #blackfridayshopping or #blackfridaydeals.
Offer exclusive deals to your long-time customers
You have the opportunity on Black Friday to thank devoted, enduring customers. Offering these clients special offers and discounts is a clever marketing strategy that can encourage repeat business and increase customer loyalty. In addition, you can entice customers to return on days other than Black Friday by demonstrating your appreciation for their support.
Add an additional gift
People enjoy having that sense of reward. Including a bonus item in your clients' orders will encourage them to make a purchase. Additionally, they foster a feeling of goodwill that can encourage repeat business. Naturally, you want to make sure that you are giving your customers something they will want. When deciding what to give them, it's crucial to consider your customer base.
Follow up with customers after Black Friday
Did you know that holidays like Black Friday are when the customer's lifetime value is the lowest? It demonstrates that customers obtained on Black Friday have a lower lifetime value than customers acquired at any other time of the year for a staggering 64% of retailers.
Send a quick thank-you note, complete a customer service survey, or inquire further about their experience. You'll be enhancing the experience of your clients, which could result in future rewards.
Use referral codes
You are aware of the amazing things referral marketing can do for your brand. Additionally, it works well for marketing Black Friday sales. Give your email subscribers referral codes. As a reward, give them gift cards or bigger discounts. With the added benefit of demonstrating appreciation to your devoted consumers, their recommendations may attract new clients.
Why should you use dynamic pricing on Black Friday?
Even though we have previously covered some of the most crucial Black Friday marketing tactics, we still have something significant to tell you.
Given the ongoing price swings in the market, dynamic pricing is a successful pricing strategy. Recognizing these price fluctuations in the market and making the most of them are essential for maintaining your e-competitiveness. commerce's
You can adjust to consumer demand with dynamic pricing by keeping the following objectives in mind:
Maximize sales. Set lower optimal prices using price intelligence tools to differentiate yourself from the competition and increase sales volume. However, minimum standards must be specified to guarantee the sale's profitability.
Maximize profit. You must balance your audience's utmost willingness to spend and your sales prediction. When you know your market position, you may set prices to maximize your profits.
Using these optimization techniques, you can determine the ideal price for the things you can sell in larger quantities. Additionally, they may assist you in getting rid of the goods cluttering your catalog.
Conclusion
 As an online marketer, you may constantly hope for bigger revenues and greater consumer involvement, but securing a steady stream of customers is still difficult. Therefore, adopt the aforementioned strategies to guarantee your store's highest sales during the Black Friday holiday shopping season.
You may also like: Black Friday – Fantastic Facts, Stats & Predictions (Infographic)
Image source: Depositphotos.com