Click here to get this post in PDF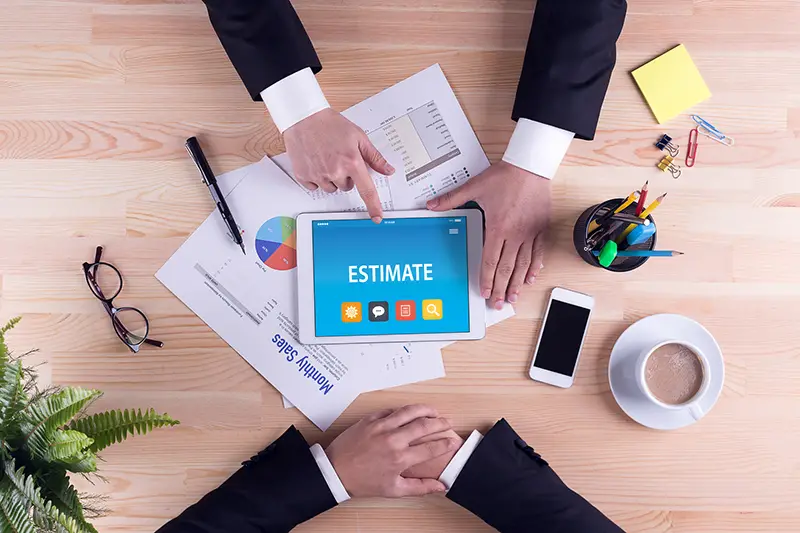 If you're a business owner, you know that growth is essential. And to grow, you need to be able to quote projects accurately and efficiently. That's where agile quoting comes in. 
Agile quoting is a methodology that allows you to quickly and easily generate accurate quotes for your potential clients. 
In this blog post, we'll discuss the importance of agile quoting for business growth. 
We'll also provide some tips on how you can implement agile quoting in your own business. 
Since Agile quoting is complicated to implement, providing consulting and implementation services for quoting software could be a very lucrative business idea.
So if you're ready to learn more about how agile quoting can help your business grow, read on!
What Agile Quoting Is And How It Can Benefit Businesses
Agile quoting is an innovative process that enables businesses to quickly and efficiently generate accurate pricing estimations using cutting-edge quoting software. 
It is often beneficial to have one of the best customer 360 platforms before implementing agile quoting, so you can leverage more customer data.
This method leverages modern data analytics techniques to produce up-to-date quotes based on current market conditions and other relevant data points. 
With this information, businesses can create accurate, insightful quotes while also reducing the time it takes to generate them. 
By making full use of agile quoting solutions, businesses benefit from improved turnaround times, increased customer satisfaction, and reduced costs associated with price estimation processes. 
Agile quoting makes use of sophisticated algorithms to perform complex calculations, allowing for rapid quotations as well as a greater level of accuracy than manual approaches. 
The result is higher quality work and better bottom lines for all types of business operations. 
Agile quoting allows teams to save time and money in the short term, and it can also help enhance customer loyalty over the long haul by enabling customers to get precisely tailored products or services at competitive prices. 
All things considered, it's no wonder that agile quoting is becoming one of the most popular methods for creating instant estimates and ensuring that businesses stay competitive in an ever-evolving marketplace.
The Process Of Agile Quoting And How It Works
Agile quoting is a revolutionary way of estimating the cost of a product or service. It involves an iterative approach that allows customer expectations to evolve over time, resulting in better cost estimates and reduced risks. 
During the agile quoting process, the customer works with the service provider to define what features and qualities they require in the project. 
This information is then used to identify potential pitfalls or high-cost areas and develop strategies to reduce them. 
Next, the customer and service provider work together to create a statement of work that outlines everything from the length of engagement to deliverables. 
Together, they may also assign contingencies needed to manage risk levels. When this plan is finished, detailed cost estimates can be created based on the agreed-upon scope and services. 
Agile quoting gives customers more control over project costs while allowing them more flexibility when changes need to be made during development. 
By taking an iterative approach, risks are minimized, and opportunities are increased as customer feedback drives decisions along the way.  
Overall, agile quoting is an efficient and effective method for costing out projects without sacrificing quality or stifling innovation.
Tips On How To Get Started With Agile Quoting In Your Business
If you're looking for ways to make your business operations more efficient, faster, and effective, give agile quoting a try. Agile quoting is an activity-based approach that efficiently manages the process of generating accurate quotations for products or services. 
It allows customers to receive personalized quotes in a fraction of the time it would take with traditional methods. Here are some tips to get you started: 
First, define your product pricing and create detailed cost models that factor in materials, labor, and overhead costs. 
Second, streamline your process by automating as much as possible – including reminders and notifications about product updates or discounts available to customers. 
Third, provide a dashboard for interaction so customers can be able to check their quote status or ask questions if needed. 
Finally, incentivize customers who provide feedback on each quote so you can use this as a benchmark for future quotes or solutions offered. 
With these tips in mind, businesses can start harnessing the power of agile quoting and build stronger relationships with their clients while improving overall efficiency.
Discuss The Challenges And Benefits Of Agile Quoting For Business Growth
Obtaining quotes efficiently is an important component of many businesses, and agile quoting practices can help to spur business growth. By adopting an agile approach to quoting, companies can streamline the process of gathering quotes from vendors and partners, allowing them to make quicker decisions about which products or services to purchase. 
This agility helps businesses save time and money, freeing up resources that can be applied elsewhere. Moreover, it allows them to be more competitive in their pricing strategies, as they are not forced to wait for long-winded procedures to complete. 
Despite these benefits, there are also some risks associated with agile quoting. For example, due to its speed and convenience, it may be difficult for companies to obtain all the necessary information needed before a decision being made – leaving open the possibility of bad choices due company's lack of research or diligence during the process. 
Additionally, clients may expect faster turnaround times than what the business is actually able to deliver. 
To mitigate these risks, companies need to make sure that there are clear guidelines set in place concerning how long vendors will have for responding before their offers are assumed declined or outdated. In this way, an agile quotation process can become an efficient tool for business growth if managed correctly.  
By understanding how best to utilize it in its favor – by picking up on trends and maintaining terms sheets – businesses can reap significant rewards in both short-term performances and long-term reputation building from customers.  
Overall, when done correctly, agile quoting can give companies a valuable edge over competitors while minimizing unnecessary costs associated with outdated approaches. 
Companies must carefully weigh all factors before deciding whether this type of quotation system is right for them and their particular needs. 
However, done right the benefits far outweigh any challenges posed by this more nimble method of quoting! 
It's clear: Agile quoting gives businesses access to better information faster – which could mean bigger future profits! 
Wrap-Up
Agile quoting is a process that can benefit businesses in many ways. By taking the time to understand and implement agile quoting, businesses can save time and money while improving customer satisfaction. 
While there are challenges associated with switching to agile quoting, the benefits far outweigh any potential drawbacks. 
If you're looking for a way to improve your business processes, consider giving agile quoting a try!
Also read: Guide to Smart Software Pricing Strategies
Author Bio
Julian Lankstead is a Salesforce Consultant and the Founder of JulianLankstead.com. He helps businesses increase revenue by providing strategies to improve business process efficiency. You can connect with him here.