Click here to get this post in PDF
As a real estate broker, it is vital to go out of the line and invest in the best realtor web sites design that will make you stand out in the local market you serve.
This article contains affiliate links. For more info, see disclosure.
The high dependence on the internet to look for new homes by the average person today makes the platform one that must be given top priority by all professionals in the industry. Long gone are the days when a potential home buyer would have to physically locate a real estate agent or company to have access to their latest listing. Currently, all it takes is a few clicks on the computer or smartphone, and a client can have the most recent information in any market regardless of their current location. Consequently, this has resulted in a shift in the norms of operation by professionals in the industry as the largest market segment is now online. This shift has been gigantic and is one of the primary factors that currently determine core competence in any market worldwide.
To tap to the powers of the internet and its ability to generate sales for real estate agents, it is vital to have an internet presence. However, in the endeavors for the establishment as a real estate brand that more people will want to be associated with, it is important to consider the fierce competition that rocks the industry. While the internet has worked wonders in making everything available at the touch of a button, it has piled all businesses that are co-related together for the flexibility in consumers to make their selection. This means that for any random search by a potential client looking for a new home within a specific area, they will have hundreds or thousands of search engine results. The secret to capturing the attention of the market is to have the best realtor web sites design that will naturally appeal to all visitors.
Great website design has the same impact as a great packaging on a product that has been introduced to the market, and that is it arouses the interests of a potential home buyer. The greatness of a website starts from its outlook, and this is the user-interface, which a client will determine whether it is suitable or not within the first few seconds. An amazing design is a link to having a client want to know more about the offers that a real estate agent currently has by creating the wow effect. When thinking about the design, one has also to think about the user-friendliness that directly determines the experience that all users will have. Generally, the website should not be too cluttered and must be easy to browse while clearly showcasing what the client is after and that is the properties being offered.
The trend today when it comes to how people browse the internet shows that a lot of searches are currently made through smartphones than computers. This is for all the obvious reasons given the convenience of using a smartphone at any time given their small sizes and the fact that they are carried around at all times. A real estate agent website must take this factor to account, and the way to achieve this is to settle for a team that has a record for developing mobile-responsive websites. The winning edge for having such a website is that it will not limit who can use it as it looks great on all devices, namely computers, tablets, and smartphones.
A top goal when creating a website as a real estate agent is to make it a client resource that does more than tell people you exist but showcases the services offered. The defining strength of a broker's website must be in how easily it makes clients connect to the latest listings available. What this means is that as an agent, you require a site that allows you to upload listings whenever there is the need instantly. The ease in publishing listings for the public to view must be complemented by tools such as CRM lead management and lead forms & analytics. These tools will not only keep track of all leads but offer accurate reports on where most visitors to the site are from.
Lots of other complementary features are required for a real estate broker website if the goal is to outshine the competition and become the go-to platform for all potential clients. A simple but practical way to naturally have more visitors to a site is to rank higher in search engine pages, and this can be achieved by having an SEO friendly website. The success of the site will equally be determined by how well it supports activities such as blogging and connection to social media accounts. As a beginner, the achievement of all these factors for a real estate website might seem demanding but not if you partner with dedicated web development specialists who focus on the industry requirements.
You may also like: 7 Web Design Mistakes That Can Destroy Your SEO
About the Author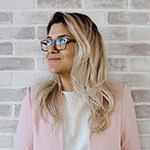 Ashly William is a freelance writer, with years of experience, creating content for varied online portals. Her content is published on many national and international publications. She loves to write about business services and education.