Click here to get this post in PDF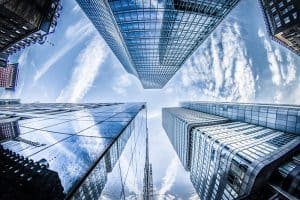 Your image is crucial in big business, and sometimes people can assume that a larger, more established company will do a better job. When you are competing for clients where bigger is better, there are some steps you can take to give the illusion that your organization is more substantial than it really is.
Up-size Your Office
Your office is likely to be the backdrop for many business pitches, and if it is a small, shabby or poorly located shoebox-sized space, then this may reflect poorly with your potential clients. Conversely, if customers come to meet you in a modern high-rise in the central business district, where professional and polished reception staff are waiting to greet them, your business image will benefit from this polish.
Serviced and virtual offices deliver the prestigious exterior for a fraction of the price of a traditional office. They come with an impressive address, the administrative support including telephone answering and mail services, and are fully furnished, right down to the artwork on the walls. You can walk in, plug in and focus on impressing your future customers.
Polish Your Website
Your website is most likely the first insight that people have in your company, making it an essential tool in your arsenal to create the illusion of a large and highly successful organization. First, make sure that it is professional, well designed and well written. Web design and copywriting are areas that are often worth outsourcing. Considerations when building a successful website include easy navigation, clear communication of your products or services and your point of difference, and mobile-friendly design.
There is also an opportunity to establish your organization as an expert in your field by including helpful and well written original content that will assist potential customers with their queries and help them to make an informed purchase decision.
Leave Your Title Off Your Business Card
As an entrepreneur, you often wear lots of different hats within the business. If you are a CEO one moment and a sales representative the next, leaving your title off your business card allows you to play each of these roles as it suits. You can pick and choose how you introduce yourself when meeting new people, and give the illusion of a team of support personnel back in the office.
Create Multiple Email Addresses
Creating a suite of general email address such as sales@yourbusiness.com and info@yourbusiness.com is another method of forming the illusion of a larger team. You can redirect all emails to come to the one account, while outwardly it appears that you have many different departments within the business, all waiting to assist.
Leverage Technology
You can call on an array of online tools which allow you to automate components of customer service, so your firm is responsive, professional and helpful even with a small team. Some examples include using an online appointment booking service to arrange client appointments, a Facebook chatbot to engage with clients on social media, email automation to send follow-up information to potential clients on a regular basis, and customer relationship management tools, to record and collate all customer information in an easily accessible manner. Automating parts of your customer service process will not only be time efficient but can often eliminate an element of human error, while leaving your staff members to focus on strategy and business growth.
The above measures should be enough to create the perception of a much more sizeable organization, while you work to build your business.
You may also like: Business Buddies – 5 Networking Tips to Help You Make a Good Impression