Click here to get this post in PDF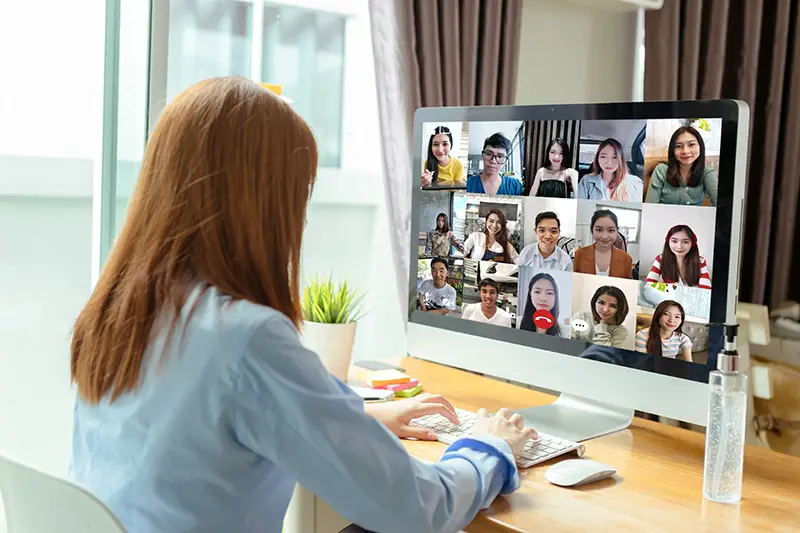 Going fully remote is one of the greatest equalizers in the business world. Now, small businesses can avoid paying for rent, hire globally, and introduce flexible work hours. However, they must use the right tools to do this efficiently (or partially through hybrid workplaces). With that in mind and without further ado, here are the top five collaboration tools that all small businesses should use.
1. Asana
First, you need a project management and collaboration tool. Asana is probably the most popular choice here, but this is not your only option. There are many decent alternative platforms like Basecamp, Trello, etc.
The key thing to remember is that a good project management tool allows you to schedule tasks, manage projects and handle discussions. With the right tool, you can improve the workflow of even the most complex projects.
Another important aspect of a collaboration tool is the fact that it gives you a unique approach to record-tracking. This means that everything will be transparent. If someone misses a due date, you'll know exactly who it was and have a record (screenshot) to prove it.
Time-saving is one of the most important reasons why people use project management tools, to begin with. With Asana, you can automate many minor tasks and save hours upon work hours.
2. Slack
You even need a unique communication tool because you don't want people to use the same tool they otherwise use for private communication. For instance, if they use Viber to communicate with their coworkers and they also use it for private correspondence? There are so many distractions. By switching to Slack, you'll eliminate these distractions and organically foster a culture of productivity in your enterprise.
Next, tools and services are already integrated since these tools are developed as communication tools for digital workspaces. You can connect Slack with your calendar, storage services, and project management tools. This makes your work so much easier.
Slack also has a decent mobile app, which helps with remote work and staff members who use it via multiple devices.
On this platform, teams can invite external partners. You can directly communicate with the client or bring in the guest expert.
3. HubSpot
As a small business, you'll have just enough customers that you won't be able to effectively deal with them without a CRM platform. This is why HubSpot (or one of its alternatives) is a great addition to your enterprise.
First, it's a massive database keeping all the relevant customer information. You can use this information to analyze your presence, improve your operations, and customize your customer approach.
If you have a sizable online presence, you can also use HubSpot as a CMS. This helps you manage your site on a drag-and-drop principle (no need for coding) and provides you with many amazing to improve your visuals online.
Finally, you can use HubSpot to pipeline deals and automate your sales process. Since all of this is handled automatically, this will also be a boon for your accounting.
4. Zoom
According to one survey, you spend about 31 hours in a meeting every month. At least half of these meetings could have been handled by email, while the rest could have been video conferences.
What makes video conferences so great? First of all, they're incredibly convenient. Instead of abandoning their work, employees can just minimize the screen, join in, and participate in the meeting. Then, when the meeting is over (or at least the part of it relevant to them), they can immediately resume work.
Previously, we've heavily emphasized the importance of remote work in today's business environment. Video conferencing is the only way to keep the meetings (as a business format) active in remote work.
You'll also use Zoom to meet with partners, strategic vendors, and potential business associates. Of course, you don't have to use Zoom. It's just relevant that you have some kind of conferencing tool available.
5. Zoho
Zoho is, more or less, an end-to-end platform. It has an HR platform, a finance platform, CRM, and a marketing platform integrated into one tool. In other words, if you don't want to customize your digital arsenal too much and hate the idea of hand-picking every tool your team uses, you can just go with Zoho as a catch-all solution.
While it may seem that this is designed to resolve your problems without much involvement, Zoho gives you a great deal of customization and flexibility. Just because you can integrate all of those platforms, this doesn't mean that this should always be the case.
Also, as a primarily cloud-based tool, Zoho was designed for collaboration and projects (regardless of size). This way, it can enable remote work or boost office work productivity.
Additional considerations
Naturally, for any of this to work, you must have the right internet connection. According to the team behind West Wisconsin Telcom, you need to pick the speed appropriate to your needs, office size, and employee numbers. Fiber is far superior when available, and you need to start by checking whether this option exists in your area.
The next thing you need to worry about is hardware. Do you have a conventional office or run a remote business? If the latter is the case, you'll have to worry about the specification of your employee's devices.
If they work in your office, you want to introduce a combination of great hardware acquisition (a second monitor and noise-canceling headphones for a massive productivity boost) and a great BYOD policy.
Overall, while software is crucial, it's not your only concern. For a project manager or an entrepreneur, the responsibilities never really end.
Wrap up
Ultimately, everyone can work on their productivity by any means available. They can download a time-management app or look for other great digital assets. The thing is that the above-listed five tools need to be chosen by an entrepreneur and made mandatory for use by everyone. This is the key component to making it all work. Choosing a set of uniform tools will create a layout for your digital workplace and increase your team's productivity.
You may also like: The Best Project Management Tips for Entrepreneurs
Image source: Shutterstock.com