Click here to get this post in PDF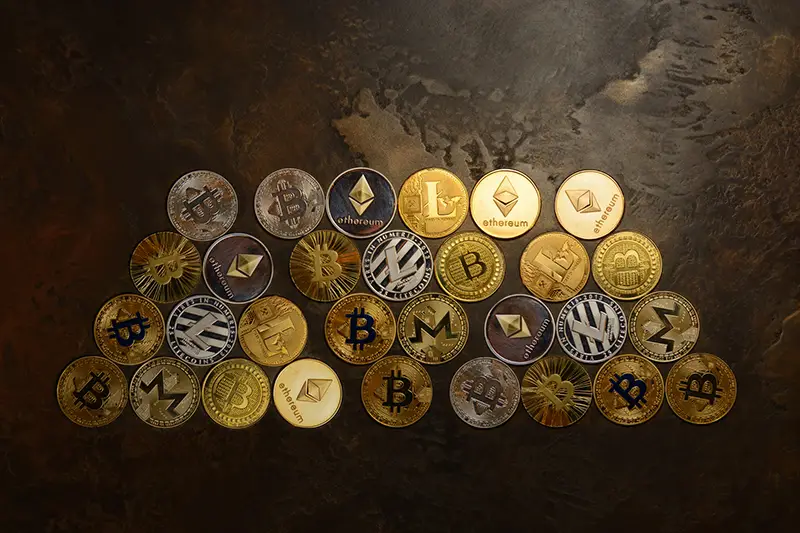 Staking cryptocurrencies has become one of the easiest ways to earn passive income in the cryptocurrency space. The migration of numerous coins and tokens to the proof of stake protocol means that investors now have a wide range of options when it comes to staking cryptocurrencies.
With the numerous options available, we will provide investors with the top 10 cryptocurrencies they can stake to earn passive income in 2023. 
Coins To Stake In 2023
BitDAO (BIT)
The BitDAO project is quite popular in the space as it is backed by Peter Thiel and Pantera Capital. The BIT token is considered one of the next big exchange tokens and could follow the path of BNB and KCS.
Holders of the BIT token can decide the future of BitDAO by voting on community governance proposals. When you stake this coin, you can earn up to 14.77% annually.
Ethereum
Ethereum staking is an excellent way to put your assets to use and earn passive income. As the second-largest cryptocurrency by market cap, there is ample demand for this coin.  
Ethereum investors can stake their ETH coins and earn extra income in the process. On-chain ETH staking yields are currently around 4% APY. However, as one of the leading cryptocurrencies in the market, Ether staking is totally worth it. Staking on the Ethereum network requires at least 32 ETH coins. However, you can stake with a lesser amount on cryptocurrency exchanges and staking pools. 
Tezos (XTZ)
This is one of the oldest proof of stake blockchains and continues to offer investors excellent returns on their investments. As a baker, you will receive excellent rewards when you stake your XTZ coins, as you will be helping to validate new blocks of transactions on the blockchain. Users who stake their XTZ tokens can earn up to 10% annually.
Binance Coin (BNB) Staking
BNB is the native coin of the Binance ecosystem. As the leading cryptocurrency exchange in the world, staking its native BNB token comes with some benefits. BNB powers the BNBChain and is also the fourth-most valuable cryptocurrency in terms of market cap. Staking BNB tokens allows you to earn more than 4% APR annually. 
Polkadot (DOT) Staking
Polkadot is an interoperability solution that allows different blockchains to transact and share data with one another. DOT has become one of the leading cryptocurrencies in the world though it was launched less than three years ago.  
DOT has one of the best staking offers in the crypto space, offering validators 14% APR. You can run a validator node on the Polkadot blockchain if you own 350 DOT coins. You can become a delegator on the network with at least 80 DOT coins. Both options require investors to lock up their DOT tokens for 28 days to qualify. 
Cosmos (ATOM) Staking
Cosmos is also one of the top cryptocurrencies in the world and has an excellent staking program. According to the official Cosmos website, delegators earn roughly 21.88% APR on the network, while node validators earn 23.6% APR. These figures are some of the highest amongst the top 100 cryptocurrencies by market cap. 
Chainlink
When it comes to adoption, only a few blockchains can match Chainlink. Chainlink is an open-source, decentralized oracle network designed to allow smart contracts to securely access off-chain data feeds, web APIs, and traditional bank payments. LINK is one of the top 20 cryptocurrencies by market cap. LINK staking rewards node operators on the network as they are tasked with securing the blockchain. 
Algorand
Algorand (ALGO) is a proof-of-stake cryptocurrency that focuses on scalability and security, minimizing cost, and boosting transaction time on the network. By staking ALGO coins, you can earn as high as 14.47% annually. 
Avalanche
Avalanche (AVAX) is a cryptocurrency designed to be used for creating smart contracts for Dapps and to pay transaction fees. AVAX staking earns you a 13.4% interest annually, which is one of the highest amongst the top 20 cryptocurrencies by market cap. 
Cardano 
Cardano (ADA) is a cryptocurrency that attempts to improve the design of Ethereum. Staking ADA tokens allows investors to earn annual returns of roughly 8%, a decent return on investment. 
Final Thoughts
The above-explained cryptocurrencies are some of the top coins you can stake in 2023 and earn decent returns on your investment. The coins mentioned in this post are amongst the top 100 cryptocurrencies by market cap. 
You may also like: 5 Basic Tips: How to invest safely in BNB
Image source: Depositphotos.com