Click here to get this post in PDF
Communication is the beating heart of any business. Fast, effective communication among team members streamlines workflow, speeds up projects, and enables a group to thrive and progress to its full potential. Numerous tools exist that can facilitate team communication. Below, we'll look at some of them.  
1. Text Chat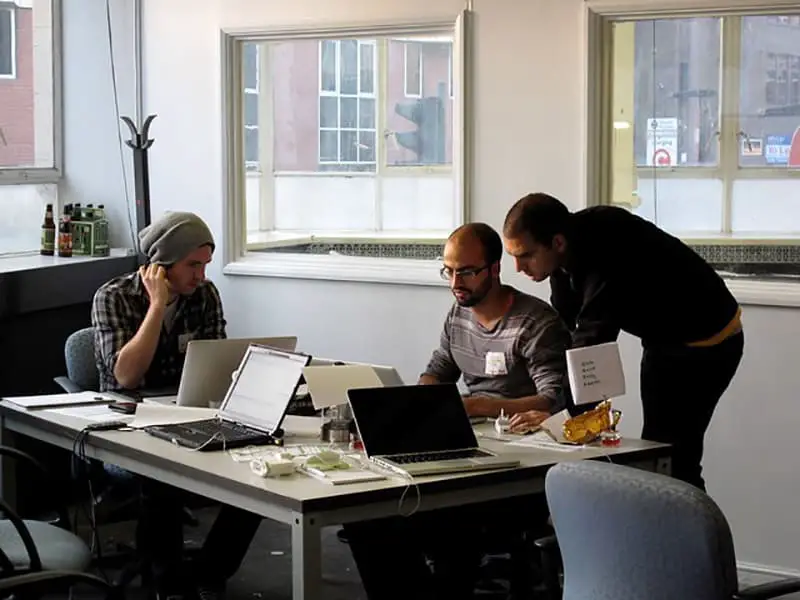 Picture via Flickr from Carbon Tippy Toes
Even if you're working in the same office, it can be very useful to use text chat for some types of communication. If teammates want to send messages to each other in a quick and non-disruptive way, a brief text chat can be much more effective than hailing a co-worker and potentially disrupting his or her work. For longer-distance communications, text chat is an inexpensive means of communication that doesn't require as much bandwidth as voice or video chat. In text, you can quickly send files, links, numbers and other information. 
Text chat is also useful in contexts where speaking aloud would disturb others or pose security concerns, such as a quiet office or a public space. Another advantage of text chat is that it's easier to keep a searchable record of your conversations.
2. Voice Chat
Voice chat is a great tool for achieving effective communication when you can't be in the same office. More immediate than text and more cost-effective than conventional phone calls, voice chat gives your communication more of a human element. Because it's less data-intensive than video conferencing, voice chat is an excellent option for situations where bandwidth or the cost of data is a consideration. Voice chat also means that participants can view information relating to the call while they talk, which is difficult during video discussions.
Another element to consider is inclusivity. Team members with visual impairments can follow the conversation without needing to use a screen-reader and can participate more easily. Multiple voice chat solutions exist in the marketplace today; typically these use VOIP (Voice over Internet Protocol), although other technologies are also in use.
3. Video Chat
Although it requires higher bandwidth than text or voice chat, video chat has a number of advantages. For one, talking face to face often feels more natural and warmer than communicating via text or voice. There's more room for nuance over video than there is when communicating using text or voice alone. Video chat also lets team members view sites, physical displays, and other important visual information in real-time. Video chat trend is actually very popular these days. Not only for work, you can actually do video chat with strangers using sites offering chatting services.
Video chat with an audio element can also be more inclusive than text or voice chat alone. Just as visually impaired team members can benefit from the audio component, teammates with hearing impairments can use the video component to communicate via sign language or lip-reading.
Choosing the right product will depend on the specific needs of your team. Text chat applications are very easy to find and are often bundled with voice and video apps or with project management and workflow tools such as Monday and Slack. There are a number of great voice and video chat tools for businesses; Skype is one of the most widely known; alternatives include Ryver. With one or more of these at your fingertips, your team will soon be enjoying the rewards of improved communication. 
You may also like: 5 of the Best Team-Building Activities for Businesses