Click here to get this post in PDF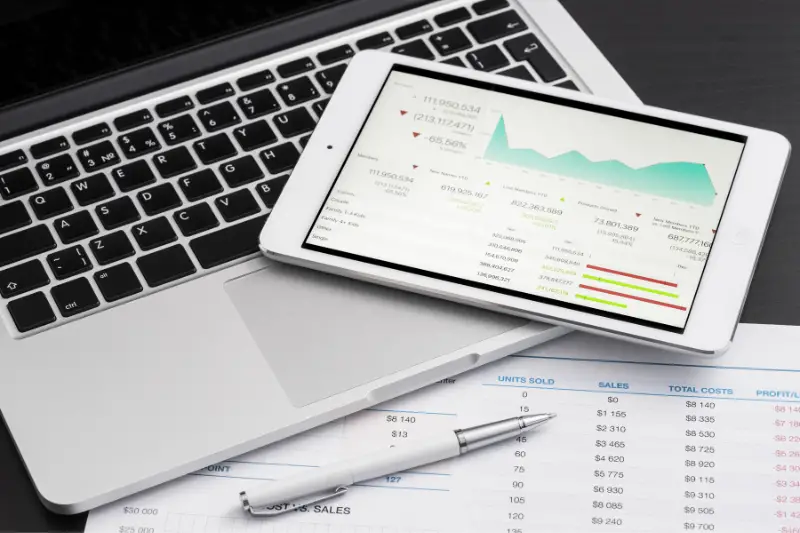 If you are like most business owners, you use your website to generate leads, sell products or services, and interact with your customers. However, if you want to grow your business, you need to use your website analytics to do just that. Website analytics is the measurement and analysis of website traffic and user behavior.
Website analytics can help you identify where your website's traffic is coming from, how long they are staying on your website, what type of content they are reading, and how likely they are to take the next step (sign up for your email list, download a white paper, or buy a product). Here are the questions we will be answering:
1. What is website analytics? 
Website analytics can be used to measure the effectiveness of a website's marketing and advertising campaigns, as well as to determine what content is most popular and engaging.
You may take a few actions to assist and identify the most well-liked and interesting material on your website. Examining the engagement rates for various pieces of material is one technique. For instance, a high engagement rate indicates that a lot of people are reading and commenting on the article. This might indicate that the article is educating or amusing readers. Examining how many individuals have recently viewed certain pieces of material is another technique to ascertain which ones are in demand. This reveals how well these particular sites are doing in luring visitors. You can also analyze where visitors are coming from and see which pages seem to be most popular with certain groups of people. Doing all of this can help you learn more about what works well on your website and how you can continue to improve it.
By understanding these findings, businesses can optimize their website for increased traffic and revenue.
2. What Are The Benefits of Using Analytics?
Website analytics provide you with useful information on how your site is doing, what its users are doing there, and how you can make it better. You can develop your business, improve traffic and conversion rates, and more by being aware of these trends. The following are some of the most widespread advantages of analytics:
1. Insights Into the Performance of Your Website: Website analytics offer comprehensive data on pageviews, unique visitors, bounce rates, and more. You may use this information to determine which parts of your website are working effectively and which ones want improvement. You can easily enhance your site's performance and lessen user annoyance by spotting these problems early on.
2. Determination of Problem Regions: Website analytics enable you to identify problematic areas of your website by monitoring visitor behavior over time (such as high bounce rates or low conversion rates). You may use this information to spot problems early and make the required adjustments to enhance visitor experience.
3. Better Site Navigation: You may design more useful navigation menus and pages by studying where users go on your site and what material they are most interested in. This will make it easier for consumers to get the information they need quickly and entice them to stay on your site longer.
4. Enhanced SEO: You may enhance the SEO of your website by analyzing what content is bringing readers to it and how they are interacting with it. This will improve your search engine ranking and draw in more website visitors who are interested in your content.
5. More Profitable Business: You may optimize your website for more revenue by knowing how your site is operating and where potential adjustments can be made. This may entail making adjustments to marketing tactics, copywriting, and website design.
Summarised tips to grow your business
Analytics can help you identify where your website's traffic is coming from, how long they are staying on your website, what type of content they are reading, and how likely they are to take the next step (sign up for your email list, download a white paper, or buy a product). Utilizing these insights can help you grow your business in ways you never thought possible.
1. Use clear and concise language when writing your website content.
2. Make sure all website content is easily accessible from the home page.
3. Use keyword research to target specific keywords that may be relevant to your business.
4. Monitor traffic to your website using website analytics tools to identify which areas of your website are attracting the most attention.
5. Make use of social media platforms to promote your website and attract new customers.
Website analytics is a valuable tool business owners can use to help them understand their website's traffic and user behaviour. By understanding where and how your website's traffic is coming from, you can improve your website's conversion rate and grow your business. 
Grow with a specialized web agency in Singapore
The internet is a powerful tool for businesses of all sizes to grow and reach new customers. However, growing your business online can be challenging and time-consuming. That's where a specialist web design and digital marketing agency comes in. At our agency MediaPlus, we understand the importance of website analytics and how they can help businesses grow. We use our expertise to create customized growth plans tailored to your specific business needs. So if you're looking to take your business to the next level, contact us today!
You may also like: Why you should upgrade from Universal Analytics to GA4 now!
Image source: Shutterstock.com