Click here to get this post in PDF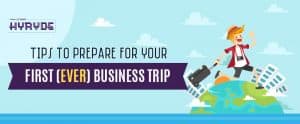 Perhaps one of the best experiences for any company employee is being chosen as the representative of the organization on official business overseas. Whether it's a business meeting with a potential client or business partner, a conference where other companies and leaders in the industry are also attending, or even represent the whole industry as a guest for a show or talk.
Because you're in for an adventure with an international trip, it's essential that you not only make sure that you're going to have the best time, but you are also well-prepared with whatever may happen. Because travelling abroad can be challenging, first-time travelers often find themselves overwhelmed with everything they need to do — from their personal factors to the business aspects that should be arranged before you disappear from the office for a couple of days.
To help you out with making sure that your first ever business trip will be a success and won't be fraught with unnecessary headaches, check out this infographic by Hyryde.

Infographic by Hyryde