Click here to get this post in PDF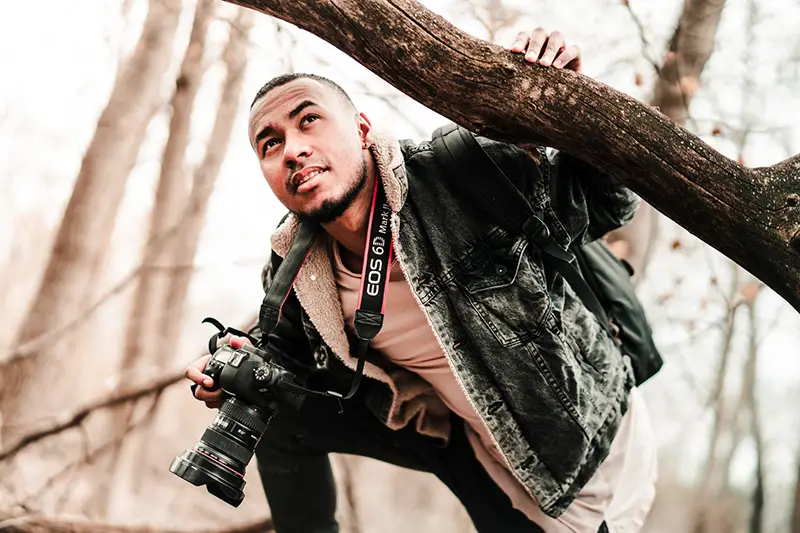 Going on a trip, both amateurs and experienced freelance photographers expect to bring a whole archive of amazing travel photos. They hope that these shots will perfectly complement their portfolio and Instagram feed, or at least remind them of interesting adventures.
Given these expectations, some freelance photographers take with them huge cameras and backpacks with equipment. Others choose mirrorless cameras for the sake of comfort. There are so many popular camera brands that making a choice becomes tough. But in order to get professional travel shots, a smartphone is enough. After all, the latest iPhone, Google Pixel, and Huawei are so advanced that you can safely use them for photo experiments.
Read our travel photography tips and start planning your next trip.
Look at familiar things from a different angle
There are two ways to interpret this advice. Firstly, you can take it literally and experiment with camera angles and shooting points. For example, take Aero Fly Drones with you and take a travel photo from a bird's eye view.
Secondly, you can take a non-standard approach to shoot popular tourist attractions and capture familiar things in an unusual way. If you have fallen in the rain in the tropics, do not hide in the hotel. You can take a series of unique shots illustrating the life of a southern settlement during a storm. You can also shoot a project on sunny weather in the UK and overcome the stereotype that it always rains in London.
Regardless of how you interpret this advice, you will probably be able to take creative travel photos using your smartphone. You just have to go against the rules and take advantage of new opportunities.
Capture the magic of sunlight
When traveling, be sure to set aside time for shooting at Golden Hour. The first hour after dawn and the last before sunset is truly magical. During this time, the light is softer, so you can experiment with many things – from the backlight to the bokeh effect.
The main feature of the last hour before sunset is that the light changes every second. You will get unique shots with natural light in all shades, especially if you shoot portraits.
Use flash for new features
This is probably the most controversial of travel photography tips, as many people prefer to shoot without a flash. Nevertheless, the flash can open up new opportunities for you and improve the quality of the photo. You just need to know when to use it.
The flash gives contrast to color images and allows you to highlight objects, creating a 3D effect.
In fashion photography, the flash is used to give the pictures a gloss. But it can also be used in travel photography if you take into account the lighting conditions. Try to choose a theme for a series of travel photos that you shoot with a flash. If you want to take a picture of a musician playing the subway, you probably have to use a flash, the same goes for dark streets and nightclubs.
Find a topic        
Do not deny that you take so many pictures while traveling because you want to publish them on Instagram. Agree, you are a little dependent on likes and recognition. We all fall into this trap and hope to get social media praise for our work. There is no shame in adapting your content for this purpose.
Regardless of whether you share your pictures on Instagram or not, creating a consistent story from them is a professional approach to photography. Thanks to him, the frames look great together and allow you to tell a story about your adventure, the people you met, and the events in which you became participants.
To find an interesting topic for a photo, use the ideas from the next paragraph.
Choose a creative idea for travel photography
In a world where almost everyone has already come up with, you are unlikely to create a new genre of photography. But you can connect creativity and, as we already wrote, take a fresh look at familiar things.
If you are traveling to Germany, learn more about the Bauhaus movement and take a series of photographs of buildings from unique angles.
Are you going to Georgia or looking for things to do in Richmond VA? Think of a series of close-up shots of people and nature. Take photographs of the wrinkles of mountain residents, take off the donkeys they feed, and experiment with macro shots of the cereals they grow and local food. Sometimes the details speak more than anything else. In addition, this is one of the main visual trends of 2020. 
If you are a foodie, you can focus on food photography and film local dishes, drinks, and cuisines.
Think landscape photographs look dull in daylight? Then try to take pictures of nature during or after sunset. You can also choose a street photo with an emphasis on people, not buildings, and thus share a story that no one has told you before.
All these ideas can be developed and implemented into a full-fledged travel photography project. But do not forget about editing and post-processing, which are easy to do using mobile applications.  
Features of mobile editors
Although mobile photography is often taken lightly, this does not mean that your pictures do not need to be edited or edited. You can dramatically change your photos even with mobile apps like Snapseed or VSCO. They allow you to perform both basic editing (adjust brightness, contrast, saturation, and sharpness), and post-processing photos using tools of individual applications.
In this article, we tried to dispel the myth that by using a smartphone you can take travel pictures only for a personal archive or an amateur Instagram account. The latest smartphone models offer a variety of features that allow you to take high-quality, professional photos as a freelance photographer.
Keep these tips on how to take creative travel photos on your smartphone, and take authentic, unique shots.  
---
You may also like: Lr Presets is a set of settings for fast photo color correction.
Also read: Drone Technology: The Gamechanger in the Business World
---
Image source: Pexels.com