Click here to get this post in PDF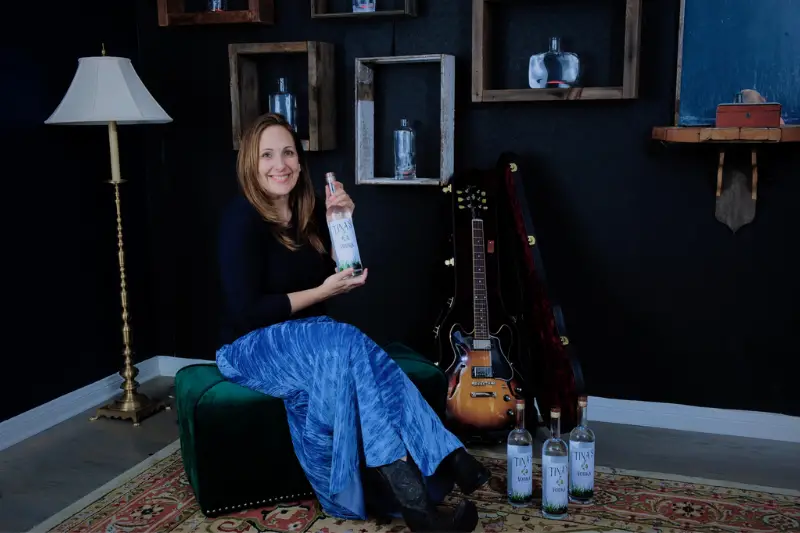 It was never Tina Karras's intention to make waves as a small-business owner taking on a Goliath-sized mega-corporation. However, when her feet were held to the fire and her small liquor start-up was in jeopardy, Karras fought back in a spectacular way.
Karras didn't initially have vodka on her mind when she set out for Los Angeles after college. She is a singer-songwriter and as she worked toward her dream, she worked day jobs in restaurants and music venues. What she learned through a role as the spirits buyer at the Roxy Theatre was that with all the available liquors out there, there wasn't a vodka made from organic, non-GMO corn, and American-made that had a smooth taste at an affordable price.
"The liquor industry is full of artists," Karras says, "There's a lot of pride and craftsmanship there similar to songwriting."
Bootstrapping a business & fighting a giant
Karras launched her business using credit cards and an SBA loan (all while self-funding her first album). In March of 2020, she had plans to launch not only her new vodka, but also her new record during festival season, when the entire world shut down. Suddenly, Karras was unemployed and going further into debt.
It was around this time that Goliath appeared, in the form of international liquor giant Sazerac, who challenged her approved "Tina's Planet Vodka" trademark. Sazerac, who owns over 450 liquor brands and has over 5000 employees, had held the "TINA" mark for tequila in the liquor category since 1968 as a logo trademark. In 1992, they had trademarked the word "TINA" itself.
The USPTO approved her trademark in November 2020 during the height of the pandemic but any celebration was cut short. "As if things weren't tragic enough during that time, I was shocked when I received [Sazerac's] cease and desist letters over my approved trademark," Karras explains. "I've been a buyer for over 10 years, and I had never heard of 'Tina Tequila.' I looked for it everywhere: online, in liquor stores, I even called distributors in other states trying to find it. I would have loved to have had a bottle for myself, too. In the crowded beverage market, customers encounter dozens of brands on a single shelf. I already had a name and imagery and was determined to stand by my own product — with my own name."
Karras was sent letters demanding she abandon her mark, her TTB COLA, her company's name, and even her website's URL. Sazerac was pressuring Karras to never use the "Tina" name for any liquor product. Undeterred, Karras enlisted the help of IP litigator Douglas Q. Hahn, and together, they challenged the demand to abandon her name. 
Vodka and victory
Sazerac was a formidable foe, but in the end, Karras was victorious in her fight against the beverage giant. Sazerac backed off, and Karras was able to register her "Tina's Planet Vodka" trademark unfettered. Following a non-renewal in 2022, Sazerac allowed their own USPTO trademark of "TINA" to lapse.
Karras has wanted her vodka brand to stand for something since its inception. That initially meant fighting for sustainable practices and the non-GMO makeup of her product. However, now that she has beaten such a giant in the industry, she has been inspired to stand up for the "little guy" in other ways.
"We want to use our brand to stand up for small farmers and eco-friendly practices," Karras explains. 
Although organic farming from small farms is on the rise in the United States, they still represent a fraction of the farming industry — and need more support to sustain their operations. Much like Karras taking on Sazerac, many small organic farms are trying to stay afloat and up again huge corporate farming operations.
"Small organic farmers keep rural communities afloat, but most importantly, they improve and preserve our world's natural resources," Karras explains. "It may be more expensive at first to support regenerative farmers, but in the long run, it costs us less because it helps the environment."
Karras hopes to partner with these smaller farming operations through Tina's Planet Vodka to help support wider conversion to regenerative farming practices. "After all, what's the point of owning a successful brand if our air, water, and food are all contaminated?" she explains.
Karras intends to continue to push toward a healthier tomorrow, not only with her own vodka brand, but also by supporting farmers and other creators who believe in cleaner, more natural production of food and beverages. 
In the midst of her struggles with her trademark fight and the pandemic, Karras wrote a song called "The Magical Ones." The song was about believing in her own power and inner resolve. Through her trademark fight, her brand building, and her support for sustainable practices, Karras is showing ongoing resolve, tenacity, and harnessing her own power. 
You may also like: Expert Advice For Dairy Farm Entrepreneurs