Click here to get this post in PDF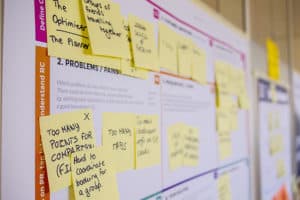 Developing a business from scratch is a very challenging task. People don't really want to take a service or buy products from new brands. However, many smart entrepreneurs have managed to make a new brand successful with their innovative and brilliant business plan. People don't really understand the importance of having a solid business plan. The majority of the novice business owners remain relaxed as long as they can make a living out their business. This is where they make the biggest mistake in the economic world.
Think about your brand. You have to work hard continuously to make your brand popular. To be precise, your product or service should have great demand in the market. And the only way to create a brand identity for a new business is to have a perfect plan. Unless you have a solid business model, chances are very high that the big competitors will crush business when you significant improvement in your sales. In today's article, we will discuss three major facts which we need to know to create a perfect business plan.
Know your target audience
The first thing that you need is extreme research on your target audience. Since you will be trying to establish a new brand in the global market, it's better to focus on a very specific niche. Try to think like your potential customers and offer great service or product which will out weigh the concept of brand shopping. Ask yourself whether you will buy the same product/service from your company for the assigned price tag. If the answer is YES, go ahead and try to engage with more potential customers. If NO, add more facilities to your product/service.
Focus on cash flow management
Cash flow management is very important when it comes to new business. Never invest the whole profit in the same idea. Just think of the professional traders in Hong Kong. They simply risk a certain portion of their investment to buy stocks at the very best price. As an entrepreneur, invest a certain portion on a specific product/service. Try to diversify your potential revenue source by bringing diversity into your business model. Sounds a little bit confusing? Let's make it clear. Let's say, your company manufactures only watches. After two months of operations, you made a decent profit. Instead of investing the whole profit on watches, try to launch similar products and see how they react to the new service/products. If things go well, you will have two different product or service, which increases your potential sales.
Unique marketing strategy
A perfect business model should have a unique market strategy. Never think you can make a business successful based on traditional marketing strategy. The big players will crush you like a nut with their big-budget advertising campaign. Take your time and think about how you can reach more potential customers with a tight budget. Think about the conversation. Try to find a simple way to convert your potential leads in sales. Once you have created a unique marketing strategy, see how it works in real life. Track your result and bring necessary change to increase your sales. And always try to offer a unique product/service since it's relatively easy to establish a brand identity for unique ideas.
You may also like: Essential Advice for Defining Your Startup Business Model