Click here to get this post in PDF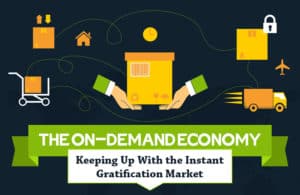 With so many retail outlets now providing an online shopping avenue, competition in this sector has become intense, thus driving the need to provide a quality delivery service to satisfy customers. Allied with this generation's desire for instant gratification, allowing several days for delivery of goods purchased online is not going to cut it with customers anymore. Indeed, some companies now feel compelled to provide same-day or next-day delivery.
In 2014, the value of merchandise ordered for same-day delivery within the U.S. was $100 million. Next year, it is projected to surpass $4 billion. That's a growth of more than 4,000% in just four years, assuming that market projections come to pass. Customers are even willing to forego online orders if same-day delivery is not offered, especially for perishable items like flowers or daily use equipment such as laptops and tablets.
Minimal time on delivery is an attractive goal for online retailers, but it can be very difficult to manage without encountering problems. If a retailer goes all-out on satisfying online customers, for instance, they could end up neglecting those who prefer to do business in a bricks and mortar store, which would be a terrible way of operating. Retailers must ensure that they have the staff and resources necessary to provide same-day or next-day delivery before shouting it from the rooftops.
You can find out more about same-day delivery in the infographic below from 2Flow.

An infographic by the team at 2flow
You may also like: How is 'Social Shopping' Reshaping Online Retail?