Click here to get this post in PDF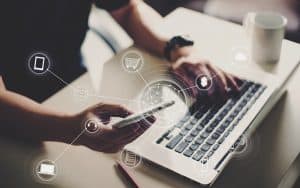 Congratulations – you want to start a business!  Once you're over the initial excitement, it's time to break down the process of launching your new venture – but where do you start?
You might get overwhelmed with the sheer number of things you need to do, which is why we've produced this very handy checklist to launching your own company. Let's get started…
Is it viable…
This may seem obvious, but you need to have something you can make a profit doing or delivering.  Ask yourself: would you buy this product or use this service?  Run the numbers: will customers pay enough so that you can cover costs and make a profit?   You will need to…
…Do your Homework
And lots and lots of it! Some business owners spend months or even years doing research before they launch a new business. Is there a gap in the market, how much will it cost you, what will your profit margins be, would you buy this, what's your audience, who are your competitors, etc. etc. the list goes on! This is the most time consuming part of starting your own company, but the research is also the most important. But, it will definitely pay off in the long run.
What are the Economic Conditions?
You need to know the economic conditions and specific regulations of your industry to determine the impact on your new business and to decide whether you can be profitable. This is very important – you need to be the expert.
Always create a business plan!
It's easy to sometime go with the flow without producing a POA. Don't convince yourself that you don't need one – creating a business plan with financial projections forces you to think through details and stick to your budgets. You'll never make money without one.
Figure out your finances
Most startups take a lot more time to start turning a profit than you might expect. Know where your living expenses for the first year are coming from before you start. If you need financing for the business start investigating this as soon as you can.
Online or off-line?
If you've got a brick-and-mortar business, you'll need to sort out the location for your retail or office space out early. If you plan to run a retail business, then location is key. Pay very close attention to foot traffic, accessibility, etc. Also you will need to consider the health and safety of the building, including fire safety and your ventilation system, etc. If it's going to be online, start thinking about your website, domain and digital marketing as early as you can.
In conclusion, first on the checklist for starting a new business is doing all of your background research and take it slow and steady. Be organized, have a plan and know your industry. Making sure that you will be able to actually make money from your business is the most important thing.
You may also like: Preparing to Succeed with a Yoga Business
About the Author
Alice Porter is an avid writer who is passionate about raising awareness for dispute resolution. She enjoys good food, great company and far off destinations.