Click here to get this post in PDF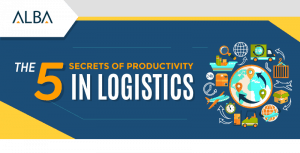 Having a high-end performance-driven operation for a state-of-the-art logistical infrastructure and committed workforce for increased productivity in your logistics seems to be crucial when it comes to being efficient. To establish a seamless communication within your company with the goal of improving it, in the long run, you must consider some important factors to have productive logistics operations.
Controlling your company's operations cannot improve productivity in logistics to the maximum extent possible if it does not understand the places where to disseminate the workforce properly. The first thing to consider is to ensure effective communication with your employees to properly disseminate your objective, strategy, and transparency towards your plan for your business. Fostering a clear procedure standard for customer satisfaction possesses a clear, concise, and effective process controls improves operation efficiency and stops sudden unforeseen expenditure.
These are just some of the secrets that you should consider having a productive logistics operation. To learn more, please do check the infographic below by Alba Logistics.

Infographic by Alba Logistics.