Click here to get this post in PDF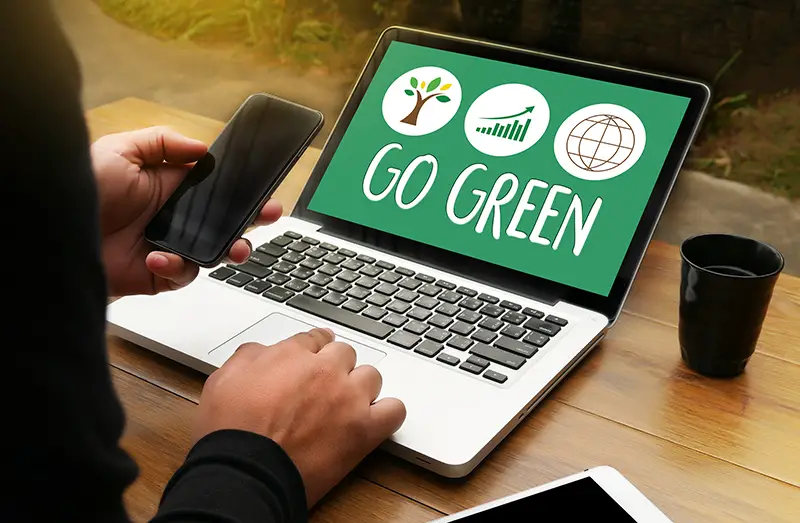 We're all aware of the importance of sustainability these days, and this is no more apparent than in the world of business. Not only do corporations have a huge impact on the environment, meaning implementing eco strategies can help to save the planet, but doing this can be beneficial for the business itself.
For example, one study revealed that four out of five people were likely to choose a brand that had a positive approach towards the environment. Several others have found that eco-friendly companies are more profitable for reasons like people being willing to pay more for sustainable products, and lower operating costs. 
When it comes to implementing sustainable strategies, it's down to business leaders to take the initiative, just like with any wholesale business changes. This will ensure that stakeholders are on board and that the necessary policies are implemented across the organization. To help business leaders drive this sustainable change, we've outlined three eco-friendly strategies they can put into effect quickly to get the ball rolling on a more climate-friendly future. 
1. Work with a leadership advisory firm that knows sustainability 
One of the main issues business owners face when crafting a plan for sustainability is a lack of relevant expertise, which is understandable if they've never implemented such changes before. According to a survey of company executives by global leadership advisory firm Egon Zehnder, 66% of businesses say the CEO owns the sustainability agenda, rather than a dedicated sustainability executive or leader. Overall, only 9% of those surveyed have a Chief Sustainability Officer. 
The most logical solution in this scenario is to rely on those who do have this insight, which is why the first tip here for businesses is to hire a leadership advisory firm specializing in sustainability to guide them. A leadership advisory firm assists executives like CEOs, boards and Chief Sustainability Officers with their organization's sustainability agendas, helping them assess its specific green risks and opportunities. For example, they can work with them to identify insufficient sustainable procurement levels, a lack of compliance with sustainability laws, or an opportunity to develop greener products. 
2. Harness technology
One of the best ways to improve a business's sustainability is to harness technology, as this can help them transform the way they operate entirely. Some examples include:
Big data analytics 
Utilizing data for sustainability efforts can be incredibly beneficial, specifically big data, which refers to large, hard-to-manage volumes of information. As noted by Deloitte: "By collecting and analyzing data on a wide range of sustainability-related factors — including energy and resource use, greenhouse gas emissions, and supply chain performance — companies can generate the deep insights they need to guide their sustainability-related initiatives and improve their overall resource efficiency."
Internet of Things
The Internet of Things (IoT) refers to internet-connected devices, with everyday examples including smartphones, smart security systems, fitness trackers and medical sensors. Using IoT devices can be transformative for sustainability endeavors — for example, you can use them to optimize waste, energy and fleet management efforts, among other things.
Renewable energy
Renewable energy is energy from a source that is not depleted when used, and there are so many ways businesses can generate their own and do their bit for the planet. Examples include everything from solar panels and biomass systems to geothermal pumps and even wind turbines if the company has sufficient land. 
3. Work towards a B Corp certification 
A B Corp is essentially to businesses what Fair Trade is to coffee and securing one can be huge for a business's sustainability credentials. The certification is given to for-profit organizations that achieve a minimum score for certain social and environmental standards. Assessed by the not-for-profit B Lab, a business's impact on the air, climate, water, land, and biodiversity is measured. Companies that have environmentally innovative production processes and those that sell products or services that have a positive environmental impact are also likely to score higher as a result.
As well as giving a business extra motivation to be as sustainable as possible, some of the main benefits of a B Corp certification include:
Building credibility and trust 
Attracting the best talent
Driving opportunities for new business and partnerships
From working with specialized consultants to gaining a B Corp certification, there are so many ways businesses can bolster their sustainability credentials. By doing so, they can play their part in creating a greener future for everyone.
You may also like: 7 Smart Ways Companies Can Improve Their Sustainability Initiatives
Image source: Shutterstock.com