Click here to get this post in PDF
Big data has been present in the business world for a long time, although it was snowed under piles of paper and locked in dusty filing cabinets. This is a thing of the past now— the economies of scale have pushed many businesses towards prosperity, and new big data platforms flood the market at an unprecedented rate.  Many small businesses are migrating to the cloud in an attempt to make their organizations future-ready.
There are rich treasures lying in the deep, and maps that lead to them remain a secret. Navigating these unsteady waters is a daunting task for those who jump into this business adventure unprepared. Therefore, the big data strategy should be aligned with growth rates and expansion undertakings. The chief mission is to find solutions geared to your specific needs, industry sector, and budget limits.
Going digital
It seems that there is no such thing as arriving too early to the big data show. The non-digitalized data is constantly being converted into edible chunks of information that enhance the operational and organizational capacities of businesses both big and small. Alas, enterprise-level software is usually an all-or-nothing proposition suited for well-established corporations with an appetite for fat budgets. It is often not compatible with present systems of smaller players and imposes a heavy time burden on their IT departments.
That is why small business owners opt for various other desktop programs, as well as software-as-a-service platforms like Salesforce. Marketers and human resource managers, on the other hand, employ big data in the form of solutions such as Workday. The price tag is also in the spotlight, which means the focus must be put on licensing strategies tailored to users who want to start small and scale up later. Although the upfront cost is a huge offset for many business owners, the key is to think in the long term.
Versatile business intelligence software solutions may not bring you an immediate payoff, but once the stream of actionable data starts arriving, it is an entirely different story. Big data as a service is growing in importance, and it is tied to the outsourcing of big data functions. The solutions range from data collectors to analytic tools and everyone can find an appropriate weapon for the small business arsenal. Public sector products are not to be overlooked as well, as they round up the already rich spectrum of cutting-edge instruments.
Overcoming growing pains
So, it seems that there is no logic in steering away from the field of big data. Despite what many experts would have you think, big data is actually a perfect match for SMBs undergoing rapid growth and looking for tools to step up the game. With the surge in the big data market and cloud computing, the size of the company is no longer an obstacle to entering the competitive arena. Ease of use is another top priority for organizations with limited technical and financial means, as they cannot wait months or even years for big data to start generating value.
It is highly advisable to choose services that leverage the systems already in place, and allow users to pick the capabilities they want to utilize. Bear in mind also that the enterprises that have been operating for a couple of years already have a ton of data available in the records.  On top of that, a great magnitude of data is sitting in online chests, and it holds things like demographics, spending habits, consumer preferences, etc. That being said, a bit of training could be required in order to make analysts, managers, marketers, and owners get a hold of big data.
Data mining will be worth it because making data-driven decisions are the best way to cut through the overwhelming noise in the online realm and stay ahead of the pack. Take a holistic approach: You must be capable of not only gathering and analyzing crucial data but also acting upon the insights. SMBs are usually more agile than corporate giants, but some of them may need to engage in internal reorganization and remodeling of business strategies. In any regard, you must not spread yourself too thin. The goal is to solve specific problems, so turn attention to the smaller amount of queries.
Dig deeper, hit bigger
When assuming a leading position in a small business organization, you cannot afford to let intuition and gut instinct guide you. Instead, assemble a seamless big data infrastructure that runs like clockwork and supplies you with relevant and timely information.  New functionalities should be integrated into the present framework and put to good use as soon as possible.
One must evaluate the system requirements, cost justifications, and level of expertise. With a sound plan, commitment, and sufficient resources big data enables you to achieve more in a shorter period of time, and with a better allocation of resources. Indeed, for those who know where to look and what tools to use for the digging, big data is a soon-to-become-operable gold mine.
Also read: How to Leverage Data Analytics to Fine-Tune Your Business
About the Author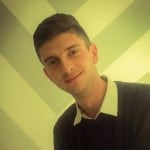 Marcus is an Australian IT support professional. He's running his own business, working with companies that outsource their IT maintenance. He often writes about technology, business, and marketing and is a regular contributor on several sites.